<!TODAY'S TEXT STARTS HERE!>

30 Second Wine Tasting Tip:
Cork frustration


Here's a tale of frustration: When I was visiting the California wine country last week, I joined a group of friends for dinner at Spiedini, a fine Italian restaurant in Walnut Creek. Everyone brought wine, and there were some fine bottles on the table.

The food was good. The conversation was good. And at first the wine was good. But then vinous chaos broke out! A bottle of fine Burgundy showed a dank, musty, mushroomy stink. Another Burgundy, this one from the Hospices de Beaune, was even worse. We passed the corkscrew to another party, hoping to break the string of bad luck, but it was no use - a Northern Rhone that should have been outstanding, a 1988 Chave Hermitage, was ruined by the same wine-killing affliction: All three fine wines, the treasures of friends' cellars, were "corked" by exposure to the random fungal infestation that creates foul aromas in the affected wine.

Three cork-tainted bottles out of 12 on the table is a little worse than the generally accepted estimate that cork "taint" afflicts 5 percent of all wines stopped with natural cork; but as most wine lovers know, it's not that unusual to hit so many bad corks in a sitting.

And this is why, despite the resistance of traditionalists and heavy lobbying from the cork industry, wine producers are starting to look seriously at alternatives to the natural cork.

Over recent years, "corks" made of synthetic material - some brightly colored, others mimicking the hue of natural cork - have become increasingly commonplace, mostly on inexpensive wines. And last year Plumpjack, a tiny, "boutique" California winery, released a portion of its $100-plus Cabernet in a bottle closed with a metal screwcap, heretofore regarded as the symbol of cheap, poor wine.

Now the pace of change seems to be accelerating, with wineries Down Under taking the lead but many American and European producers not far behind.

Some examples: The giant Australian producer Penfolds put its Bin 2 red wine under screwcaps a couple of years ago for the home and UK markets (although they retained corks for the U.S.), and Riesling producers in the Clare Valley have gone over entirely to the quality Stelvin-brand screwcap. This summer, a group of 27 New Zealand producers announced that they will be using screwcaps exclusively in the future.

During a visit to the Sonoma-Cutrer winery in California this month, wine maker Terry Adams, saying he is "sick of seeing 2 to 5 percent of the winery's production lost to tainted corks," told me that he intends to release the firm's high-end Founders Reserve bottling under screw caps when the 1999 vintage goes to market this spring.

And within the past week, I opened a bottle of very fine Italian white wine (Jermann 1999 Collio Pinot Grigio) and was delighted to find it stoppered with an olive-green synthetic cork; and I noted with interest that a Louis Tete 2001 Beaujolais Nouveau, although fitted with a natural cork for the U.S. market, came in a bottle with threading obviously intended for a screwcap.

The battle will continue, at least for a while. The Portugal-based cork industry is fighting hard to retain its dominance, and as recently as last week issued a press release pledging that two new cork-processing plants under construction will foster "a new generation of wine corks" free of wine-killing taint. The industry's promoters also warn of dire economic and even environmental impacts on Portugal's oak forests if the cork industry dies. And some serious wine collectors worry whether synthetics or screw caps will adequately protect wine in long-term cellaring (although rigorous studies in Australia appear reassuring).

But I'm increasingly convinced that a tipping point is near; and once a critical mass of high-end and respected wineries make the switch, I suspect that we'll see natural cork quietly disappear from the market. After all, it's a 17th century technology being used on a 21st century product - and I can't imagine any other product in which consumers would willingly accept a 5 percent failure rate.

WEB LINKS AND BACKGROUND: For some previous Wine Advisor articles on cork "taint" and alternative closures, see "Is it time to retire the cork?", http://www.wineloverspage.com/wineadvisor/tswa010528.shtml; "Farewell to the cork," http://www.wineloverspage.com/wineadvisor/tswa1101.shtml; and "A CAPital wine bottle closure," http://www.wineloverspage.com/wineadvisor/tswa061200.shtml. To follow news, developments and emerging trends in the cork industry and alternatives, take a look at independent "Corkwatch" Website, http://www.corkwatch.com. For the cork industry's position, the major Portuguese cork maker Amorim's site is at http://www.amorim.com/ing/amorim.html.

Care to comment on this week's topic? You're welcome to post a message on our interactive Wine Lovers' Discussion Group, http://www.wineloverspage.com/cgi-bin/sb/index.cgi?fn=1. Or write me at wine@wineloverspage.com. I regret that the growing circulation of the "Wine Advisor" makes it difficult for me to reply individually to every note. But I'll respond to as many as I can and do my best to address specific questions. Please be assured that all your input helps me do a better job of writing about wine.

Please tell your wine-loving friends about The 30 Second Wine Advisor, and invite them to register for their own free subscription at http://www.wineloverspage.com/wineadvisor.

30 Second Tasting Notes:
Two low-cost Chiantis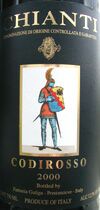 Codirosso 2000 Chianti ($6.99)
This modest but appealing wine is a clear, dark-ruby color with an orange glint against the light. Ripe black-cherry fruit aromas add a touch of berries. Fresh and juicy fruit flavors are simple and a bit soft, making for a pleasant quaff at a bargain-basement price. U.S. importer: J & D Selections Inc. (Kysela), Winchester, Va. (Nov. 18, 2001)

WEB LINK: The importer's fact sheet on this wine is at http://www.kysela.com/italy/codirosso.htm.


Placido 1999 Chianti ($7.99)
Very dark reddish-purple, this wine offers fresh black-fruit aromas cloaked in earthy "forest floor" notes and a sulfury whiff of "burnt-match" that blows off after the bottle has been open for a while. Tart black fruit flavors are well structured with fresh acidity, making a good food wine. More "old world" in style than the Codirosso, it's another fine value. U.S. importer: VB Imports, Old Brookville, N.Y. (Nov. 18, 2001)

WEB LINK: An importer's page about Placido is at http://www.banfivintners.com/placido/index.html.

FOOD MATCH: Both wines worked well with a hearty vegetarian risotto containing a bounty of carrots, celery, onions, green beans and fresh tomatoes.


2000 Years Ferreira's Port Vintage


The historic and respected Port house A.A. Ferreira, S.A., is celebrating its 250th anniversary this year with the presentation of two limited collections of Vintage Port Wine, providing all collectors, scholars and lovers of Wine and Port Wine with a unique opportunity to enhance their wine cellars.

To learn more about this unusual opportunity, or to place your order, visit 2000yearsvintage.com by clicking to http://www.wineloverspage.com/wineadvisor/porto.html.

Wine Lovers' Voting Booth:
What's your favorite cork extractor?


Love it or hate it, if you enjoy quality wine, you have to deal with it: Wine is one of the few consumer products that comes with its business end stopped up with a cork. While newcomers to the world of wine may find the cork daunting, many wine lovers enjoy the ritual surrounding its extraction.

For this week's Wine Lovers' Voting Booth, we're doing an encore of a topic that we last reviewed in May 1999: "What is your favorite cork extractor?" Please click to http://www.wineloverspage.com/votebooth to cast your "vote." Then you can see how your opinion compares with those of other wine lovers around the world.

30 Second Administrivia

This free E-mail publication is distributed to subscribers every Monday, and our daily Wine Advisor Express is E-mailed Tuesday through Friday. Previous editions are archived at http://www.wineloverspage.com/wineadvisor/thelist.shtml.

You are on the subscription list because you registered during a visit to Robin Garr's Wine Lovers' Page. To change your E-mail address, switch from the weekly (Mondays only) to daily distribution, or for any other administrative matters, E-mail wine@wineloverspage.com. In the unhappy event that you must leave us, please take a moment to let us know how we could have served you better. In all administrative communications, please be sure to include the exact E-mail address that you used when you subscribed, so we can find your record.

We welcome feedback, suggestions, and ideas for future columns. We do not use this list for any other purpose and will never give or sell your name or E-mail to anyone.

All the wine-tasting reports posted here are consumer-oriented. In order to maintain objectivity and avoid conflicts of interest, I purchase all the wines I rate at my own expense in retail stores and accept no samples, gifts or other gratuities from the wine industry.

More time for wine?

You don't need to wait for Mondays to read about wine! Drop in any time at the Wine Lovers' Page, http://www.wineloverspage.com, where we add new tasting notes several times each week and frequently expand our selection of wine-appreciation articles, tips and tutorials. If you'd like to talk about wine online with fellow wine enthusiasts around the world, click to our interactive, international Wine Lovers' Discussion Group forums, http://www.wineloverspage.com/forum.

Vol. 3, No. 44, Monday, Nov. 19, 2001

<!TODAY'S TEXT ENDS HERE!>

Subscribe (free) to The 30 Second Wine Advisor