<!TODAY'S TEXT STARTS HERE!>

No issue next week!

I'm headed back to California's Napa and Sonoma wine country next week, hoping to return home with lots of good wine tips and photos. Unfortunately, it won't be practical to distribute an issue on Monday, Jan. 17. We'll be back on Monday, Jan. 24, which will mark the beginning of Volume 2, our second year of publication.

30 Second Wine Tasting Tip:
Chianti: Both historic and new

Remember the good old days, when Chianti was a cheap wine that came in squat bottles wrapped in wicker baskets that could be recycled as candlesticks?

You can still buy wine in this old-fashioned bottle (called a "fiasco"), but Chianti, one of the world's oldest wine styles, has essentially re-invented itself in the last generation, greatly upgrading its image while turning the once-familiar wicker bottle into a relative curiosity.

Chianti's roots go all the way back to the 14th century in the austere hill country of Tuscany between Florence and Siena, and the wine had evolved into something very much like its present form a century-and-a-half ago, when Baron Bettino Ricasoli (whose ancient firm still produces Chianti today) standardized its blend of grapes to include Sangiovese, the fine red grape of Tuscany, with the red grape Canaiolo and a small but significant proportion of white grapes, Trebbiano and Malvasia. Many traditional Chianti makers produce their wines as "field blends," with the grape varieties growing together in the vineyards, picked and crushed all at the same time.

In modern times, Chianti has seen another shift, with the more modern wineries pressing for changes in the regulations (and sometimes quietly ignoring them), reducing the amount of white grapes in the blend - or even eliminating them - and sometimes adding a bit of Cabernet Sauvignon and other non-Italian grapes. (This is distinct from the pricey wines known as "high-tech Tuscans," which are entirely non-traditional blends that bear only a kissing kinship with the original.)

Meanwhile, the booming postwar economy and industrialization of Northern Italy and rising labor costs made the old wicker bottles so expensive to produce that it was no longer feasible to use them for cheap wine; and this went well with the industry's desire to create a new image for Chianti by presenting it in upscale, shouldered bottles much like those used for Bordeaux.

Chianti, and its ritzier siblings Chianti Classico (produced in the region's most desirable central area) and Chianti Classico Riserva (which sees longer aging in oak), may never quite reach the peaks of respect occupied by the top Bordeaux and Burgundy. But for me at least, the expectation of a bottle of good Chianti on the dinner table never fails to make me smile ... and that's not a bad thing.

What do you think of Chianti? Share your opinions by E-mail to wine@wine-lovers-page.com. I regret that the growing circulation of the "Wine Advisor" makes it difficult for me to reply individually to every note, but I'll answer as many as I can; and please be assured that all your input helps me do a better job of writing about wine. Please feel free to get in touch if you'd like to comment on our topics and tasting notes, suggest a topic for a future bulletin, or just talk about wine.

If you're enjoying The 30 Second Wine Advisor, we hope you'll tell your wine-loving friends to register for their own free weekly copy at http://www.wine-lovers-page.com/wineadvisor.

30 Second Tasting Notes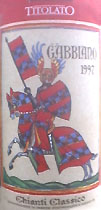 Titolato 1997 Gabbiano Chianti Classico ($11.99)
The 1997 vintage, currently widely available, was a particularly good one in Chianti, and just about every '97 I've tried has been fine. This familiar label is no exception: Clear, dark ruby with an orange glint, it shows good black-cherry aromas with hints of tar and smoke and light floral notes. Bright and juicy fruit flavors are balanced by tart acidity and a slight tannic astringency that suggests it will continue to improve with a year or two in the bottle. Balanced and structured, it's a first-rate Chianti. U.S. importer: Beringer Wine Estates, Napa, Calif. (Jan. 8, 2000)

FOOD MATCH: Excellent match with a meatless entree of boiled red-skinned potatoes tossed in Brie cheese.


For more recent 1997 Chianti reports, see my Wine Tasting Notes.

A 30 Second Follow-up

Our recent (Nov. 29) article on uses for old wine corks attracted a large number of E-mail responses, all of them interesting - thanks to all of you who got in touch.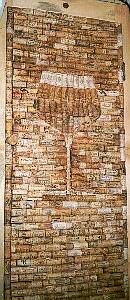 I can't resist sharing New Yorker Todd Greeno's E-mail letter:

"I enjoyed your column on using old wine corks," Todd wrote. "I have a straw basket where I put each cork when I open a bottle, and when I have enough corks, I use them for some new project. My last project was to cover the doors to my wine cellar. This was a simple project - I first split all of my corks in half length-wise, and sorted them on whether the lettering was horizontal or vertical. I then traced the outline of a Pinot Noir glass, and selected vertical corks to fill in the shape. Then I used horizontal corks fill in the 'background.' I also used contrasting shades where possible (some corks retained some of the Burgundy color from that precious juice they were protecting!) so the glass would appear to have some wine in it, and the crystal stem would 'shine.' I finished the door with cork edging, again using vertical or horizontal lettering so the winery names could be easily read. A Champagne cork was used as the door pull.

"It's a nice way to remember the various wines!"

Indeed it is, and thanks to Todd for telling us about his project. Text-edition subscribers who'd like to see a picture of the door will find it at www.wineloverspage.com/wineadvisor/cellardoor.shtml.

A 30 Second Correction

Reader Mirko Diksic draws my attention to an obsolete geographical reference in last week's edition, when I spoke of "Yugoslavian oak."

"There was in the past Yugoslav oak but after Yugoslavia fell apart this oak should be identified as Croatian, because it comes from the area of Croatia known as Slavonia," Mirko writes. "The Slovenian oak is not the same as Croatian oak from Slavonia area (note difference in spelling). Indeed Slovenia has also a good oak but for the wine making the oak from Croatia (Slavonia and Lika areas) are the best for that purpose. Probably to make a complete justice you might want to identify that as both Slovenian and Croatian oak."

30 Second Wine Link

In addition to fashioning remarkable cellar doors, Todd Greeno is also founder and chairman of an informal, non-profit wine-tasting group with a most enjoyable Web page. The HDL Enhancement Group not only features upcoming events for wine lovers in the New York City area, it also contains a healthy ration of good articles about wine and health, wine tasting and much more.

30 Second Advertising Partner

California Wine Club, www.cawineclub.com, is the perfect, affordable way to get two different bottles of excellent wine every month, along with its fun and fact-filled newsletter Uncorked. Commercially unavailable, these wines are like secret treasures we hand-select from California's small, award-winning wineries. Join for as many months as you like, or use The California Wine Club as a special, unique gift for friends, family, customers and colleagues. You can reach the Club at the link above or, in the U.S., by calling 1-800-777-4443.

30 Second Administrivia

This free weekly E-mail publication is distributed to subscribers every Monday. Previous editions are archived on The Wine Lovers' Page. See www.wine-lovers-page.com/wineadvisor/thelist.shtml.

You are on the subscription list because our records indicate that you registered during a visit to Robin Garr's Wine Lovers' Page. If for any reason you don't want to receive this publication, simply send E-mail to 'wine@wine-lovers-page.com' and we'll remove your name from the list. We do not use this list for any other purpose and will never give or sell your name or E-mail to anyone.

If your E-mail program is having trouble handling the images in this edition, feel free to request that we switch you from the HTML to TEXT edition ... or vice versa. We welcome feedback, suggestions, and ideas for future columns. Send us E-mail at wine@wine-lovers-page.com.

All the wine-tasting reports posted here are consumer-oriented. In order to maintain objectivity and avoid conflicts of interest, I purchase all the wines I rate at my own expense in retail stores and accept no samples, gifts or other gratuities from the wine industry.

More time for wine?

You don't need to wait for Mondays to read about wine! Drop in any time on Robin Garr's Wine Lovers' Page, where we add new tasting notes several times each week and frequently expand our selection of wine-appreciation articles, tips and tutorials.

If you'd like to talk about wine online with fellow wine enthusiasts around the world, we'd be delighted to have you visit the interactive forums in our Wine Lovers' Discussion Group. If you're from another part of the world and don't feel entirely comfortable chatting in English, visit our International Forum and introduce yourself in the language of your choice.

Vol. 1, No. 51, Jan. 10, 2000

<!TODAY'S TEXT ENDS HERE!>

Subscribe (free) to The 30 Second Wine Advisor