<!TODAY'S TEXT STARTS HERE!>

30 Second Wine Tasting Tip:
Planet of the Grapes

This sample image shows color-coded degrees of grapevine vigor in a vineyard in Napa's Carneros region.

Humans have been making wine for thousands of years, since the Bronze Age, and it seems likely that the wines made in Biblical times or the ancient Roman Empire would not be entirely unrecognizable to us today. Grapes ferment naturally into wine, and no real technology is required to make it.

But that doesn't mean that high technology can't be pressed into the wine maker's service. From refrigerated fermentation in stainless-steel tanks to synthetic corks to such controversial chemistry-set technologies as manipulating wines with reverse osmosis through permeable membranes, science has come to the winery to stay.

And now the technology that put spacecraft on the Moon and Mars has arrived in - or over - the vineyard.

Researchers at the U.S. National Astronautics and Space Administration are helping growers improve wine quality by using remote-sensing technology to scan vineyards from high above California, NASA reported in a news release last week.

Using images taken from airplanes and satellites, NASA is mapping vineyards so grape growers can measure such important variables as ripening, disease, soil drainage and fruit quality.

With information gleaned from satellite photographs, scientists can pick out specific sections of vineyards where the vines are showing high, moderate or low vigor. That's important, Daniel Bosch, vineyard technical manager at Napa's Robert Mondavi Winery told NASA, because, "We now identify vine vigor to see weak and strong areas of growth in the vineyard, then we break up how we harvest. We can taste those differences in the grapes at harvest."

The winery's Tim Mondavi added: "For hundreds of years, winegrowers have known that grapes harvested from different areas in their vineyards can produce wines with unique flavors and tastes. We are now using NASA's advanced remote-sensing technologies to understand the subtle nuances of our vineyards, and with astounding results."

The complete NASA press release is at http://amesnews.arc.nasa.gov/releases/2001/01_62AR.html. A collection of NASA photos of the grape project, including a sample satellite image, is at http://amesnews.arc.nasa.gov/releases/2001/01images/grapes/john/grapes.html, and a report on NASA's Viticultural Integration of NASA Technologies for Assessment of the Grapevine Environment (VINTAGE) project is at http://geo.arc.nasa.gov/sge/vintage/vintage.html.

If you would like to comment on this week's subject, you're welcome to post a new topic on our interactive Wine Lovers' Discussion Group, http://www.wineloverspage.com/cgi-bin/sb/index.cgi?fn=1. Or write me at wine@wineloverspage.com. I regret that the growing circulation of the "Wine Advisor" makes it difficult for me to reply individually to every note. But I'll respond to as many as I can and do my best to address specific questions. Please be assured that all your input helps me do a better job of writing about wine.

Please tell your wine-loving friends about The 30 Second Wine Advisor (weekly) and Wine Advisor Express (daily), and invite them to register for their own free subscription at http://www.wineloverspage.com/wineadvisor.

30 Second Tasting Notes:
A "Fiasco" that's no fiasco

Two weeks ago, we wrote about the "fiasco," the old-fashioned wicker-wrapped bottle that used to be the standard container for Chianti. Your E-mail responses suggested that many of you, like me, remember these old basket bottles fondly, even though we know the wine inside isn't what you would call "collectible."

So this week I made a special effort to look for one of the Chiantis that still comes in the old package. Tasted "blind" against a similarly priced wine of the region, it stood up well enough in the competition: Nothing fancy, but more than adequate to wash down dinner.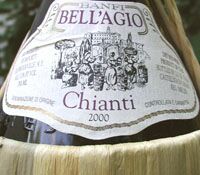 Banfi 2000 Bell'agio Chianti ($9.49)
Dark ruby in color, this wine from a basket-wrapped "fiasco" offers the characteristic black-cherry aromas of Chianti. Tart black-fruit flavors are simple and fresh, a bit on the light side but straightforward and refreshing; this is one red wine that could be served with a slight chill. U.S. importer: VB Imports, Old Brookville, N.Y. (Sept. 1, 2001)

IMPORTER'S WEBSITE: http://www.banfivintners.com/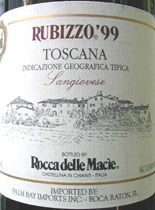 Rocca delle Macie 1999 "Rubizzo" Toscana Sangiovese ($9.99)
Dark ruby-amber in color, with a ring of tiny bubbles that line the edge of the glass. A hint of a burnt-sugar aroma blends with simple black fruit in the aroma; the flavor is tart and prickly, though it seems to round out and add more fruit with time in the glass. U.S. importer: Palm Bay Imports, Boca Raton, Fla. (Sept. 1, 2001)

WINERY WEBSITE: http://www.roccadellemacie.com (In Italian only and requires "Flash.")

FOOD MATCH: While spaghetti with meat sauce or pizza might be the most traditional match, both these wines worked well with the earthy flavors of a quick lamb and onion "hash" in cabbage leaves on a fresh tomato coulis.


Wine Tasting 101:
Gentil Hugel

This month's featured wine in our Wine Tasting 101 project is a white wine, Gentil Hugel, made from a blend of five varieties of grapes in Alsace.

If you would like to sharpen your wine-tasting skills by comparing notes on a "benchmark" wine with an online group of wine lovers, just point your browser to http://www.wineloverspage.com/forum/wt101.shtml for information about the wine and this free interactive project.

Wine Lovers' Voting Booth:
"First growths" of Vintage Port?

Nearly 100 years ago, Bordeaux's wine merchants classified the wine producers of the Médoc, elevating the very best to the lofty status of "first growths."

For this week's Wine Lovers' Voting Booth, we invite you to participate in a similar, if unofficial, classification process, as we ask, "What are the five 'first growth' equivalents for Vintage Port?"

If you'd like to join in the fun, click to the Voting Booth, http://www.wineloverspage.com/votebooth. Once you've made your picks (you may select up to five Port houses from a ballot of 20), then you can compare your choices against those of other wine lovers around the world.

Sydney International Wine Competition

If you're a commercial wine maker and proud of your product, there's still - barely - time for you to enter your current-release wines in the Sydney International Wine Competition. Entries formally close today (Sept. 3), but the competition's amiable Director, Warren Mason, tells me that the competition will accept procrastinators through Sept. 10, subject to a small late-entry fee.

Judging will take place Oct. 2-6 at the competition's home quarters in the beautiful Blue Mountains outside Sydney. Top 1OO awards carry special weight, in my opinion, because it is the only major wine competition in which the winners are judged both in isolation and, as they are most often served in the real world, with appropriate food.

To enter commercial wines for consideration, click to https://www.top100wines.com/online_entry for the details. To read about the competition (including results and judges' reports from last year's deliberations, when it was my pleasure to serve as a judge), see https://www.top100wines.com.

30 Second Administrivia

This free E-mail publication is distributed to subscribers every Monday, and our daily Wine Advisor Express is E-mailed Tuesday through Friday. Previous editions are archived at http://www.wineloverspage.com/wineadvisor/thelist.shtml.

You are on the subscription list because you registered during a visit to Robin Garr's Wine Lovers' Page. To change your E-mail address, switch from the weekly (Mondays only) to daily distribution, or for any other administrative matters, E-mail wine@wineloverspage.com. And of course we welcome feedback, suggestions, and ideas for future columns. We do not use this list for any other purpose and will never give or sell your name or E-mail to anyone.

All the wine-tasting reports posted here are consumer-oriented. In order to maintain objectivity and avoid conflicts of interest, I purchase all the wines I rate at my own expense in retail stores and accept no samples, gifts or other gratuities from the wine industry.

More time for wine?

You don't need to wait for Mondays to read about wine! Drop in any time at the Wine Lovers' Page, http://www.wineloverspage.com, where we add new tasting notes several times each week and frequently expand our selection of wine-appreciation articles, tips and tutorials. If you'd like to talk about wine online with fellow wine enthusiasts around the world, click to our interactive, international Wine Lovers' Discussion Group forums, http://www.wineloverspage.com/forum.

Vol. 3, No. 33, Sept. 2, 2001

<!TODAY'S TEXT ENDS HERE!>

Subscribe (free) to The 30 Second Wine Advisor