<!TODAY'S TEXT STARTS HERE!>

30 Second Wine Tasting Tip:
Cellaring in the refrigerator


Don't store your wine in the refrigerator. This is one of the first rules that the budding wine collector learns, and the conventional wisdom is firm: Unlike cellar units explicitly designed for wine storage, the refrigerator is too cold for wine to mature properly. Worse yet, experts say, the compressor motor causes vibrations that will damage wine over the long term.

But let's look at the other side: Conventional wisdom or no, just about all of us will pop a white wine into the refrigerator to chill it before serving; and if you're like me, you don't worry much if the wine stays there for a few days, or even a few weeks, before you get around to it.

So how long is too long, and how cold is too cold?

This topic comes up from time to time, usually in midsummer; in fact, we discussed it in a Wine Advisor article just about this time last year, and again - with particular reference to the effects of freezing temperatures on wine - last winter. But it's worth revisiting this question because the refrigerator offers such a tempting alternative for wine lovers who don't care to invest in pricey wine cellars.

Unfortunately, this is one of the many wine questions that doesn't have a clear-cut answer. For long-term cellaring with the goal of bringing "collectible" wines to a peak of maturity, the ideal "cellar temperature" is about 55F (13C), which not coincidentally is the natural temperature of underground caves. But this is a tricky environment for the average household, as it's much colder than room temperature but substantially warmer than the refrigerator.

In my opinion and experience, if you have to choose, it's less harmful to keep wine a little too cold than a little too hot. I often stick white wines in the refrigerator and occasionally end up "losing" them for weeks or even months without terrible consequences. (And, in case you were wondering, nothing bad happens if you chill a wine, then let it return to room temperature before serving.)

So if you like your wine cold - or even if you're worried about your wine suffering from extreme heat during the summer time - I really wouldn't think twice about putting a few bottles in the fridge.

Do you have first-hand experience with storing wine in the refrigerator for longer than the conventional wisdom advises? How did it fare? If you have a tale to tell, click to our interactive Wine Lovers' Discussion Group, http://www.wineloverspage.com/cgi-bin/sb/index.cgi?fn=1&tid=18585 for an ongoing discussion on this topic. Or send me E-mail at wine@wineloverspage.com. I regret that the growing circulation of the "Wine Advisor" makes it difficult for me to reply individually to every note. But I'll respond to as many as I can and do my best to address specific questions. Please be assured that all your input helps me do a better job of writing about wine.

Please tell your wine-loving friends about The 30 Second Wine Advisor (weekly) and Wine Advisor Express (daily), and invite them to register for their own free subscription at http://www.wineloverspage.com/wineadvisor.

30 Second Tasting Notes:
Exceptional Sonoma Cabernet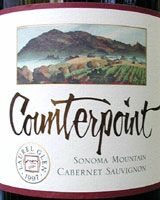 Laurel Glen 1997 "Counterpoint" Sonoma Mountain Cabernet Sauvignon ($17.99)
With the price of most high-quality California Cabernet Sauvignon rapidly spiraling out of sight, it's a rare thing to find a very good one for less than $20, and that goes double for the much-hyped 1997 vintage. But this excellent label from one of my favorite California wineries - Laurel Glen - is a consistent winner for both quality and value. Counterpoint, made from "estate-grown" grapes from younger vines, may rank second to the winery's flagship Laurel Glen label, but stands on its own as a wine of real stature. (For even more affordable wines of quality from Laurel Glen, look for its Quintana, Terra Rosa and REDS labels, which are made from purchased grapes that may come from just about anywhere in the Western Hemisphere.)

The 1997 Counterpoint offers delicious herbal black-fruit aromas of plums and fresh fennel. It's mouth-filling and tart, fresh fruit surrounding sweet but astringent tannins. Fruity and balanced, it's quite enjoyable now - especially with red meat to help tame the soft tannins - but it will certainly benefit from several years of cellar time. (July 13, 2001)

FOOD MATCH: Perfect with chunks of pan-seared sirloin tossed in the skillet with fresh tomatoes and basil.

WINERY WEBSITE: http://www.laurelglen.com/


30 Second Advertising Partner:
California Wine Club

Take an armchair tour of California's finest family owned "boutique" wineries with The California Wine Club. Each month you will receive two bottles of hand-selected, hard-to-find wine. Monthly subscriptions start at $32.95, which includes all shipping and handling as well as the club's 8-page newsletter Uncorked. Best of all, you can re-order your favorites at up to 50 percent off normal retail price.

CALIFORNIA WINE CLUB'S RISK-FREE GUARANTEE: The club guarantees to reship, replace or refund any wine that you are not completely satisfied with, promptly and without question. There is no obligation and you can cancel at any time!

Call the California Wine Club today, 1-800-777-4443 in the U.S., or contact the club through its Website, http://www.Cawineclub.com.

SPECIAL JOINING OFFER for 30 Second Wine Advisor readers: Mention that you saw this advertisement, and you will receive three bottles for the price of two in your first shipment.

30 Second Administrivia

This free E-mail publication is distributed to subscribers every Monday, and our daily Wine Advisor Express is E-mailed Tuesday through Friday. Previous editions are archived at http://www.wineloverspage.com/wineadvisor/thelist.shtml.

You are on the subscription list because you registered during a visit to Robin Garr's Wine Lovers' Page. To change your E-mail address, switch from the weekly (Mondays only) to daily distribution, or for any other administrative matters, E-mail wine@wineloverspage.com. And of course we welcome feedback, suggestions, and ideas for future columns. We do not use this list for any other purpose and will never give or sell your name or E-mail to anyone.

All the wine-tasting reports posted here are consumer-oriented. In order to maintain objectivity and avoid conflicts of interest, I purchase all the wines I rate at my own expense in retail stores and accept no samples, gifts or other gratuities from the wine industry.

More time for wine?

You don't need to wait for Mondays to read about wine! Drop in any time at the Wine Lovers' Page, http://www.wineloverspage.com, where we add new tasting notes several times each week and frequently expand our selection of wine-appreciation articles, tips and tutorials. If you'd like to talk about wine online with fellow wine enthusiasts around the world, click to our interactive, international Wine Lovers' Discussion Group forums, http://www.wineloverspage.com/forum.

Vol. 3, No. 26, July 16, 2001

<!TODAY'S TEXT ENDS HERE!>

Subscribe (free) to The 30 Second Wine Advisor