<!TODAY'S TEXT STARTS HERE!>

30 Second Wine Tasting Tip:
Wine Tasting 101


One of the best ways to sharpen your wine-tasting skills is to get in the habit of jotting down a few quick notes whenever you taste an interesting wine. I find that this simple process helps focus my thinking and fix the specifics of each wine I taste in my palate's memory.

I find this simple technique works even better when I share my tasting impressions with other wine-loving friends. Comparing your impressions with those of others with similar interests can be an excellent way to learn whether you are on the right track.

But this can also be a challenge: If you haven't done it before, even the most bold and self-confident wine lover may feel nervous about offering wine opinions to a savvy crowd, fearing possible criticism or even abuse.

This week I have opened WINE TASTING 101, a new feature on Wine Lovers' Page that I hope will make it easy for everyone - even if you still consider yourself a novice wine enthusiast - to practice recording and sharing wine notes in a civil, friendly environment where peer support is encouraged and abuse is banned.

WINE TASTING 101, http://www.wineloverspage.com/forum/wt101.shtml, uses the same user-friendly software as our other interactive online forums. Unlike the rest, it is dedicated to a single purpose: Learning more about wine by recording your impressions and sharing them with others.

To accomplish this, every month, we will select a specific WINE OF THE MONTH that's affordable, interesting and widely available around the world. Everyone who would like to participate will buy this wine - or, if it's unavailable, the closest alternative available - taste it, and post tasting notes.

This month's wine is PAUL JABOULET AINE 1998 "PARALLELE '45'" COTES-DU-RHONE. You should be able to find this wine in most parts of the world for $10 or less, but if you can't get it, we suggest substituting, in this order: a different vintage of Parallele '45'; a different 1998 Cotes-du-Rhone; a different Cotes-du-Rhone of another vintage; or, as a final fallback, any Grenache, Garnacha, Syrah, Shiraz of similar price and age.

Everyone is welcome, and encouraged, to join in, whether you're a wine novice, intermediate or advanced hobbyist or wine-industry professional. There's plenty of room for all, and the broader the variety of participants, the more there'll be for everyone to learn.

To encourage wide participation, WINE TASTING 101 redoubles the premise that holds in all our forums: Everyone's opinion is valid and to be respected. We welcome discussion of each other's notes, but such discussion will be positive, supportive and aimed at education. Our experienced tasters will assist our newer peers by gently evaluating their notes and particularly by pointing out, and reinforcing, those instances where someone does it especially well.

The usual procedure is to name the wine, then discuss its appearance, aroma, flavor, aftertaste/finish and overall impression. Please do include the price you paid for the wine, and where you bought it. It's interesting to see how these things vary around the world.

We don't insist on any specific format for tasting reports, but if you would like a specific format to use as a model, here are some examples:

Now, click here to enter Wine Tasting 101. If you have suggestions, comments or questions about this project, please feel free to send me E-mail at wine@wineloverspage.com. I regret that the growing circulation of the "Wine Advisor" makes it difficult for me to reply individually to every note. But I'll respond to as many as I can and do my best to address specific questions. Please be assured that all your input helps me do a better job of writing about wine.

Please tell your wine-loving friends about The 30 Second Wine Advisor (weekly) and Wine Advisor Express (daily), and invite them to register for their own free subscription at http://www.wineloverspage.com/wineadvisor.

30 Second Tasting Notes:
Compare and contrast

Another excellent way to hone your analytical tasting skills is to open two bottles of wine side-by-side so you can compare and contrast them, noting (and ideally writing down) the similarities and differences as you taste both. This can be extravagant unless you're tasting with friends, but here's a wine-taster's secret: It's not really a crime to pour the leftovers together into a single bottle that you can then refrigerate and save to enjoy another time.

Here are my notes on a pair of modest whites (which by sheer coincidence have the same name - "New City" - in Italian and French respectively):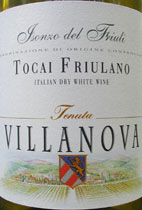 Villanova 1997 I Sonzo del Friuli Tocai Friulano ($9.99)
This wine from Northeastern Italy's Friuli region is a clear straw color. Peaches and almond aromas, ripe and appealing. Flavors consistent with the nose, white fruit and crisp acidity in balance. An aromatic wine, typical of the Tocai Friulano variety, fresh and pleasant. U.S. importer: VIAS Imports Ltd., NYC. (June 8, 2001)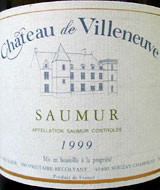 Chateau de Villeneuve 1999 Saumur ($9.99)
This French wine is a clear straw color, identical in appearance to the Italian wine. It's aromatic, too, but the aromas are pleasantly medicinal, witch hazel and banana oil. Its intense white-fruit flavor is shaped by piercing acidity and a marked peach-pit bitterness. Idiosyncratic but pleasantly complex, it strikes me as the kind of Loire Chenin Blanc that will round out and become more approachable with time in the bottle. U.S. importer: Vintner Select, Cincinnati. (June 8, 2001)

FOOD MATCH: Both wines go well with a simple Italian dish of spaghetti tossed with butter and chopped fresh sage; the Tocai Friulano makes a stunning match with its fruity aromatics.


Wine Lovers' Voting Booth:
Wine lover's epiphany

"Epiphany," in the non-theological sense, means "A sudden realization." Many wine lovers can clearly remember a moment - most likely with wine in hand - where we suddenly realized that there was something special about this drink.

For this week's Wine Lovers' Voting Booth, we would like to hear your story. You're invited to click to http://www.wineloverspage.com/votebooth/ and tell us where you were when your vinous epiphanal moment occurred.

30 Second Advertising Partner:
California Wine Club

Can't get enough Chardonnay? We know how you feel ...

There's nothing quite like the elegant taste of vanilla and honey. Nor is there anything like spending an early summer evening with a chilled glass of California Chardonnay. It's one of our favorite things to do!

The California Wine Club has just released 50 cases of ZD '98 RESERVE CHARDONNAY.

91 points ... The Insiders Wine Line, Volume 4, Number 1
Gold Medal ... Hilton Head Wine Competition


"The '98 Napa Valley Chardonnay Reserve has a perfumed nose of tropical fruits, apples, pecans, melon and spicy oak. The flavors of pineapple, mango, nectarine, citrus, clove and vanilla are very bright and forward, followed by a long fruity complex finish."

Regular Retail: $48
30 Second Wine Advisor Price: $39.99

Call early to guarantee your selection ~ 1-800-777-4443 Half or full cases only, mixed cases okay. Price is FOB Ventura, Calif.

The California Wine Club is an ideal way to receive or give two bottles of award-winning wine each month. Hand selected from California's smaller, boutique wineries, selections are virtually unavailable to all but California Wine Club members. Subscriptions start at just $32.95 per month, plus shipping.

For more information or to join The California Wine Club, please call 1-800-777-4443 or visit http://www.cawineclub.com.

30 Second Administrivia

This free E-mail publication is distributed to subscribers every Monday, and our daily Wine Advisor Express is E-mailed Tuesday through Friday. Previous editions are archived at http://www.wineloverspage.com/wineadvisor/thelist.shtml.

You are on the subscription list because you registered during a visit to Robin Garr's Wine Lovers' Page. If for any reason you no longer want to receive this publication, simply send a short E-mail to 'wine@wineloverspage.com' asking to be unsubscribed and, if you don't mind, offering us any suggestions you may have as to how we could have served you better. Please contact us in the same way if your E-mail address changes. And of course we welcome feedback, suggestions, and ideas for future columns. We do not use this list for any other purpose and will never give or sell your name or E-mail to anyone.

All the wine-tasting reports posted here are consumer-oriented. In order to maintain objectivity and avoid conflicts of interest, I purchase all the wines I rate at my own expense in retail stores and accept no samples, gifts or other gratuities from the wine industry.

More time for wine?

You don't need to wait for Mondays to read about wine! Drop in any time at the Wine Lovers' Page, http://www.wineloverspage.com, where we add new tasting notes several times each week and frequently expand our selection of wine-appreciation articles, tips and tutorials. If you'd like to talk about wine online with fellow wine enthusiasts around the world, click to our interactive, international Wine Lovers' Discussion Group forums, http://www.wineloverspage.com/forum.

Vol. 3, No. 21, June 11, 2001

<!TODAY'S TEXT ENDS HERE!>

Subscribe (free) to The 30 Second Wine Advisor