<!TODAY'S TEXT STARTS HERE!>

30 Second Wine Tasting Tip:
Is it time to retire the cork?


It can be a little alarming to consider how many things can go wrong with a bottle of wine before it reaches your table. Let me count the ways:

Overheating, for instance, can "cook" a wine in an hour or less, whether it's exposed to extreme heat on a kitchen-cabinet wine rack, in your car parked on a hot summer day, baked in a careless retailer's premises or overheated on a ship, truck or loading dock in transit from the winery through trade channels to you.

And that's not all. Exposure to air through a cracked, loose or defective cork can turn a good wine into a fair replica of cheap Sherry through oxidation. Bacterial and fungal contaminations may convert that pure fruit taste into something nasty; and the same goes for unpleasant sulfur-related or vinegar flavors.

Happily, the arrival of technology in the winery has alleviated or even eliminated many common wine flaws. But one persistent problem remains: As long as consumers continue to demand that quality wines be stoppered with natural cork - a 17th century technology for 21st century wine - we must accept that a small but significant percentage of the wines we open will be afflicted with an unpleasant fault that seems to be inseparable from natural cork.

We've taken on this topic here a couple of times before, but many of you E-mailed me after our recent column on synthetic corks, asking that I run through it again.

The chemistry is simple enough: A significant amount of natural cork contains a fungus that, upon exposure to wine in the bottle, creates a chemical called 2,4,6-tricloroanisole (TCA for short). This compound carries a characteristic dank, moldy aroma that reminds most people of mushrooms, damp cardboard or a wet basement, so persistent and strong that for all practical purposes it ruins the wine. (Even in very small proportions, moreover, TCA at levels below the threshold of perception may still render a wine flat, dull and muted.)

Wine so afflicted is said to be "corked" or "tainted," and many wine lovers believe that the problem could be virtually eliminated by replacing natural corks in wine bottles with a synthetic closure or screw cap.

But cork is so strongly associated with quality wine in most consumers' minds that the wine industry has been reluctant to consider shifting to cleaner alternatives like synthetic corks or even high-quality metal screw caps. The alternatives - using high-quality cork and inspecting them carefully - are expensive and still subject to failure, since the fungus that causes TCA cannot be reliably detected in advance.

In the past, we have used our Wine Lovers' Voting Booth feature to sample whether wine lovers would accept alternative closures for fine wines. This week we're taking a slightly different direction, inviting wine enthusiasts around the world to estimate for us how many of the wines you taste you consider to be "corked." We would like to gather as large a sample as possible, so I urge you to take a moment to click to the Voting Booth, http://www.wineloverspage.com/votebooth, and let us know.

If you would like to talk about this subject, the link http://www.wineloverspage.com/cgi-bin/sb/index.cgi?fn=1&tid=16747 will take you to an ongoing discussion about cork "taint" in our Wine Lovers' Discussion Group. Or send me E-mail at wine@wineloverspage.com, and I'll save them for use in a future report. I regret that the growing circulation of the "Wine Advisor" makes it difficult for me to reply individually to every note. But I'll answer as many as I can; and please be assured that all your input helps me do a better job of writing about wine.

Please tell your wine-loving friends about The 30 Second Wine Advisor (weekly) and Wine Advisor Express (daily), and invite them to register for their own free subscription at http://www.wineloverspage.com/wineadvisor.

30 Second Tasting Notes:
A very fine Cotes du Rhone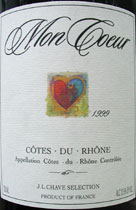 J.L. Chave 1999 Mon Coeur Cotes-du-Rhone ($20)
"Cotes du Rhone" serves as a general designation for all the wines made in a broad area along the slopes or hillsides ("Cotes," in French) of the Rhone Valley, and it covers a broad range of wines of wildly varying quality and price. I usually feature relatively inexpensive Cotes du Rhones, a category that I consider one of the world's most reliable for quality and value. But here's one from the other end of the spectrum, a special bottling from the respected J.L. Chave, best known for his pricey Syrah-based Hermitage. Very dark ruby in color, it offers a complex and interesting aroma of grilled meat and smoke and minerals over deep and brooding black fruit. Full and structured fruit flavors offer earthy and smoky nuances that follow the nose. Although it's expensive for a Cotes-du-Rhone, it's a stylish and complex table wine, drinking well now but promising still more improvement with cellar time. U.S. importer: The Wine Library Inc., Petaluma, Calif. (May 18, 2001)

FOOD MATCH: A natural match with grilled red meats; I served it with a simple dinner of lamb with orzo pasta.


30 Second Advertising Partner:
California Wine Club

Take an armchair tour of California's finest family owned "boutique" wineries with The California Wine Club. Each month you will receive two bottles of hand-selected, hard-to-find wine. Monthly subscriptions start at $36, which includes all shipping and handling as well as the club's 8-page newsletter Uncorked. Best of all, you can re-order your favorites at up to 50 percent off normal retail price.

CALIFORNIA WINE CLUB'S RISK-FREE GUARANTEE: The club guarantees to reship, replace or refund any wine that you are not completely satisfied with, promptly and without question. There is no obligation and you can cancel at any time!

Call the California Wine Club today, 1-800-777-4443 in the U.S., or contact the club through its Website, http://www.CawineClub.com.

SPECIAL JOINING OFFER for 30 Second Wine Advisor readers: Mention that you saw this advertisement, and you will receive three bottles for the price of two in your first shipment.

30 Second Administrivia

This free E-mail publication is distributed to subscribers every Monday, and our daily Wine Advisor Express is E-mailed Tuesday through Friday. Previous editions are archived at http://www.wineloverspage.com/wineadvisor/thelist.shtml.

You are on the subscription list because you registered during a visit to Robin Garr's Wine Lovers' Page. If for any reason you no longer want to receive this publication, simply send a short E-mail to 'wine@wineloverspage.com' asking to be unsubscribed and, if you don't mind, offering us any suggestions you may have as to how we could have served you better. Please contact us in the same way if your E-mail address changes. And of course we welcome feedback, suggestions, and ideas for future columns. We do not use this list for any other purpose and will never give or sell your name or E-mail to anyone.

All the wine-tasting reports posted here are consumer-oriented. In order to maintain objectivity and avoid conflicts of interest, I purchase all the wines I rate at my own expense in retail stores and accept no samples, gifts or other gratuities from the wine industry.

More time for wine?

You don't need to wait for Mondays to read about wine! Drop in any time at the Wine Lovers' Page, http://www.wineloverspage.com, where we add new tasting notes several times each week and frequently expand our selection of wine-appreciation articles, tips and tutorials. If you'd like to talk about wine online with fellow wine enthusiasts around the world, click to our interactive, international Wine Lovers' Discussion Group forums, http://www.wineloverspage.com/forum.

Vol. 3, No. 19, May 28, 2001

<!TODAY'S TEXT ENDS HERE!>

Subscribe (free) to The 30 Second Wine Advisor