<!TODAY'S TEXT STARTS HERE!>

Here's the plan:
Weekly and/or daily Wine Advisors!


First, I would like to thank all of you who responded to last week's call for advice on the idea of offering a brief daily edition of The 30 Second Wine Advisor - "Wine Advisor Express" - to carry on the tradition of my TipWorld daily wine tips, which ended with the sale of Topica's TipWorld to Emazing last week.

I was amazed to get several hundred responses, and intrigued to find that more than 95 percent of you urged me to offer a daily tip. However, I also heard with respect the pleas from those who asked me to please keep it weekly because your time and priorities won't accommodate daily E-mail.

So I'm going to try to do both. Here's how:
Beginning next week, I will launch "Wine Advisor Express," a daily newsletter similar in style and content to The 30 Second Wine Advisor but even more concise. It will typically contain just one item - a tasting note, brief wine-appreciation tip or tidbit of wine news - and sometimes an equally short message from a quality, wine-related advertising sponsor. (That's how we pay the rent.) This newsletter will be mailed most Tuesdays through Fridays, with occasional breaks for holidays, time off or trips.
We will continue the regular 30 Second Wine Advisor, as before, on Mondays, with the same mixture of concise wine tips, tasting notes, links and other information that you've come to expect.
PLEASE NOTE: Because such a large majority requested a daily newsletter, I propose to start by offering the Monday Wine Advisor and Tuesday-Friday Wine Advisor Express to everyone on the mailing list. If you feel strongly that you want the weekly (Monday) bulletin only, please write me at wine@wineloverspage.com as soon as possible so I can take your address off the daily list. If you're not certain, though, I urge you to give the daily bulletin a try. I promise to keep it so short that you should be able to enjoy it without taking more than a minute or two out of your busy schedule.

Thanks again for your many kind and helpful comments. I count on the advice of readers like you to make this bulletin the best it can be.

30 Second Wine Tasting Tip:
Extracting the artificial cork


The natural cork - a plug of a specialized Portuguese oak-tree bark - has been used to close most fine-wine bottles for more than 300 years, and this practice is so enshrined in tradition that many wine-industry experts believe the marketplace will never accept a substitute.

On the other hand, savvy consumers are increasingly coming to realize that a small but significant percentage of natural corks are afflicted with a fungus that ruins the wine with a musty, dank, mushroomy stench that overwhelms all other aromas and flavors.

And when you've suffered the indignity of opening an aged, expensive bottle that's "corked" in this way - as we did with a 1987 Heitz Martha's Vineyard Cabernet at a friend's house on Saturday - you'll understand why many serious wine enthusiasts are reconsidering their resistance to synthetic corks or even screwcaps and other non-traditional wine-bottle closures.

But synthetic corks can be frustratingly difficult to get out of the bottle.

I've had a surprising amount of E-mail on this topic from readers who've given up in despair, sometimes only after ruining a favorite corkscrew. Certain synthetics, it seems, form such a tight seal with the glass that it is unusually hard to pull them out. Corkscrews with a relatively thin screw - particularly the Screwpull model and its expensive Leverpull sibling - can literally pull their spiral into a straight wire (or break it off) before the cork comes loose. The simple T-shaped corkscrew, in contrast, simply may not be able to get a good enough grip to work.

When you're confronted with an artificial cork, I recommend using the simple, traditional "waiter's corkscrew," the kind that looks a bit like a pocket knife with a screw that folds out from the center and a pry-bar lever hinged at one end. Insert the screw fully, then place the lever securely against the edge of the bottle neck and pry gently until the cork comes out. It's simple, inexpensive, and using Archimedes' ancient principle, it almost never fails.

If you would like to read about alternatives to the natural cork, check the "Wine Advisor articles "Farewell to the cork?" (Nov. 1, 1999), http://www.wineloverspage.com/wineadvisor/tswa1101.shtml, and "A CAPital wine-bottle closure" (June 12, 2000), http://www.wineloverspage.com/wineadvisor/tswa061200.shtml. For a discussion of corkscrews, see "Getting out the cork" (May 24, 1999), http://www.wineloverspage.com/wineadvisor/tswa0524.shtml.

Have you had an experience with a recalcitrant cork that you would like to share? You're welcome to join the chat in our interactive Wine Lovers' Discussion Group, http://www.wineloverspage.com/cgi-bin/sb/index.cgi?fn=1. Or, if you prefer, send me E-mail at wine@wineloverspage.com. I regret that the growing circulation of the "Wine Advisor" makes it difficult for me to reply individually to every note. But I'll answer as many as I can; and please be assured that all your input helps me do a better job of writing about wine.

Please tell your wine-loving friends about The 30 Second Wine Advisor, and invite them to register for their own free weekly copy at http://www.wineloverspage.com/wineadvisor.

Benson Marketing Group:
Buy wine online? Answer 9 questions, win "Wine."

Benson Marketing Group, a Napa-based marketing agency, is conducting a short survey of consumer attitudes about buying wine online.

Take a few minutes and tell them what you think. OK, they won't send the liquid wine, but they will give away four copies of The Oxford Companion to Wine (second edition), edited by Jancis Robinson, in May. (We recommended this comprehensive encyclopedia in a review last Dec. 4.)

Click http://www.benson-marketing.com/survey/30sec.html to take the survey.

30 Second Tasting Notes:
Very fine red from Languedoc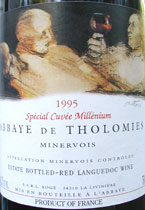 Abbaye de Tholomies 1995 Special Cuvee Millenium Minervois ($12.99)
This blend of Syrah (60%), Grenache (30%) and Mourvedre (10%), organically grown, aged in Alliers oak and held for six years after the vintage before release, was a real winner in its 1994 edition. The 1995 is up $3 in this market but still offers a remarkable, ageworthy value. Dark garnet in color, it offers peppery mixed-berry fruit and pleasantly earthy nuances on the nose and palate, opening up to surprising complexity with time in the glass. Good now, and showing signs of even greater potential with a few years in the bottle. U.S. importer: International Gourmet Corp., Tucker, Ga. (April 27, 2001)

FOOD MATCH: The tart, earthy red makes a natural match with a hearty pasta bowl of penne tossed with kale, red onions and pancetta.


30 Second Advertising Partner:
Kendall-Jackson for Mother's Day

Mother's Day is May 13: Treat Mom to fine wines from Kendall-Jackson Wine Estates.

Visit http://www.kj.com for beautiful gift packages featuring favorites and rarities from Kendall-Jackson, La Crema, Pepi and Camelot.

Select from white wine, red wine, or mixed wine packages to suit Mom's preference. All Mother's Day selections are custom-packaged with a signature burgundy box and ribbon.

Click here to view the Mother's Day Gift Selections: http://store.kj.com/interact/promo.asp?promo=WLP&name=html&value=pages/moms.html

30 Second Advertising Partner:
California Wine Club

As the weather warms, barbecues get fired up, sprinklers get turned on low and wine selections become more difficult! Do you quench the heat with a chilled glass of ripe Chardonnay or do you spark the summer night with a zesty Zinfandel? Why settle for one when you can have both? The California Wine Club introduces an award winning two-pack that's too good to pass up!

From Philip Staley ...
1996 "Dry Creek Valley Somers, Vineyard" Zinfandel ~ Deep garnet color, a wonderful balance of berries and fresh cracked pepper.
Gold Medal, 1999 Sonoma County Harvest Fair, 1 Star Connoisseurs' Guide to California Wine

From Chalk Hill ...
1996 Library Release "Estate Bottled" Chardonnay ~ A special release wine for the Millennium this bottle bears a commemorative medallion encased in a wax seal. Brimming with ripe lemon, orange and papaya aromas overlaid with toasty oak.
Ranked #9 in "1998's Top 100 of the Year" by Wine Spectator!

30 Second Wine Advisor readers ~ save 20% on these two exceptional wines!
Normal retail price: $75
Wine Advisor discounted price: $60

To order for yourself or as a gift, contact The California Wine Club at 1-800-777-4443. Or visit their website at http://www.cawineclub.com for monthly subscription information.

Order now and receive the 10th Anniversary Limited Edition Cookbook. Be sure to mention the 30 Second Wine Advisor Discount. Half and full cases are available. Call for details. Prices are FOB Ventura, California.

30 Second Administrivia

This free weekly E-mail publication is distributed to subscribers every Monday. Previous editions are archived on The Wine Lovers' Page. See http://www.wineloverspage.com/wineadvisor/thelist.shtml.

You are on the subscription list because you registered during a visit to Robin Garr's Wine Lovers' Page. If for any reason you no longer want to receive this publication, simply send a short E-mail to 'wine@wineloverspage.com' asking to be unsubscribed (and, if you wish, offering us any suggestions you may have as to how we could have served you better), and we'll remove your name from the list. We do not use this list for any other purpose and will never give or sell your name or E-mail to anyone. Please contact us in the same way if your E-mail address changes. And of course we welcome feedback, suggestions, and ideas for future columns. Send us E-mail at wine@wineloverspage.com.

A note about our HTML Edition: Please note that as of December, 2000, we have temporarily suspended publication of an HTML edition (with images), because of persistent technical problems. However, if you signed up for this edition, we are keeping your preference in the database, and you will get it again if and when we resume it.

All the wine-tasting reports posted here are consumer-oriented. In order to maintain objectivity and avoid conflicts of interest, I purchase all the wines I rate at my own expense in retail stores and accept no samples, gifts or other gratuities from the wine industry.

More time for wine?

You don't need to wait for Mondays to read about wine! Drop in any time on Robin Garr's Wine Lovers' Page, where we add new tasting notes several times each week and frequently expand our selection of wine-appreciation articles, tips and tutorials.

If you'd like to talk about wine online with fellow wine enthusiasts around the world, we'd be delighted to have you join the interactive, international forums in our Wine Lovers' Discussion Group.

Vol. 3, No. 15, April 30, 2001

<!TODAY'S TEXT ENDS HERE!>

Subscribe (free) to The 30 Second Wine Advisor