<!TODAY'S TEXT STARTS HERE!>

30 Second Wine Tasting Tip:
Reservations about "Reserve"


You'll often see the word "Reserve" (or the equivalent in other languages) on the label of a bottle of wine. With a few odd exceptions, it is most often seen on relatively pricey labels.

But what does it mean? Let's try to unravel this mystery in today's "Wine Advisor."

Traditionally, the term has been used in many wine-making regions to designate wines that the wine maker considered special and thus held back (or "reserved") for special treatment, most often aging in oak barrels. In old times, it was a reliable indication that the buyer is getting the winery's best product.

In Italy, Spain, Portugal and a few other countries, that principle has been enshrined in law: To earn the right to place "Riserva" (Italian) or "Reserva" (Spain) on the label, a winery must make its reserve wine according to strict prodedures evolved through tradition and established as wine law. These rules govern not only the specific grapes that must be used in each region but the time that the wine must spend aging in wood and bottles before it's sold.

In France, however, and most notoriously in the United States, "Reserve" on the label has no legal significance. And while some wineries use the term responsibly to denote a separate, top-of-the-line bottling aged in wood, many use it strictly for marketing. Kendall-Jackson's Vintner's Reserve Chardonnay, for instance, is actually their mass-market label. Many people love the wine, but it's the winery's main label, not a special bottling set aside from the rest. Another California firm, Glen Ellen, uses "Proprietor's Reserve" on all its wines, inexpensive bottlings that serious wine lovers don't generally consider of great interest.

So what can you expect from a wine labeled "Reserve" or the equivalent? If it's Italian or Spanish, count on a wine of quality that may benefit from aging. In my experience, Chianti Riservas and Rioja or Ribera del Duero Reservas (for example) will be very oaky in youth, speaking more of wood than fruit; but these wines do tend to mellow into delightful complexity with a few years of careful storage.

French "Reserve" wines are harder to evaluate because there's no legal requirement, but in general you can assume here, too, that a wine so labeled will show aromas and flavors of wood, at least in youth. Ditto for South America and Australia, where oak aging is commonplace, although I've found the use of the term less prevalent there ... so far, at least.

If you're shopping for American wines, you're on your own. Many smaller, artisanal wineries generally use the "Reserve" label as the Europeans do, especially on pricey items, to indicate a special bottling. Although many are oak-aged, you may encounter "Reserves" that are simply set aside from the best wines of the vintage without additional wood aging. There's no consistency, and in the case of inexpensive mass-market wines, the "Reserve" designation may well be bestowed on a simple, unimpressive wine by the winery's marketing forces as a way to catch the consumer's eye.

What's your experience with wines marked "Reserve"? Do you find it a useful tool for wine buying? If you would like to discuss this or other wine-related topics, I hope you'll drop by our Wine Lovers' Discussion Group, http://www.wineloverspage.com/cgi-bin/sb/index.cgi?fn=1. Or, if you prefer, send me E-mail at wine@wineloverspage.com. I regret that the growing circulation of the "Wine Advisor" makes it difficult for me to reply individually to every note. But I'll answer as many as I can; and please be assured that all your input helps me do a better job of writing about wine.

Please tell your wine-loving friends about The 30 Second Wine Advisor, and invite them to register for their own free weekly copy at http://www.wineloverspage.com/wineadvisor.

30 Second Tasting Notes:
Three "reserve" wines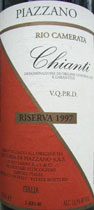 Piazzano 1997 Chianti Riserva ($13.99)
Very dark ruby color. Spicy black-cherry and earthy aromas. Full and tart flavor, sour cherries and mixed spice. Dry, acidic and long, wiht pleasant cherry-pie notes in a long finish. U.S. importer: Vintner Select, Cincinnati and other regional importers; a Marc de Grazia Selection. (April 11, 2001)

FOOD MATCH: Perfect with Stufato alla Siciliano, a spicy Southern Italian beef stew.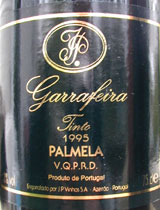 J.P. 1995 Palmela Garrafiera Tinto ($8.99)
Akin to "Reserve," "Garrafiera" (literally "wine cellar" in Portuguese), is a legal term for a wine aged two years in oak and one in bottle before it's sold. This one's clear garnet, with the characteristic vanilla scent of new oak dominant over perfumed floral notes in the aroma. Soft, startlingly grapey fruit flavor, almost reminds me of grape juice, a bit unexpected for a "reserve" type wine, but might be of interest to those seeking a fruity quaff for a relatively low price. U.S. importer: Admiral Wine Merchants, Irvington, N.J. (April 11, 2001)

FOOD MATCH: OK for washing down the beef stew above, but a little grapey and one-dimensional to be an ideal food match.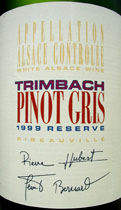 Trimbach 1999 Alsace Pinot Gris Reserve ($16.99)
Although France in general doesn't control "Reserve" by law, Alsatian wineries seem to use it responsibly to denote special batches aged in oak. This fine white is pale brass in color, with fresh herbal and green-pea aromas and a crisp, rather full-bodied flavor of white citrus fruit and minerals; clean, acidic and long. U.S. importer: Seagram Chateau & Estate Wines Co., NYC. (April 11, 2001)

FOOD MATCH: Quite good with a variety of vegetarian lasagnas, particularly so with an asparagus-cheese lasagna.


30 Second Advertising Partner:
California Wine Club

Mother's Day, Weddings and Graduations ... special occasions deserve special gifts! Give a California wine adventure with a monthly subscription to The California Wine Club.

Each month your gift recipient, or you, will receive two bottles of award-winning, hard-to-find wine, hand selected from California's finest "boutique" wineries. In addition, each shipment includes our fun and entertaining 8-page newsletter, Uncorked.

Monthly subscriptions start at $36, which includes all shipping and handling. Give as many months as you wish! Special discounted pricing on gifts of 3, 6, 9 or 12 months.

CALIFORNIA WINE CLUB'S RISK-FREE GUARANTEE: The club guarantees to reship, replace or refund any wine that you are not completely satisfied with, promptly and without question.

Give a gift, or join for yourself! Call The California Wine Club today, 1-800-777-4443 in the U.S., or contact the club through its Website, http://www.Cawineclub.com.

SPECIAL OFFER for 30 Second Wine Advisor readers: Mention that you saw this advertisement, and we will send three bottles for the price of two in the first shipment! (Monthly discounts not valid with free wine offer.)

30 Second Administrivia

This free weekly E-mail publication is distributed to subscribers every Monday. Previous editions are archived on The Wine Lovers' Page. See http://www.wineloverspage.com/wineadvisor/thelist.shtml.

You are on the subscription list because you registered during a visit to Robin Garr's Wine Lovers' Page. If for any reason you no longer want to receive this publication, simply send a short E-mail to 'wine@wineloverspage.com' asking to be unsubscribed (and, if you wish, offering us any suggestions you may have as to how we could have served you better), and we'll remove your name from the list. We do not use this list for any other purpose and will never give or sell your name or E-mail to anyone. Please contact us in the same way if your E-mail address changes. And of course we welcome feedback, suggestions, and ideas for future columns. Send us E-mail at wine@wineloverspage.com.

A note about our HTML Edition: Please note that as of December, 2000, we have temporarily suspended publication of an HTML edition (with images), because of persistent technical problems. However, if you signed up for this edition, we are keeping your preference in the database, and you will get it again if and when we resume it.

All the wine-tasting reports posted here are consumer-oriented. In order to maintain objectivity and avoid conflicts of interest, I purchase all the wines I rate at my own expense in retail stores and accept no samples, gifts or other gratuities from the wine industry.

More time for wine?

You don't need to wait for Mondays to read about wine! Drop in any time on Robin Garr's Wine Lovers' Page, where we add new tasting notes several times each week and frequently expand our selection of wine-appreciation articles, tips and tutorials.

If you'd like to talk about wine online with fellow wine enthusiasts around the world, we'd be delighted to have you join the interactive, international forums in our Wine Lovers' Discussion Group.

Vol. 3, No. 13, April 16, 2001

<!TODAY'S TEXT ENDS HERE!>

Subscribe (free) to The 30 Second Wine Advisor