<!TODAY'S TEXT STARTS HERE!>

On the Road Again:
Administrative notes

For the next couple of weeks, I'll be visiting Slovenia (part of the former Yugoslavia) as a judge at the Ljubljana International Wine Competition, and touring vineyards there and in nearby Friuli-Venezia Giulia in Northeastern Italy. As a result, you may see some temporary variations in The 30 Second Wine Advisor. This week's edition, for example, is going out a couple of days early, before I pack and run. Next Monday's edition is iffy: If I can, I'll circulate at least a short edition from Ljubljana with a quick report on my wine travels. If that's not feasible, we'll either delay publication until the end of next week, or possibly skip a week and see you again on Monday, April 2.

30 Second Wine Tasting Tip:
Why aren't most wines sweet?


Let's go back to the basics for this week's discussion: When many people try their first taste of wine, their first reaction is, "Hey! This isn't SWEET!" This sentiment is often followed with an afterthought: "And it doesn't taste much like grapes."

For those of us who've developed a taste for the dry (unsweet), acidic (tart) and even austere style of fine table wines, we tend to forget that these flavors aren't always immediately appealing to the uninitiated. Hence, one of the most frequent wine questions I hear is, "I want to like wine, but it's too dry and tart. Can you suggest something sweet?"

The missing link here is that wines are primarily meant to be consumed with food, and long experience has shown that dry wines taste best at the dinner table. Many people think of alcoholic beverages as cocktails, to be sipped alone for enjoyment before dinner. But try this approach with an excellent table wine, and it's not surprising if you get a feeling that something is missing.

But within the world's broad array of table wines there's a wide variety of styles, and all wines aren't uniformly tart or dry.

To sort this out, it's helpful to think of wine in several either-or categories in addition to "red" and "white." One useful category, for instance, is "fruity," and wines made in a fruity style may be more pleasing to people who find bone-dry wines difficult. Another is "tart," a more appetizing word than "sour," distinguishing wines with very high acidity from lower-acid wines that - depending on your point of view - may seem pleasantly mellow, or soft and flabby. (Most wine lovers appreciate wines high in acidity or tartness because this quality tends to make them more palate-cleansing and snappy with food.)

As a quick reference for those looking for wines in specific flavor categories, I've developed the following list, short enough to print out and stick in your wallet for trips to the wine shop or restaurant. Bear in mind that they are only generalizations, with many exceptions. But I hope it will be helpful whether you're trying to find a wine that's fruity and slightly sweet ... or trying to avoid that kind!
DRY AND TART REDS: Cabernet Sauvignon, Pinot Noir, Syrah/Shiraz, most Italian reds.
DRY AND TART WHITES: Sauvignon Blanc (Fume Blanc), Gruner Veltliner, most Italian whites. Most Champagnes and sparkling wines.
DRY BUT FRUITY REDS: Merlot, Zinfandel, Beaujolais.
DRY BUT FRUITY WHITES: Chardonnay, Pinot Blanc. Some inexpensive U.S. Chardonnays may be slightly sweet.
LIGHTLY SWEET WINES: Many German whites; most Rieslings, Chenin Blancs and Gewurztraminers. "White" Zinfandel. Asti Spumante.
SWEET WINES: Dessert wines. Port, Late Harvest Riesling, Sauternes, Cream Sherry. These are strong and very sweet, intended to sip after dinner, not to drink with meals.
What's your pleasure? Have you found your tastes changing as your experience with wine evolves? Do you have particular favorite styles? Join an online discussion on this topic in our Wine Lovers' Discussion Group, http://www.wineloverspage.com/cgi-bin/sb/index.cgi?fn=1. Or, if you prefer, send me E-mail at wine@wineloverspage.com. I regret that the growing circulation of the "Wine Advisor" makes it difficult for me to reply individually to every note; but I'll answer as many as I can; and please be assured that all your input helps me do a better job of writing about wine.
We hope you'll invite your wine-loving friends to register for their own free weekly copy at http://www.wineloverspage.com/wineadvisor.
30 Second Tasting Notes:
Pleasant Venezie White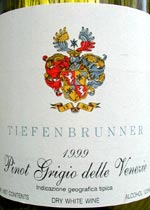 Tiefenbrunner 1999 Pinot Grigio delle Venezie ($9.99)
I chose this "geographically typical" ("IGT") wine from Northeastern Italy to prep for my coming visit. Because this region (like neighboring Slovenia) has a heritage in the old Austro-Hungarian Empire, some of the family names - like "Tiefenbrunner" - seem more German than Italian. Clear pale-gold in color, its crisp and citric in the aroma department, with fresh lemon-lime and honeydew melon aromas. Similar on the palate, it's a bit simple but crisp and pleasant, a good food wine. U.S. importer: Winebow, Inc., NYC; Leonardo Locascio Selections. (March 8, 2001)

FOOD MATCH: A very good match indeed with pork chops pan-grilled with onions and a potato-cauliflower puree.


Wine Lovers' Voting Booth:
Chardonnay or Riesling?

Most wine lovers would agree that Chardonnay, the historic white grape of Burgundy, and Riesling, the noble white grape of Germany, rank among the world's most noble white grapes. But which grape reigns supreme? For this week's online wine survey, we'd like to know which of these great grapes you prefer. I hope you'll stop by to cast your online ballot in the Wine Lovers' Voting Booth, http://www.wineloverspage.com/votebooth

30 Second Advertising Partner:
Enews Monitor:
Internet Wine News Emailed Fresh Daily

Crave wine intelligence? Benson Marketing Group's Enews Monitor is a free service that delivers wine-related news directly to your e-mail inbox from over 250 worldwide online news sources. Each Enews Monitor consists of headlines with links to the full story that are categorized and organized in an intuitive, easy-to-scan, non-repetitive fashion.

To join the thousands of wine aficionados and wine professionals worldwide who already take advantage of this valuable service, go to: http://www.wineloverspage.com/cgi-bin/click.pl?url=www.bensonmarketing.com/forms/enews_signup.html.

30 Second Administrivia

This free weekly E-mail publication is distributed to subscribers every Monday. Previous editions are archived on The Wine Lovers' Page. See http://www.wineloverspage.com/wineadvisor/thelist.shtml.

You are on the subscription list because you registered during a visit to Robin Garr's Wine Lovers' Page. If for any reason you no longer want to receive this publication, simply send a short E-mail to 'wine@wineloverspage.com' asking to be unsubscribed (and, if you wish, offering us any suggestions you may have as to how we could have served you better), and we'll remove your name from the list. We do not use this list for any other purpose and will never give or sell your name or E-mail to anyone. Please contact us in the same way if your E-mail address changes. And of course we welcome feedback, suggestions, and ideas for future columns. Send us E-mail at wine@wineloverspage.com.

A note about our HTML Edition: Please note that as of December, 2000, we have temporarily suspended publication of an HTML edition (with images), because of persistent technical problems. However, if you signed up for this edition, we are keeping your preference in the database, and you will get it again if and when we resume it.

All the wine-tasting reports posted here are consumer-oriented. In order to maintain objectivity and avoid conflicts of interest, I purchase all the wines I rate at my own expense in retail stores and accept no samples, gifts or other gratuities from the wine industry.

More time for wine?

You don't need to wait for Mondays to read about wine! Drop in any time on Robin Garr's Wine Lovers' Page, where we add new tasting notes several times each week and frequently expand our selection of wine-appreciation articles, tips and tutorials.

If you'd like to talk about wine online with fellow wine enthusiasts around the world, we'd be delighted to have you join the interactive, international forums in our Wine Lovers' Discussion Group.

Vol. 3, No. 9, March 19, 2001

<!TODAY'S TEXT ENDS HERE!>

Subscribe (free) to The 30 Second Wine Advisor