<!TODAY'S TEXT STARTS HERE!>

30 Second Wine Tasting Tip:
Organic: Does it matter?


"Organic." The word evokes warm and fuzzy feelings of friendly farmers with their hands in the soil, shunning poisons and pesticides to grow crops Mother Nature's way.

But what does "organic" mean when it comes to wine?

The answer is not as clear as you might think, and neither, frankly, are the results. Around the world, a minority of producers make wines labeled "organic" or "produced from organically grown grapes." But the meaning - and legal force - of terms like these vary significantly from one country to another, depending on local law and practice. And many of those laws are changing, particularly in the United States and Europe, as regulators ponder new definitions.

One key point of debate lies in the difference between "organically grown grapes" - fruit from vineyards grown without the use of industrial fertilizers, herbicides, fungicides and pesticides - and "organic wines," made without synthetic additives.

Needless to say, in the U.S., the most controversial such additive is sulfur dioxide, a preservative that's harmless to most people but potentially dangerous to some asthmatics. Because every wine bottle sold in the U.S. must bear a warning label ("contains sulfites"), many people assume that they are unhealthy. In fact, as discussed in the March 29, 1999 edition of The 30 Second Wine Advisor, http://www.wineloverspage.com/wineadvisor/tswa0329.shtml, sulfiting is an ancient and natural process. In fact, ALL wines contain sulfites as a natural byproduct of fermentation.

In Europe, where no warning label is required, sulfiting is a non-issue; but there, defining "organic" runs into bureaucratic roadblocks at the European Economic Community, which has not defined wine as an organic product, stifling efforts by French, German and other wine producers to come up with consistent definitions or labels for organic wine.

The United States Department of Agriculture recently unveiled a final draft of proposed organic-labeling regulations for products, including wine. This would allow wines with sulfites up to 100 parts per million (in contrast with 350 parts per million for standard wine) to be labeled "organic wine."

What does all this mean to us, as consumers? In my experience, there's no consistent difference between organically grown wines and other wines of similar type and cost. If you like the idea of supporting farmers who use natural processes, then by all means support such labels (such as those in the tasting notes below). But don't expect the wine to be any better, or worse, than others.

Organically MADE wines are a different story. Wineries that deliberately decline to take advantage of sulfites and similar traditional processes may claim high moral ground, but the wines are rarely satisfying. Nasty, earthy and organic aromas reminiscent of the barnyard or worse develop quickly in wines made without natural preservatives.

Want more in-depth info? Try these links:


What's your opion about organic practices, in the vineyard or in the winery? Join an online discussion on this topic in our Wine Lovers' Discussion Group, http://www.wineloverspage.com/cgi-bin/sb/index.cgi?fn=1. Or, if you prefer, send me E-mail at wine@wineloverspage.com. I regret that the growing circulation of the "Wine Advisor" makes it difficult for me to reply individually to every note; but I'll answer as many as I can; and please be assured that all your input helps me do a better job of writing about wine.

We hope you'll invite your wine-loving friends to register for their own free weekly copy at http://www.wineloverspage.com/wineadvisor.

30 Second Tasting Notes:
Two good organically grown wines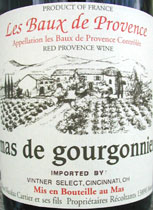 Mas de Gourgonnier 1999 Les Baux de Provence ($9.99)
This Provence red bears the yin-yang French logo for "Produit de l'agriculture biologique." Inky blackish-ruby in color, showing peppery red-fruit aromas with pleasant nuances of tar and smoke, earthy and ripe. Tart and juicy fruit flavors are consistent with the nose in a good food wine. U.S. importer: Vintner Select, Cincinnati. (Feb. 26, 2001)

FOOD MATCH: A natural match with a pan-grilled T-bone, and freshly ground black pepper makes it even better.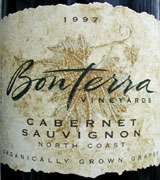 Bonterra 1997 North Coast (California) Cabernet Sauvignon ($15.99)
Labeled "organically grown grapes," this wine from the Fetzer group is a very dark garnet color, with plummy black-fruit and oak aromas, blueberries and vanilla. Bright, juicy fruit and sweet oak flavors, full and smooth; oak present but not dominating, soft but with sufficient acidic structure for balance. (March 3, 2001)

FOOD MATCH: Fine with a rare Porterhouse steak.


On the Road Again:
Visiting Friuli-Venezia Giulia and Slovenia

Later this month, I'll be visiting Slovenia (part of the former Yugoslavia) as a judge at the Ljubljana International Wine Competition, and I also hope to spend a few days touring vineyards there and in nearby Friuli-Venezia Giulia in Northeastern Italy. If any of you live in or know these areas well and would like to offer me suggestions of wineries to visit and other advice, please get in touch!

Wine Lovers' Voting Booth:
Do you keep your cellar records up to date?

Last week's survey showed that a large number of wine lovers keep some kind of record of their wine collection, ranging from commercial or home-grown computer programs to notebooks and index cards or a very good memory. This leads to an obvious follow-up question: Do you keep your cellar records up to date? Please drop by our Wine Lovers' Voting Booth, http://www.wineloverspage.com/votebooth and add your answer to the list!

30 Second Advertising Partner:
Essential Wine Tasting Guide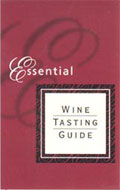 PUT A WINE MENTOR IN YOUR POCKET: You've been bitten by the wine bug and you're starting to get interested. You've learned to take a moment to stop, look, swirl and sniff before you enjoy what's in your glass. But the sheer complexity of it worries you just a bit: How can you ever learn all those tasting words and master the basics sufficiently to make wine appreciation easy?

If this dilemma sounds all too familiar, I invite you to take a look at Glen Green's trademarked new Essential Wine Tasting Guide.

Glen, a wine lover and professional wine maker in Australia and France, has created a remarkable little quick-reference guide to serious wine tasting in a slick, portable format that literally slips into your shirt pocket, wallet or purse. Slip it out, open it up, and it unfolds to reveal 34 mini-pages of compact wine-tasting information including more than 1,000 specific descriptions to help guide you in the analytical tasting of wine. Just 3 1/2 by 2 1/4 inches, it's about the size of a business card, and it comes with a clear plastic holder to keep it like new.

I was so impressed that I asked Glen's permission to offer the Essential Wine Tasting Guide for sale on Wine Lovers' Page. It's $8.95 plus $2 shipping and handling in the U.S., $4 in other countries. If you would like to take a closer look, the Guide is on display at http://www.wineloverspage.com/cgi-bin/click.pl?url=www.Wineloverspage.com/guide.

30 Second Administrivia

This free weekly E-mail publication is distributed to subscribers every Monday. Previous editions are archived on The Wine Lovers' Page. See http://www.wineloverspage.com/wineadvisor/thelist.shtml.

You are on the subscription list because you registered during a visit to Robin Garr's Wine Lovers' Page. If for any reason you no longer want to receive this publication, simply send a short E-mail to 'wine@wineloverspage.com' asking to be unsubscribed (and, if you wish, offering us any suggestions you may have as to how we could have served you better), and we'll remove your name from the list. We do not use this list for any other purpose and will never give or sell your name or E-mail to anyone. Please contact us in the same way if your E-mail address changes. And of course we welcome feedback, suggestions, and ideas for future columns. Send us E-mail at wine@wineloverspage.com.

A note about our HTML Edition: Please note that as of December, 2000, we have temporarily suspended publication of an HTML edition (with images), because of persistent technical problems. However, if you signed up for this edition, we are keeping your preference in the database, and you will get it again if and when we resume it.

All the wine-tasting reports posted here are consumer-oriented. In order to maintain objectivity and avoid conflicts of interest, I purchase all the wines I rate at my own expense in retail stores and accept no samples, gifts or other gratuities from the wine industry.

More time for wine?

You don't need to wait for Mondays to read about wine! Drop in any time on Robin Garr's Wine Lovers' Page, where we add new tasting notes several times each week and frequently expand our selection of wine-appreciation articles, tips and tutorials.

If you'd like to talk about wine online with fellow wine enthusiasts around the world, we'd be delighted to have you join the interactive, international forums in our Wine Lovers' Discussion Group.

Vol. 3, No. 7, March 5, 2001

<!TODAY'S TEXT ENDS HERE!>

Subscribe (free) to The 30 Second Wine Advisor