<!TODAY'S TEXT STARTS HERE!>

30 Second Wine Tasting Tip:
One from Column A, Wine from Column B


Red wine with red meat, white wine with white meat: With an obligatory bow to its tasty exceptions, this traditional rule for pairing food and wine is a fair guide that will seldom lead you astray.

But this rule evolved in the West - primarily in Europe and its cultural descendants in the New World - where wine has been a part of daily life for thousands of years, and where local wines and local foods have grown up as natural partners.

In our modern, globalizing world where you'll find McDonald's in Tokyo and Indian restaurants in Idaho (try Madhuban on the west side of Boise), it may be time for a more international view of matching food and wine.

So let's take a quick virtual journey into the culinary delights of Asia. From India through Southeast Asia and on to China, Korea and Japan, these aromatic and often spicy cuisines are deservedly popular around the world, but they can be difficult to match with wine.

Here are some basic principles I've found over many years of enjoying Asian fare:
Gewurztraminer & Co.: Wine books used to dismiss the whole question by recommending this one wine as the only match for Asian dishes. This vast oversimplification was based on a misunderstanding: "Gewurz" means "spicy" in German, so matching it with spicy food seemed to make sense. Unfortunately for the theorists, Gewurz is not particularly spicy. But it's really not a bad choice, although for a different reason than the pundits thought. Gewurztraminers are often slightly sweet, and this makes them a decent choice with Asian dishes that have sweet or fruity flavors. For the same reason, Riesling or Chenin Blanc - also typically made "off-dry" - can be good companions with your moo goo gai pan.

Sparkling wine: The notion that Champagne goes with everything may be overstated, but sparkling wines do marry well with a broad range of food. Because many Asian dishes incorporate a much broader range of flavors than we see in Western fare, it can be hard to come up with a wine to match them all. A decent sparkling wine can bridge this gap, although I suggest a modest bubbly (perhaps one of the inexpensive Spanish "cavas") in place of the genuine article from France.

East meets West: Even with exotic fare, the old "red with red" rule often works. I've matched Cabernet, Merlot or Syrah with a beef stir-fry like Cantonese Steak Kow ... paired Chardonnay with shrimp in lobster sauce ... and served Sauvignon Blanc with sushi. Take the sauce into account - soy-based flavors can do delightful things with an older Cabernet, and aromatic Asian spices may perform an international dance with an oaky Rioja or Australian Shiraz - and don't forget that there's plenty of margin for error. Most wines work well with most dishes, and really disastrous combinations are very rare.

Alternative beverages: Particularly with hot-and-spicy fare, it may be best to skip the wine. I love fiery dishes, the hotter the better, but I extremely hot food doesn't work with wine for me. You don't want to pour alcohol on a burn, and wine with a potent curry or peppery Thai dish may turn that pleasant chile-pepper glow into something that feels more like second-degree charring. In this case, I will pour a cold beer, or even turn to an ethnic, non-alcoholic dairy drink like the yogurt-based Indian lassi or the cream-laced Thai or Vietnamese iced coffee, drinks that soothe rather than heightening the flames.
What are your favorite drinks with Asian fare? Join an online discussion on this topic with fellow wine-and-food fanciers in our Food Lovers' Discussion Group, http://www.wineloverspage.com/cgi-bin/sb/index.cgi?fn=2. Or, if you prefer, send me E-mail at wine@wineloverspage.com. I regret that the growing circulation of the "Wine Advisor" makes it difficult for me to reply individually to every note; but I'll answer as many as I can; and please be assured that all your input helps me do a better job of writing about wine.
We hope you'll invite your wine-loving friends to register for their own free weekly copy at http://www.wineloverspage.com/wineadvisor.
30 Second Tasting Notes:
Crisp and crackling Vinho Verde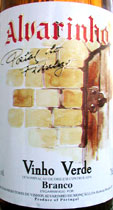 Portal do Fidalgo 1999 Alvarinho Vinho Verde ($10.99)
There is nothing "green" about this clear straw-color wine ("Vinho Verde" or "green wine" alludes to its youth, not its coloration). The style made from the Alvarinho grape (equivalent to the Albarino of Spain) is generally considered best, and costs a few dollars more than those made from less sought-after grapes. This one is an excellent example, offering fresh, crisp melon and citrus aromas and flavors. It's not quite fizzy but what wine tasters call "petillant," with a slight carbonation that shows itself as a pleasant, refreshing prickliness on the tongue. A fine seafood wine, it also goes nicely with a wide range of spicy Asian fare. U.S. importer: Admiral Wine Merchants, Irvington, N.J. (Feb. 25, 2001)

FOOD MATCH: Surprisingly good with Bahn Xeo, a spicy Vietnamese crepe, folded over stir-fried chicken and broccoli.


University of Maine survey:
Win a gift box of specialty food!

The University of Maine is conducting its annual online food and drink survey. Five random participants will be selected to win an assortment of Maine specialty foods. This academic, non-commercial survey takes about five minutes to complete, and all information is kept completely confidential.

To participate, click to http://www.ume.maine.edu/~specfood/survey.htm.

Please don't forget to tell them that you often visit Wine Lovers' Page!

30 Second Advertising Partner:
Essential Wine Tasting Guide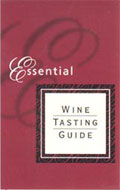 PUT A WINE MENTOR IN YOUR POCKET: You've been bitten by the wine bug and you're starting to get interested. You've learned to take a moment to stop, look, swirl and sniff before you enjoy what's in your glass. But the sheer complexity of it worries you just a bit: How can you ever learn all those tasting words and master the basics sufficiently to make wine appreciation easy?

If this dilemma sounds all too familiar, I invite you to take a look at Glen Green's trademarked new Essential Wine Tasting Guide.

Glen, a wine lover and professional wine maker in Australia and France, has created a remarkable little quick-reference guide to serious wine tasting in a slick, portable format that literally slips into your shirt pocket, wallet or purse. Slip it out, open it up, and it unfolds to reveal 34 mini-pages of compact wine-tasting information including more than 1,000 specific descriptions to help guide you in the analytical tasting of wine. Just 3 1/2 by 2 1/4 inches, it's about the size of a business card, and it comes with a clear plastic holder to keep it like new.

I was so impressed that I asked Glen's permission to offer the Essential Wine Tasting Guide for sale on Wine Lovers' Page. It's $8.95 plus $2 shipping and handling in the U.S., $4 in other countries. If you would like to take a closer look, the Guide is on display at http://www.wineloverspage.com/cgi-bin/click.pl?url=www.wineloverspage.com/guide.

30 Second Administrivia

This free weekly E-mail publication is distributed to subscribers every Monday. Previous editions are archived on The Wine Lovers' Page. See http://www.wineloverspage.com/wineadvisor/thelist.shtml.

You are on the subscription list because you registered during a visit to Robin Garr's Wine Lovers' Page. If for any reason you no longer want to receive this publication, simply send a short E-mail to 'wine@wineloverspage.com' asking to be unsubscribed (and, if you wish, offering us any suggestions you may have as to how we could have served you better), and we'll remove your name from the list. We do not use this list for any other purpose and will never give or sell your name or E-mail to anyone. Please contact us in the same way if your E-mail address changes. And of course we welcome feedback, suggestions, and ideas for future columns. Send us E-mail at wine@wineloverspage.com.

A note about our HTML Edition: Please note that as of December, 2000, we have temporarily suspended publication of an HTML edition (with images), because of persistent technical problems. However, if you signed up for this edition, we are keeping your preference in the database, and you will get it again if and when we resume it.

All the wine-tasting reports posted here are consumer-oriented. In order to maintain objectivity and avoid conflicts of interest, I purchase all the wines I rate at my own expense in retail stores and accept no samples, gifts or other gratuities from the wine industry.

More time for wine?

You don't need to wait for Mondays to read about wine! Drop in any time on Robin Garr's Wine Lovers' Page, where we add new tasting notes several times each week and frequently expand our selection of wine-appreciation articles, tips and tutorials.

If you'd like to talk about wine online with fellow wine enthusiasts around the world, we'd be delighted to have you join the interactive, international forums in our Wine Lovers' Discussion Group.

Vol. 3, No. 6, Feb. 26, 2001

<!TODAY'S TEXT ENDS HERE!>

Subscribe (free) to The 30 Second Wine Advisor