<!TODAY'S TEXT STARTS HERE!>

30 Second Wine Tasting Tip:
Jug wine vs. cheap wine


Am I becoming a snob? I don't think so, but my knee-jerk reaction to a reader's recent question called for a reality check.

The question: "Tell me about some good 'jug' wines."

My instinctive response: "There's no such thing!"

But what IS the difference? Is there really any distinction between inexpensive premium wines at $5 for a "fifth" (750 ml) and the modest wines that sell in larger bottles, often with jug-like handles, for a couple of dollars less?

That's a fair question, and there's no better way to make a wine taster honest than a "blind" tasting, in which wines are served from plain, unmarked glasses to cloak their identities.

I selected about a dozen wines - some red, some white - in the $4 to $5 range. Then I added a popular red jug wine - Gallo's Carlo Rossi "Paisano," which is $4.99 for a 1.5-liter jug, the equivalent of $2.50 for a fifth - and a "super-premium" wine, Hogue Cellars Cabernet Sauvignon-Merlot from Washington State, $10.99.

As it turned out, a quick "blind" tasting cleared me on the "snob" charge. It was easy to recognize both the jug wine and the super-premium. The Washington wine showed a depth and complexity that simply wasn't present in the other wines. The Carlo Rossi wasn't actually repellent, but it was, well, not "winelike," with a slightly fizzy sweetness and grapey fruit that made it seem more like a soft drink than grown-up wine.

But the good news is that the $5 wines, by and large, were good values, many of them well worth tucking into your picnic hamper. Two of them - a $4.99 Walnut Crest Merlot (from Chile, despite the English name) and a $4.49 René Barbier "Mediterranean White" from Spain - were so good that they actually scored close to the super-premium wine on style points, ranking as exceptional values.

Gallo's Hearty Burgundy ($4.49), once a jug wine that's been upgraded to a premium wine with a real cork and slender bottle, also rated well among the reds, as did Concha y Toro 1999 Chardonnay, Chile ($4.59) and Georges Duboeuf 1999 Sauvignon Blanc, Jardin de la France ($4.99) in the whites.

So what's the story on jug wines, then? In my opinion, wineries like Gallo are simply targeting a different market with jug wine, which is something like a soft drink with alcohol added. If you like it, there is nothing wrong with that style. But if you enjoy good quality table wines in the European tradition, then you won't be satisfied with the jug style. Jug wines are a little cheaper, but to me, the difference is worth a dollar or two per bottle. Give the wines that scored well in my test a try, and I think you'll agree.

What's your opinion about jug wines and inexpensive bottles? Write me by E-mail at wine@wineloverspage.com or join an active online discussion on this topic on our Wine Lovers' Discussion Group, http://www.wineloverspage.com/cgi-bin/sb/index.cgi?fn=1. I regret that the growing circulation of the "Wine Advisor" makes it difficult for me to reply individually to every note, and my travels this month will also limit my ability to respond; but I'll answer as many as I can; and please be assured that all your input helps me do a better job of writing about wine.

We hope you'll invite your wine-loving friends to register for their own free weekly copy at http://www.wineloverspage.com/wineadvisor.

Correction

In last week's edition I carelessly referred to the maker of "Two Heart Canopy" Sangiovese as Joseph Pepi. As reader Jeff Squires and others pointed out, it's Robert Pepi. I apologize for the error.

30 Second Tasting Notes:
Two good inexpensive reds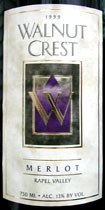 Walnut Crest 1999 Rapel Valley (Chile) Merlot ($4.99)
In a "blind" tasting, this wine rated well above its modest peers. Ruby in color, quite dark in the glass, it shows ripe black fruit and caramel aromas with vanilla-scented oak. Soft and fruity, it's not a "challenging" wine but pleasant and accessible; a good wine for by-the-glass restaurant service, and a near-unbeatable value in the $5 range. (Feb. 14, 2001)

FOOD MATCH: A straightforward matchup with a rare steak.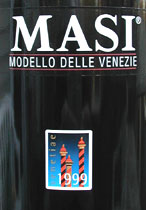 Masi 1999 Modello Rosso delle Venezie ($7.99)
As described on the Masi website, http://www.masi.it/UveFrescheIng.htm, Modello is a new style of wine made with respect to ancient regional tradition in the winery's home region, the Veneto near Verona. A blend of the local Corvina and Raboso Veronese grapes, it is a very dark ruby with a vermilion glint in the glass. Toasty caramel and molasses scents surround ripe, plummy fruit. Ripe and juicy fruit flavors are soft and accessible, with fresh-fruit acidity for balance and a light, pleasant bitterness in the finish. U.S. importer: Remy Amerique Inc., NYC. (Feb. 18, 2001)

FOOD MATCH: Fine with a light dinner of turkey meat and peas in a cauliflower puree atop lightly curried lentil cakes.


Wine Lovers' Voting Booth:
Do you keep cellar records?

If you own more than a case or two of wine, you've probably wrestled with the challenge of keeping accurate records as you go through it. For this week's Wine Lovers' Voting Booth, we're curious to find out how you keep track of your wine collection. This is your invitation to drop by the Voting Booth, http://www.wineloverspage.com/votebooth and cast your ballot!

30 Second Advertising Partner:
California Wine Club

Unpack ... Uncork and Unwind! Take an armchair tour of California's finest family owned "boutique" wineries with The California Wine Club.

Each month you will receive two bottles of hard-to-find wine, hand selected by Bruce and Pam Boring, proprietors of The California Wine Club. Experience the excitement of discovery and feel secure knowing that each wine is memorable. Best of all, you can re-order your favorites at up to 50 percent off normal retail price.

Monthly subscriptions start at $36, which includes all shipping and handling as well as the club's 8-page newsletter Uncorked. Every issue of Uncorked is fun, interesting and informative.

California Wine Club will reship, replace or refund any wine that you are not completely satisfied with, promptly and without question. This promise is part of the club's risk-free guarantee. There is no obligation and you can cancel at any time!

Call the California Wine Club today, 1-800-777-4443 in the U.S., or contact the club by E-mail through its Website, http://www.cawineclub.com.

SPECIAL JOINING OFFER for 30 Second Wine Advisor readers: Mention that you saw this advertisement, and you will receive three bottles for the price of two in your first shipment.

A final note ... Monthly subscriptions make a fun & unique gift for friends, family and business associates. Discounts are available on 3, 6, 9 and 12-month subscriptions.

30 Second Administrivia

This free weekly E-mail publication is distributed to subscribers every Monday. Previous editions are archived on The Wine Lovers' Page. See http://www.wineloverspage.com/wineadvisor/thelist.shtml.

You are on the subscription list because you registered during a visit to Robin Garr's Wine Lovers' Page. If for any reason you no longer want to receive this publication, simply send a short E-mail to 'wine@wineloverspage.com' asking to be unsubscribed (and, if you wish, offering us any suggestions you may have as to how we could have served you better), and we'll remove your name from the list. We do not use this list for any other purpose and will never give or sell your name or E-mail to anyone. Please contact us in the same way if your E-mail address changes. And of course we welcome feedback, suggestions, and ideas for future columns. Send us E-mail at wine@wineloverspage.com.

A note about our HTML Edition: Please note that as of December, 2000, we have temporarily suspended publication of an HTML edition (with images), because of persistent technical problems. However, if you signed up for this edition, we are keeping your preference in the database, and you will get it again if and when we resume it.

All the wine-tasting reports posted here are consumer-oriented. In order to maintain objectivity and avoid conflicts of interest, I purchase all the wines I rate at my own expense in retail stores and accept no samples, gifts or other gratuities from the wine industry.

More time for wine?

You don't need to wait for Mondays to read about wine! Drop in any time on Robin Garr's Wine Lovers' Page, where we add new tasting notes several times each week and frequently expand our selection of wine-appreciation articles, tips and tutorials.

If you'd like to talk about wine online with fellow wine enthusiasts around the world, we'd be delighted to have you join the interactive, international forums in our Wine Lovers' Discussion Group.

Vol. 3, No. 5, Feb. 19, 2001

<!TODAY'S TEXT ENDS HERE!>

Subscribe (free) to The 30 Second Wine Advisor