<!TODAY'S TEXT STARTS HERE!>

30 Second Wine Tasting Tip:
Wine for a Valentine


Let's take a break from serious wine-tasting topics this week for a quick seasonal romp through wine label country, as we survey wines with "romantic" names and labels for Valentine's Day. After all, what better way could there be for a wine lover to treat his or her sweetie than by sharing a glass of good wine with a seasonal twist?

One good choice is Joseph Pepi's Sangiovese called "Two Hearts Canopy." Although it's actually named not for romance but because of the technical name for the way the grapevines are pruned, the name alone would make a bottle of this California red wine a natural for a Valentine basket.

Another wine name that speaks of love is "Saint-Amour," the northernmost of the Beaujolais villages that's permitted to use the village name on the label. Georges Duboeuf makes a widely available Saint-Amour that enhances the romance with an attractive picture of flowers.

Sticking with the Beaujolais theme, consider gifting your true love with a bottle of Fleurie, another village of the region with a name that's as appropriate as, well, flowers.

I invited participants in our Wine Lovers' Discussion Group to suggest more wine names related to love, romance and the gifts that lovers bring, and we came up with quite a list. From the wines above and the list below, you should be able to find something that's just right for your Valentine!
Another excellent Saint-Amour Beaujolais is the "Des Champs Grilles" bottling from J. Guy Revillon.
Chateau Calon-Segur in Bordeaux is known for its heart-shaped label. Another seasonally named Bordeaux is the Margaux producer Chateau Deyrem-Valentin.
Vincent Girardin makes a Burgundy (Chambolle-Musigny) called "Les Amoureuses" ("the lovers"). Another excellent Burgundy with romance in its name is Domaine Comte Lafon's Meursault "Desiree."
The Alsatian winery Hugel's trademark Pinot Blanc is called "Cuvee Les Amours."
In the Rhone, Domaine des Amouriers makes Cote du Rhone and Vacqueyras.
A well-known winery in Cotes de Gascogne is Domaine de Joy.
Turning to the New World, don't forget the Argentine winery, Valentin Bianchi.
Tempus Two is an Australian winery whose "special release" come wrapped in white tissue paper adorned with red hearts, and more hearts on the bottle's understated label.
California's Iron Horse winery makes a Chardonnay Cuvee Joy, and Brander's four-grape white blend, Cuvee Natalie, has a big rose on the label; Stuart Bryan's "Il Cuore" ("the Heart") is another limited-production California item. Too bad Ridge no longer makes its old "Heart's Desire" late-harvest Zinfandel.
Diebot-Valois Champagne Blanc de Blancs features a small colorful rose on the label; and of course, the ultimate Valentine wine, pink as a lover's heart and with a flowery name to match, is Perrier-Jouet Fleur de Champagne rosé.
Many thanks to John Trombley, Tom Hill, Sue Courtney, Bob Ross, Richard Morgan, Graeme Gee and Robert Noecker for contributing to this list. As for me, I'll be popping the cork on some kind of bubbly with my sweetheart on Valentine's Day. To my mind, there's no more romantic wine than Champagne.
How about you? Do you have a Valentine's favorite, or do you prefer simply to forget the names and pictures and go with wine that's just plain good? If you would like to comment, write me by E-mail at wine@wineloverspage.com or join an active online discussion on this topic on our Wine Lovers' Discussion Group, http://www.wineloverspage.com/cgi-bin/sb/index.cgi?fn=1. I regret that the growing circulation of the "Wine Advisor" makes it difficult for me to reply individually to every note, and my travels this month will also limit my ability to respond; but I'll answer as many as I can; and please be assured that all your input helps me do a better job of writing about wine.
We hope you'll invite your wine-loving friends to register for their own free weekly copy at http://www.wineloverspage.com/wineadvisor.
30 Second Tasting Notes:
Good value from South Africa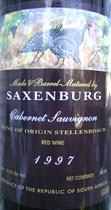 Saxenburg 1997 Stellenbosch Cabernet Sauvignon ($12.99)
Dark garnet in color, almost opaque, this appealing wine breathes earthy scents of plums and leather. Ripe and luscious, black-cherry fruit mingles with the pleasant earthiness that I find typical of South African reds. Good value. (Jan. 29, 2001)

FOOD MATCH: Makes a good match with a simple dinner of diced beef, peas and carrots in a simple Madeira sauce over wide pappardelle pasta.


30 Second Advertising Partner:
Winetasting.com

Where do you go to find those special wines you like? A warehouse store? A specialty retailer? The former offers great values and the latter broad selection; but to buy those hard-to-find special "nuggets," until now you had to go right to the winery. Canít get to Napa Valley? Now you can visit your favorite wineryís online tasting room at Winetasting.com!

Winetasting.com is an online cooperative of Californiaís leading wineries selling directly to wine lovers. This gives customers like you unique access to limited-release wines not available outside the tasting room. For full information, visit http://www.Winetasting.com/hub/landing.asp?wlpgid=WLPG001LA. I have known these folks for a long time and can confidently recommend them.

30 Second Administrivia

This free weekly E-mail publication is distributed to subscribers every Monday. Previous editions are archived on The Wine Lovers' Page. See http://www.wineloverspage.com/wineadvisor/thelist.shtml.

You are on the subscription list because you registered during a visit to Robin Garr's Wine Lovers' Page. If for any reason you no longer want to receive this publication, simply send a short E-mail to 'wine@wineloverspage.com' asking to be unsubscribed (and, if you wish, offering us any suggestions you may have as to how we could have served you better), and we'll remove your name from the list. We do not use this list for any other purpose and will never give or sell your name or E-mail to anyone. Please contact us in the same way if your E-mail address changes. And of course we welcome feedback, suggestions, and ideas for future columns. Send us E-mail at wine@wineloverspage.com.

A note about our HTML Edition: Please note that as of December, 2000, we have temporarily suspended publication of an HTML edition (with images), because of persistent technical problems. However, if you signed up for this edition, we are keeping your preference in the database, and you will get it again if and when we resume it.

All the wine-tasting reports posted here are consumer-oriented. In order to maintain objectivity and avoid conflicts of interest, I purchase all the wines I rate at my own expense in retail stores and accept no samples, gifts or other gratuities from the wine industry.

More time for wine?

You don't need to wait for Mondays to read about wine! Drop in any time on Robin Garr's Wine Lovers' Page, where we add new tasting notes several times each week and frequently expand our selection of wine-appreciation articles, tips and tutorials.

If you'd like to talk about wine online with fellow wine enthusiasts around the world, we'd be delighted to have you join the interactive, international forums in our Wine Lovers' Discussion Group.

Vol. 3, No. 4, Feb. 12, 2001

<!TODAY'S TEXT ENDS HERE!>

Subscribe (free) to The 30 Second Wine Advisor