<!TODAY'S TEXT STARTS HERE!>

30 Second Wine Tasting Tip:
How 75% can be better than 100%


Which would you rather drink: A wine that's made 100 percent from a single grape variety like Cabernet Sauvignon, Chardonnay or Merlot ... or one made from a blend of more than one grape?

For the past couple of generations, many wine lovers - especially in the United States and other New World countries - would likely answer, "100 percent, of course!"

That's because "varietal labeling" has been the preferred system for most high-quality wines sold in the U.S. since the early years after World War II, when a wine merchant and journalist named Frank Schoonmaker almost single-handedly persuaded the American wine industry to name its wines for the grape variety, supplanting the old, somewhat shoddy practice of borrowing French place names like "burgundy" and "chablis" for wines that had little in common with the Old Country. Over the years, varietal labeling became so dominant that wines made entirely from one variety came to be thought of as "better" than wines made from blends of more than one grape.

But is this necessarily so? With a few noteworthy exceptions, you'll rarely see varietal labeling in most of France or Italy, where wine makers follow the long-standing practice of naming wines after the geographical region where the grapes were grown. This practice frees the makers in many regions, like Bordeaux, to grow a number of permitted grapes, and base each year's "assemblage" or blend of grapes upon what actually happened in the vineyard, blending Cabernet Sauvignon, Merlot and Cabernet Franc (for example) in varying proportions as needed to make the best wine possible from each year's harvest.

Other noteworthy European blends include Chianti (a blend of mostly Sangiovese with Canaiolo, Trebbiano and Malvasia grapes); Champagne (where many "cuvees" are made by mixing white (Chardonnay) and RED (Pinot Noir and Pinot Meunier) grapes; and Sherry, which features not just a blend of grapes but also a mixture of wines of many vintages in a traditional blending system called "solera." And even in the U.S., in a mild reaction to varietal labeling, wines made from Bordeaux-style blends may be marketed under the trademarked name "Meritage" (as discussed in our Sept. 11, 2000 edition, http://www.wineloverspage.com/wineadvisor/tswa091100.shtml.)

Proponents of blending would note that there's no intrinsic reason why all-varietal wines should be better. On the contrary, any respectable Bordeaux maker would argue that blending allows the wine maker flexibility to select from a broader palette to create the most artful finished product.

And indeed, even in the U.S., federal law requires that wines with varietal labeling contain only 75 percent of the grape named on the label. Except in a few wine-making states like Oregon where stricter local laws override this rule, the balance of the blend is the wine maker's option, and need not be disclosed. Think about THAT, the next time you're sipping a single-variety wine.

Finally, a brief grammatical note: The word "varietal" is properly used only for the labeling system itself. Grapes come in "varieties," not "varietals."

What's your opinion? Do you strongly prefer varietal wines or blends? If you would like to comment, write me by E-mail at wine@wineloverspage.com or join an active online discussion on this topic on our Wine Lovers' Discussion Group, http://www.wineloverspage.com/cgi-bin/sb/index.cgi?fn=1. I regret that the growing circulation of the "Wine Advisor" makes it difficult for me to reply individually to every note, and my travels this month will also limit my ability to respond; but I'll answer as many as I can; and please be assured that all your input helps me do a better job of writing about wine.

We hope you'll invite your wine-loving friends to register for their own free weekly copy at http://www.wineloverspage.com/wineadvisor.

30 Second Tasting Notes:
A remarkable California blend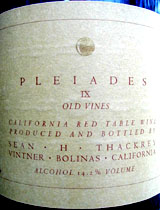 Sean H. Thackrey non-vintage Pleiades IX Old Vines ($20.99)
A wild blend of both grapes and vintages, this hearty and robust red brings Syrah, Merlot, Carignane, Petite Sirah, Zinfandel and Mourvèdre to the table (and maybe more), a Mediterranean mix that's earthy and multi-dimensional. Cinnamon and cloves leap from the glass in a remarkably spicy scent, with aromatic menthol and a distinct note of "tree bark." More of the same exotics on the palate, where the spicy flavors surround a core of bright, plummy fruit and lemon-squirt acidity. (Feb. 4, 2001)

FOOD MATCH: The wine's big and spicy flavors make it a fine match with a robust Northern Italian rendition of lamb and white beans in an herbal sauce.


Wine Lovers' Voting Booth:
How helpful is your wine shop?

You walk into a retail wine shop, look around at hundreds of bottles lying in regal state on dozens of shelves, and you wonder how in the world you're ever going to settle on a single choice to enjoy with dinner tonight. How much useful help can you expect?

This week's Wine Lovers' Voting Booth samples your opinion about the amount and quality of information about specific wines that's available from the wine shop you frequent most often, taking into consideration both the knowledge and helpfulness of the staff and outside research information available such as published wine reviews and reference books.

I hope you'll drop by the Voting Booth, http://www.wineloverspage.com/votebooth, and answer the question "How helpful is your wine shop?" (Note also that this week's survey, in a follow-up question. invites you to name the specific shop you're rating.)

30 Second Wine Advisor book:
Thanks for the many responses!

Just a quick note to thank the surprisingly large number of you who responded to last week's call for suggestions as to what features you would like to see in a possible book version of The 30 Second Wine Advisor. I do intend to respond personally to you all, but because of the number it may take a couple of weeks.

If anyone else out there would like to tell me a little about wine books that you've liked (or disliked) - and why - along with your ideas about what would make a new wine book just right for you, I would be delighted to hear from you at wine@wineloverspage.com. Thanks!

30 Second Advertising Partner:
Winetasting.com

Where do you go to find those special wines you like? A warehouse store? A specialty retailer? The former offers great values and the latter broad selection; but to buy those hard-to-find special "nuggets," until now you had to go right to the winery. Canít get to Napa Valley? Now you can visit your favorite wineryís online tasting room at Winetasting.com!

Winetasting.com is an online cooperative of Californiaís leading wineries selling directly to wine lovers. This gives customers like you unique access to limited-release wines not available outside the tasting room. For full information, visit http://www.Winetasting.com/hub/landing.asp?wlpgid=WLPG001LA. I have known these folks for a long time and can confidently recommend them.

30 Second Administrivia

This free weekly E-mail publication is distributed to subscribers every Monday. Previous editions are archived on The Wine Lovers' Page. See http://www.wineloverspage.com/wineadvisor/thelist.shtml.

You are on the subscription list because you registered during a visit to Robin Garr's Wine Lovers' Page. If for any reason you no longer want to receive this publication, simply send a short E-mail to 'wine@wineloverspage.com' asking to be unsubscribed (and, if you wish, offering us any suggestions you may have as to how we could have served you better), and we'll remove your name from the list. We do not use this list for any other purpose and will never give or sell your name or E-mail to anyone. Please contact us in the same way if your E-mail address changes. And of course we welcome feedback, suggestions, and ideas for future columns. Send us E-mail at wine@wineloverspage.com.

A note about our HTML Edition: Please note that as of December, 2000, we have temporarily suspended publication of an HTML edition (with images), because of persistent technical problems. However, if you signed up for this edition, we are keeping your preference in the database, and you will get it again if and when we resume it.

All the wine-tasting reports posted here are consumer-oriented. In order to maintain objectivity and avoid conflicts of interest, I purchase all the wines I rate at my own expense in retail stores and accept no samples, gifts or other gratuities from the wine industry.

More time for wine?

You don't need to wait for Mondays to read about wine! Drop in any time on Robin Garr's Wine Lovers' Page, where we add new tasting notes several times each week and frequently expand our selection of wine-appreciation articles, tips and tutorials.

If you'd like to talk about wine online with fellow wine enthusiasts around the world, we'd be delighted to have you join the interactive, international forums in our Wine Lovers' Discussion Group.

Vol. 3, No. 3, Feb. 5, 2001

<!TODAY'S TEXT ENDS HERE!>

Subscribe (free) to The 30 Second Wine Advisor