<!TODAY'S TEXT STARTS HERE!>

30 Second Wine Tasting Tip:
How old is too old?


"How long can you keep an unopened bottle of wine?"

As reader Carol P. recently asked: "We found an old wine rack at the back of a shelf with 2 bottles of wine dated 1974. Should we throw them away? My husband says that as long as they are unopened, we can drink them safely. I think 27 years is too long to keep wine." Rick, another reader, sent in a similar question about a 1978 Cabernet Sauvignon. This question comes up often enough that it seemed like a good topic for our weekly report.

Old wine won't actually hurt you. As I told Carol, her husband is correct in saying that. Because of its alcoholic content, wine in doesn't rot or spoil in the sense of becoming toxic or unhealthful.

But she is probably correct in assuming that wine kept for 27 years at room temperature has lost all its good fruit flavor and turned brownish and dull with age. Only a few rare and expensive wines can be kept that long, and they should be stored under excellent "cellar conditions," as close as feasible to a constant 55F or 13C.

If you have an old bottle of wine that you meant to drink a long time ago but forgot or lost for many years, what should you do?

If the wine was "ageworthy" - a good quality Cabernet Sauvignon or Northern Italian red, for example, or a Port or other sweet, fortified dessert wine - and if it has been kept on its side at cool room temperature, then it's possible that it may still be drinkable after 10 years, with its chances diminishing with time after that.

But why not have a little fun? Since you know old wine won't poison you, there's no risk in trying it.

Check whether the bottle has lost some of its contents to seepage or evaporation. If it's still normally full, that's a good sign, but an unusually large air space (called "ullage") is not. Hold the bottle up to the light. A small amount of "sediment" stuck to the glass is normal, but a large muddy mass of gunk is not. (If there's some sediment, pour carefully into a decanter or pitcher to separate the clear wine from the sediment. It's not harmful, but it's gritty and muddy and not particularly pleasant.) Do not under any circumstances allow the wine to "breathe." If it has any life yet, it will be fragile and likely lose its enjoyment pretty quickly after you open the bottle.

Don't expect it to be fruity or to taste like a new wine, but if it survived, it will still show some acidity and might have complex aromas and flavors, perhaps showing old-wine characteristics like coffee, cocoa and "earthy" qualities - sometimes odd smells like soy sauce and Chinese spices - in place of the customary fruit. If it's TOO old, it will taste mostly like walnuts (sort of like a cheap Sherry) or worse, and will be brown and full of sediment.

If it smells bad and tastes bad, the chances are you won't WANT to drink it, and you may want to open up something in better condition to enjoy after you've dumped the contents of the old bottles down the drain.

Have you had the experience of a very old bottle that was stored under less-than-ideal conditions? What did you find? If you would like to share your story, write me by E-mail at wine@wineloverspage.com or join an active online discussion on this topic on our Wine Lovers' Discussion Group, http://www.wineloverspage.com/cgi-bin/sb/index.cgi?fn=1. I regret that the growing circulation of the "Wine Advisor" makes it difficult for me to reply individually to every note, and my travels this month will also limit my ability to respond; but I'll answer as many as I can; and please be assured that all your input helps me do a better job of writing about wine.

We hope you'll invite your wine-loving friends to register for their own free weekly copy at http://www.wineloverspage.com/wineadvisor.

30 Second Tasting Notes:
"Typical" red from Italy's Umbria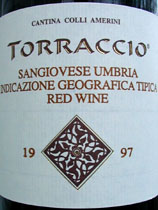 Cantina Colli Amerini 1997 Torraccio Umbria Sangiovese($19.99)
Very dark garnet, blackish-purple in the glass, this Chianti-like red is designated "Indicazione Geographica Tipica," meaning that it is in a style considered typical of its region, Umbria, the "green heart of Italy," east of Tuscany. Aromas of ripe cherries, full and fresh, lead into a bright and juicy flavor focused on fresh fruit and sweet oak. A pleasant wine that might gain character with a few years in the bottle, although it's hard to rate it as a value for $20. U.S. importer: Winebow Inc., NYC. (Jan. 25, 2001)

FOOD MATCH: Fine with a quick pasta invention of diced steak in a Dijon cream sauce over conchiglie (baby shells).


Seeking your opinions:
What do YOU want in a wine-education book?

I wanted to let all our regular readers (meaning those of you who actually read all the way down to here) know that I am contemplating publishing The 30 Second Wine Advisor in book form this year.

This book, aimed at new and intermediate wine lovers interested in solidifying their wine knowledge, would present wine information in an organized format, using the familiar "30 Second" format to cover a wide variety of wine topics in short, digestible form (with wine recommendations) to make it easy for wine lovers to read and taste our way to wine expertise in easy bites.

Before I start, though, I would really like to hear from as many of you as possible with your ideas about what would make for the perfect wine book. If you will tell me what wine books you've liked and which you haven't - and why - along with your ideas about what would make a new wine book just right for you, this will help me immeasurably.

Again, I'll be very much in your debt if you will take a moment to write me at wine@wineloverspage.com with your wine book ideas. Thanks!

30 Second Advertising Partner:
Winetasting.com

Where do you go to find those special wines you like? A warehouse store? A specialty retailer? The former offers great values and the latter broad selection; but to buy those hard-to-find special "nuggets," until now you had to go right to the winery. Canít get to Napa Valley? Now you can visit your favorite wineryís online tasting room at Winetasting.com!

Winetasting.com is an online cooperative of Californiaís leading wineries selling directly to wine lovers. This gives customers like you unique access to limited-release wines not available outside the tasting room. For full information, visit http://www.Winetasting.com/hub/landing.asp?wlpgid=WLPG001LA. I have known these folks for a long time and can confidently recommend them.

30 Second Administrivia

This free weekly E-mail publication is distributed to subscribers every Monday. Previous editions are archived on The Wine Lovers' Page. See http://www.wineloverspage.com/wineadvisor/thelist.shtml.

You are on the subscription list because you registered during a visit to Robin Garr's Wine Lovers' Page. If for any reason you no longer want to receive this publication, simply send a short E-mail to 'wine@wineloverspage.com' asking to be unsubscribed (and, if you wish, offering us any suggestions you may have as to how we could have served you better), and we'll remove your name from the list. We do not use this list for any other purpose and will never give or sell your name or E-mail to anyone. Please contact us in the same way if your E-mail address changes. And of course we welcome feedback, suggestions, and ideas for future columns. Send us E-mail at wine@wineloverspage.com.

A note about our HTML Edition: Please note that as of December, 2000, we have temporarily suspended publication of an HTML edition (with images), because of persistent technical problems. However, if you signed up for this edition, we are keeping your preference in the database, and you will get it again if and when we resume it.

All the wine-tasting reports posted here are consumer-oriented. In order to maintain objectivity and avoid conflicts of interest, I purchase all the wines I rate at my own expense in retail stores and accept no samples, gifts or other gratuities from the wine industry.

More time for wine?

You don't need to wait for Mondays to read about wine! Drop in any time on Robin Garr's Wine Lovers' Page, where we add new tasting notes several times each week and frequently expand our selection of wine-appreciation articles, tips and tutorials.

If you'd like to talk about wine online with fellow wine enthusiasts around the world, we'd be delighted to have you join the interactive, international forums in our Wine Lovers' Discussion Group.

Vol. 3, No. 2, Jan. 29, 2001

<!TODAY'S TEXT ENDS HERE!>

Subscribe (free) to The 30 Second Wine Advisor