<!TODAY'S TEXT STARTS HERE!>

Marking The Wine Advisor's birthday!


Distributing this week's edition a day late because of my weekend trip to the Boston Wine Expo, I can't resist briefly interrupting the wine talk to note that today's issue marks the start of our third year of online publication. We've grown to nearly 20,000 subscribers in all seven continents, and I want to thank you all for your participation and your frequent E-mail comments, questions and moral support. Growth is good, so if you haven't already told all your wine-loving friends about The 30 Second Wine Advisor, I hope you'll make it a point to do so. And now, on with our weekly topic ...

30 Second Wine Tasting Tip:
Marvelous Mourvèdre


Grown on the chalky mountain slopes of Bandol in Provence, across the Languedoc and through much of Spain, with isolated outposts in California and Australia, the dark-skinned, aromatic grape called Mourvèdre may not be one of the world's most well-known wine grapes, but it's one of my favorites.

It's not a grape for those who want fruit, fruit and nothing but fruit in their wine. But if you enjoy both blackberry fruit and a delicious blend of spice, herbal and earthy flavors that may evoke "tree bark" and the forest floor along with nuances of grilled meat or game in a complex, tart, often tannic and ageworthy wine that makes you stop and think, "Hey, what's that?" then you might want to give Mourvèdre a try.

Growing best in warmer climates, Mourvèdre makes its natural home along the Mediterranean and in hotter New World regions. Curiously, it probably takes its name from the Spanish village of Murviedro, where it may have originated; but that name has migrated to France. The Spanish, who grow it extensively, usually call it Monastrell, while English-speaking Californians and Australians dub it with the Spanish-sounding Mataro. This is one of those tricky complications that makes wine appreciation a constant learning process, but it's worth taking the time to get to know this one.

It's often blended with other grapes, where its aggressively earthy qualities are muted in combination with Grenache, Carignan and other Mediterranean varieties, but it's also found as a 100 percent varietal. Bandol produces some of the best, where such brands as Domaine Tempier and Pibarnon have become quite pricey; Bandol from the tiny producer Domaine Ste. Anne is also well worth seeking out. Ridge, the renowned California producer of great Zinfandel and the top-rank Monte Bello Cabernet, makes an excellent Mataro, and you'll find plenty of affordable examples of Spanish Monastrell and Languedoc Mourvèdre, like the excellent item I report below.

What's your opinion about Mourvèdre? Join in an active online discussion on this topic on our Wine Lovers' Discussion Group at http://www.wineloverspage.com/cgi-bin/sb/index.cgi?fn=1&tid=11442 or send me E-mail to wine@wineloverspage.com. I regret that the growing circulation of the "Wine Advisor" makes it difficult for me to reply individually to every note, and my travels this month will also limit my ability to respond; but I'll answer as many as I can; and please be assured that all your input helps me do a better job of writing about wine.

We hope you'll invite your wine-loving friends to register for their own free weekly copy at http://www.wineloverspage.com/wineadvisor.

30 Second Tasting Notes:
Excellent value Mourvèdre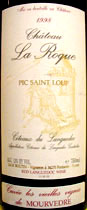 Chateau La Roque 1998 Pic Saint Loup Cuvee Les Vieilles Vignes de Mourvèdre Coteaux de Languedoc ($9.99)
This all-Mourvèdre wine from a top producer in one of the Languedoc's most exciting regions stands out as the best $10 value I have found in a long, long time. It is a very dark ruby color, almost opaque, full and ripe, full of earthy and complex Mourvèdre notes, "tree bark" and "forest floor," prompting my wife to liken it to "a walk in the woods on a rainy autumn day." But there's fresh fruit there, too, raspberry and black-cherry, with lemony acidity to give it structure. This vintage has been around for a while, but the 1999, coming on the market now, is also reported to be very fine. U.S. importer: Kermit Lynch Wine Merchant, Berkeley, Calif. (Jan. 16, 2001)

FOOD MATCH: Delicious with a Provence dish crafted to match: Lamb chunks stewed with aromatic flavors of orange peel, fennel, bay leaf, black pepper and thyme.


Wine Lovers' Voting Booth:
How much do you spend for a bottle of wine?

We thought it might be fun to repeat a simple question that formed one of our first Wine Lovers' Voting Booth topics: "How much do you spend on the average for a bottle of wine?" We're not talking about special occasions but your general price range when buying wines for everyday consumption.

I hope you'll drop by the Wine Lovers' Voting Booth, http://www.wineloverspage.com/votebooth, and tell us what you think. At the end of this survey, we'll report how your answers differed from those in January 1998.

30 Second Advertising Partner:
Burgundy Wine Company

Join the Burgundy Wine Company Feb. 8-10 for "A Celebration of Oregon", a three-day extravaganza of dinners and seminars. Taste the Pinot Noirs of Beaux Freres, Ken Wright Cellars, Cristom Vineyards and Bethel Heights Vineyards, and meet the men who made them. Events begin Thursday evening at Restaurant Serenade in Chatham, N.J., with a selection of '98 and '96 Pinot Noirs, along with a scrumptious four-course dinner. Festivities continue Friday at Judson Grill in Manhattan with another fabulous dinner and knock-out wines. Saturday is the Grand Finale again at Judson Grill. Four guest winemakers will a comprehensive tasting of Oregon's finest Pinot Noirs. Forty wines will be featured, with emphasis on the opulent '98 vintage, visiting regions, vineyards and producers. Join in and discover why Oregon is the most exciting and important Pinot Noir producing region outside of Burgundy. Call Burgundy Wine Co. at (212) 691-9092 to register, or visit http://burgundywinecompany.com/index.cgi?Oregon for more details and to view the shop's extensive portfolio of Pinot Noirs from Oregon and Burgundy.

30 Second Advertising Partner:
Winetasting.com

Where do you go to find those special wines you like? A warehouse store? A specialty retailer? The former offers great values and the latter broad selection; but to buy those hard-to-find special "nuggets," until now you had to go right to the winery. Canít get to Napa Valley? Now you can visit your favorite wineryís online tasting room at Winetasting.com!

Winetasting.com is an online cooperative of Californiaís leading wineries selling directly to wine lovers. This gives customers like you unique access to limited-release wines not available outside the tasting room. For full information, visit http://www.Winetasting.com/hub/landing.asp?wlpgid=WLPG001LA. I have known these folks for a long time and can confidently recommend them.

30 Second Administrivia

This free weekly E-mail publication is distributed to subscribers every Monday. Previous editions are archived on The Wine Lovers' Page. See http://www.wineloverspage.com/wineadvisor/thelist.shtml.

You are on the subscription list because you registered during a visit to Robin Garr's Wine Lovers' Page. If for any reason you no longer want to receive this publication, simply send a short E-mail to 'wine@wineloverspage.com' asking to be unsubscribed (and, if you wish, offering us any suggestions you may have as to how we could have served you better), and we'll remove your name from the list. We do not use this list for any other purpose and will never give or sell your name or E-mail to anyone. Please contact us in the same way if your E-mail address changes. And of course we welcome feedback, suggestions, and ideas for future columns. Send us E-mail at wine@wineloverspage.com.

A note about our HTML Edition: Please note that as of December, 2000, we have temporarily suspended publication of an HTML edition (with images), because of persistent technical problems. However, if you signed up for this edition, we are keeping your preference in the database, and you will get it again if and when we resume it.

All the wine-tasting reports posted here are consumer-oriented. In order to maintain objectivity and avoid conflicts of interest, I purchase all the wines I rate at my own expense in retail stores and accept no samples, gifts or other gratuities from the wine industry.

More time for wine?

You don't need to wait for Mondays to read about wine! Drop in any time on Robin Garr's Wine Lovers' Page, where we add new tasting notes several times each week and frequently expand our selection of wine-appreciation articles, tips and tutorials.

If you'd like to talk about wine online with fellow wine enthusiasts around the world, we'd be delighted to have you join the interactive, international forums in our Wine Lovers' Discussion Group.

Vol. 3, No. 1, Jan. 22, 2001

<!TODAY'S TEXT ENDS HERE!>

Subscribe (free) to The 30 Second Wine Advisor