<!TODAY'S TEXT STARTS HERE!>

30 Second Wine Tasting Tip:
Don't pass up Ripasso


Most wine lovers, if we think of Valpolicella at all, think of it as a fruity, light or even featherweight red wine from the Veneto region in Northeastern Italy that's pleasant enough to quaff with lunch but probably not worth serious contemplation.

Made predominantly if not entirely from the local Corvina grape, Valpolicella doesn't generally profess to be anything more than an everyday table wine, and there's no shame in that. In fact, so many of the better Corvina grapes go into making the region's full-bodied and strong wine called Amarone and the "Ripasso" that we'll be talking about today, that jokesters call the regular Valpolicella "twice-skimmed milk" because the fruit left to make it has been well picked over.

But even if you're looking for a heartier Italian red, don't pass by Valpolicella without taking a close look at the label. If you spot the word "Ripasso" (or, in the odd case of the wine featured in our Tasting Note below, "Ripassa"), you've got your hands on something entirely different and, I think, much more interesting.

Ripasso literally means "re-passed," and it involves an unusual wine-making process: In the spring, after fermenting over the winter in the usual way, select batches of regular Valpolicella are transferred into casks holding dried grapeskins that were left over after the fancy Amarone was made. This process of "re-passing" the lighter wine over the "squeezings" left from its bigger brother adds additional body, color and flavor and may even kick off a bit of additional fermentation which boosts its alcoholic content. The result is a much fuller-bodied, flavorful and intense wine than the standard Valpolicella, a fruity and complex red that goes very well with red meat, game or sharp cheeses.

Even if you've never been impressed with Valpolicella, I commend Ripasso to your attention. Have you tried this wine? If you would like to share your tasting experiences, send me E-mail to wine@wineloverspage.com. I regret that the growing circulation of the "Wine Advisor" makes it difficult for me to reply individually to every note, and my travels this month will also limit my ability to respond; but I'll answer as many as I can; and please be assured that all your input helps me do a better job of writing about wine.

We hope you'll invite your wine-loving friends to register for their own free weekly copy at http://www.wineloverspage.com/wineadvisor.

30 Second Tasting Notes:
Full-bodied Italian red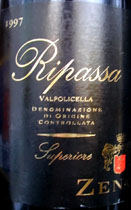 Zenato 1998 Valpolicella Superiore Ripassa ($14.99)
Dark garnet in color, with plummy black fruit aromas and a whiff of almonds. Full and tart, intense plums and prunes and lemony acid flavors with a marked but pleasant peach-pit bitterness, especially in the long finish. U.S. importer: Winebow Inc., NYC; Leonardo Loscascio Selections. (Jan. 12, 2001)

FOOD MATCH: Very fine with a wild-mushroom lasagna.


Boston Wine Expo

As noted last week, I'm planning to attend the Boston Wine Expo at the Boston World Trade Center this weekend, and thought it might be fun to arrange to meet any of you who are going to be there for a quick hello and perhaps a bit of tasting. I've heard from a few of you (and will be back in touch by E-mail this week), but if you didn't see this notice last week and would like to join in, send me E-mail at wine@wineloverspage.com. For more about Boston Wine Expo, check its Website, www.wine-expos.com.

Favorite Wine Links:
All American Wineries

With the Web increasingly dominated by slick, glitzy sites built and paid for by large corporations, it's always a pleasure to welcome a new attraction built at home by a wine lover for no reason other than that he likes to share his joy in wine.

Such a site is http://www.allamericanwineries.com, a labor of love by Bob Hodge, who retired from U.S. government service last summer and, eager to put his retirement to good use by visiting as many American wineries as he can, found that none of the existing U.S. winery indexes on the Web fully satisfied him. So he is making his own, starting from the East Coast and working west as quickly as he can.

I think you'll like it, and if you're planning a visit to the Eastern states where he already has a good start, I think you'll find it useful. I hope you'll drop by, and say hello to Bob while you're there.

30 Second Advertising Partner:
Winetasting.com

Where do you go to find those special wines you like? A warehouse store? A specialty retailer? The former offers great values and the latter broad selection; but to buy those hard-to-find special "nuggets," until now you had to go right to the winery. Canít get to Napa Valley? Now you can visit your favorite wineryís online tasting room at Winetasting.com!

Winetasting.com is an online cooperative of Californiaís leading wineries selling directly to wine lovers. This gives customers like you unique access to limited-release wines not available outside the tasting room. For full information, visit http://www.Winetasting.com/hub/landing.asp?wlpgid=WLPG001LA. I have known these folks for a long time and can confidently recommend them.

30 Second Administrivia

This free weekly E-mail publication is distributed to subscribers every Monday. Previous editions are archived on The Wine Lovers' Page. See http://www.wineloverspage.com/wineadvisor/thelist.shtml.

You are on the subscription list because you registered during a visit to Robin Garr's Wine Lovers' Page. If for any reason you no longer want to receive this publication, simply send a short E-mail to 'wine@wineloverspage.com' asking to be unsubscribed (and, if you wish, offering us any suggestions you may have as to how we could have served you better), and we'll remove your name from the list. We do not use this list for any other purpose and will never give or sell your name or E-mail to anyone. Please contact us in the same way if your E-mail address changes. And of course we welcome feedback, suggestions, and ideas for future columns. Send us E-mail at wine@wineloverspage.com.

A note about our HTML Edition: Please note that as of December, 2000, we have temporarily suspended publication of an HTML edition (with images), because of persistent technical problems. However, if you signed up for this edition, we are keeping your preference in the database, and you will get it again if and when we resume it.

All the wine-tasting reports posted here are consumer-oriented. In order to maintain objectivity and avoid conflicts of interest, I purchase all the wines I rate at my own expense in retail stores and accept no samples, gifts or other gratuities from the wine industry.

More time for wine?

You don't need to wait for Mondays to read about wine! Drop in any time on Robin Garr's Wine Lovers' Page, where we add new tasting notes several times each week and frequently expand our selection of wine-appreciation articles, tips and tutorials.

If you'd like to talk about wine online with fellow wine enthusiasts around the world, we'd be delighted to have you join the interactive, international forums in our Wine Lovers' Discussion Group.

Vol. 2, No. 52, Jan. 15, 2001

<!TODAY'S TEXT ENDS HERE!>

Subscribe (free) to The 30 Second Wine Advisor