<!TODAY'S TEXT STARTS HERE!>

30 Second Wine Tasting Tip:
Can't you decant?


Perhaps it's the season - there's nothing like blustery winter weather to suggest a warming drop of Port - but I've been getting a lot of questions lately about decanting wine: Why to do it, when to do it, and how to do it.

Most of the time, it's best just to pull the cork and pour ... no decanting needed! But I can think of three good reasons to consider the procedure:
The wine has developed a muddy sediment in the bottle, and you want to separate the wine from the sediment by carefully pouring the clear wine into a clean container.
The wine requires aging, like a fine Bordeaux, but you want to drink it NOW. Decanting with aeration may soften the edges of an immature wine and make it a bit more enjoyable.
You are having a formal dinner and want to serve your wine from an attractive decanter rather than putting the bottle on the table.
In the second and third cases, decanting is simply a matter of pouring the wine from the bottle into the decanter. But if you're decanting because your wine contains a sediment (as most often occurs in older Vintage Port and some very old red wines), you'll want to master a simple technique.
First, set the bottle upright a few days before serving, so the sediment will fall to the bottom. Then, when it's time to open the wine, do so carefully, trying to avoid shaking the bottle and stirring up the murk. Have your clean decanter and a flashlight or candle handy. Lifting the bottle in a smooth, careful motion, pour the wine gradually, illuminating the bottle neck with your flashlight or candle so you can inspect the wine as it pours out. As soon as you see the first bits of sediment approaching the bottle neck, prepare to stop pouring. You should be able to get at least 90 percent of the wine out before the sediment reaches the lip.
That's really all there is to it, although if you are obsessive about saving every drop, you can pour the last bit of wine and sediment through a paper coffee filter into a separate glass. Don't mix it in with the rest of the decanted wine, as there's some chance that the filter may add an odd flavor; but if you're enjoying a rare vintage, it might be worth the effort to salvage that last taste.
Have you tried decanting wine? If you've had an interesting experience or a useful tip to share, send me E-mail to wine@wineloverspage.com. I regret that the growing circulation of the "Wine Advisor" makes it difficult for me to reply individually to every note, and my travels this month will also limit my ability to respond; but I'll answer as many as I can; and please be assured that all your input helps me do a better job of writing about wine.
We hope you'll invite your wine-loving friends to register for their own free weekly copy at http://www.wineloverspage.com/wineadvisor.
30 Second Tasting Notes:
Good value Rhone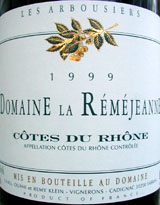 Domaine la Réméjeanne 1999 "Les Arbousiers" Côtes du Rhône ($9.99)
Inky ruby in color, showing fresh aromas of ripe red fruit and spicy oak with hints of berries and fragrant pepper. Full on the palate, juicy cherry-berry fruit and lemon-squirt acidity over soft tannins. In the broad spectrum of Cotes-du-Rhone styles, this one's at the robust end of the scale, almost a baby Chateauneuf-du-Pape. Good value! U.S. importer: Vintner Select, Cincinnati. (Dec. 31, 2000)


FOOD MATCH: The wine's ripe, earthy and peppery flavors make it a particularly good match with a hot bowl of borshcht, Russian beet and beef soup.

Attention, Bostonians!

Weather permitting, I'm planning to fly up to Boston the weekend of Jan. 20-21 to attend the Boston Wine Expo, an annual event in the Boston World Trade Center that this year will feature more than 450 wineries from 18 countries pouring some 1,800 wines, plus wine-tasting seminars and demonstrations.

Wine Lovers' Page isn't formally associated with the Expo, but I plan to be there both days, and if any of you are going to be there, too, I thought it might be fun to meet at a central point and do a bit of tasting as a group.

If you're interested, send me E-mail at wine@wineloverspage.com. If you'd like to know more about Boston Wine Expo, check its Website, www.wine-expos.com.

Wine Lovers' Voting Booth:
Best sparkler outside of Champagne?

By all reasonable accounts, real Champagne from France dominates the world of sparkling wines. Most wine lovers agree that no one else, anywhere, does it better. But just about every wine-making region tries its hand at sparkling wine; and quite a few of them, at their best, do it very well indeed. So before the spirit of the New Year's celebration fades, we're marking the occasion with a simple question: "Outside of Champagne, what region makes the world's best sparkling wine? I hope you'll drop by the Wine Lovers' Voting Booth, http://www.wineloverspage.com/votebooth, and tell us what you think!

30 Second Advertising Partner:
Burgundy Wine Company

Join the Burgundy Wine Company Feb. 8-10 for "A Celebration of Oregon", a three-day extravaganza of dinners and seminars. Taste the Pinot Noirs of Beaux Freres, Ken Wright Cellars, Cristom Vineyards and Bethel Heights Vineyards, and meet the men who made them. Events begin Thursday evening at Restaurant Serenade in Chatham, N.J., with a selection of '98 and '96 Pinot Noirs, along with a scrumptious four-course dinner. Festivities continue Friday at Judson Grill in Manhattan with another fabulous dinner and knock-out wines. Saturday is the Grand Finale again at Judson Grill. Four guest winemakers will a comprehensive tasting of Oregon's finest Pinot Noirs. Forty wines will be featured, with emphasis on the opulent '98 vintage, visiting regions, vineyards and producers. Join in and discover why Oregon is the most exciting and important Pinot Noir producing region outside of Burgundy. Call Burgundy Wine Co. at (212) 691-9092 to register, or visit http://burgundywinecompany.com/index.cgi?Oregon for more details and to view the shop's extensive portfolio of Pinot Noirs from Oregon and Burgundy.

30 Second Advertising Partner:
Winetasting.com

Where do you go to find those special wines you like? A warehouse store? A specialty retailer? The former offers great values and the latter broad selection; but to buy those hard-to-find special "nuggets," until now you had to go right to the winery. Canít get to Napa Valley? Now you can visit your favorite wineryís online tasting room at Winetasting.com!

Winetasting.com is an online cooperative of Californiaís leading wineries selling directly to wine lovers. This gives customers like you unique access to limited-release wines not available outside the tasting room. For full information, visit http://www.Winetasting.com/hub/landing.asp?wlpgid=WLPG001LA. I have known these folks for a long time and can confidently recommend them.

30 Second Administrivia

This free weekly E-mail publication is distributed to subscribers every Monday. Previous editions are archived on The Wine Lovers' Page. See http://www.wineloverspage.com/wineadvisor/thelist.shtml.

You are on the subscription list because you registered during a visit to Robin Garr's Wine Lovers' Page. If for any reason you no longer want to receive this publication, simply send a short E-mail to 'wine@wineloverspage.com' asking to be unsubscribed (and, if you wish, offering us any suggestions you may have as to how we could have served you better), and we'll remove your name from the list. We do not use this list for any other purpose and will never give or sell your name or E-mail to anyone. Please contact us in the same way if your E-mail address changes. And of course we welcome feedback, suggestions, and ideas for future columns. Send us E-mail at wine@wineloverspage.com.

A note about our HTML Edition: Please note that as of December, 2000, we have temporarily suspended publication of an HTML edition (with images), because of persistent technical problems. However, if you signed up for this edition, we are keeping your preference in the database, and you will get it again if and when we resume it.

All the wine-tasting reports posted here are consumer-oriented. In order to maintain objectivity and avoid conflicts of interest, I purchase all the wines I rate at my own expense in retail stores and accept no samples, gifts or other gratuities from the wine industry.

More time for wine?

You don't need to wait for Mondays to read about wine! Drop in any time on Robin Garr's Wine Lovers' Page, where we add new tasting notes several times each week and frequently expand our selection of wine-appreciation articles, tips and tutorials.

If you'd like to talk about wine online with fellow wine enthusiasts around the world, we'd be delighted to have you join the interactive, international forums in our Wine Lovers' Discussion Group.

Vol. 2, No. 51, Jan. 8, 2001

<!TODAY'S TEXT ENDS HERE!>

Subscribe (free) to The 30 Second Wine Advisor