<!TODAY'S TEXT STARTS HERE!>

30 Second Wine Tasting Tip:
Best wine values of 2000


New Year's Day is a time for both gazing forward and peering back, contemplating the events of the year just past and thinking about what you'll do in the New Year.

As I customarily do at the end of each year, I've gone back over all my tasting notes to single out the year's best wines of exceptional value or "quality-price ratio," known as "QPR" for short. Out of this process, I have come up with a list of the two dozen best wines of the year that I was able to buy for US$12 or less.

A summary version of the list follows. For more specific details on each of the wines, I invite you to visit the complete listing on Wine Lovers' Page at http://wineloverspage.com/qpr/index.shtml

A word about availability: I purchased all these wines at retail wine shops in and around Louisville, Ky., and the prices listed are the actual retail price I paid; pricing may vary in other parts of the world.

I have no way of knowing their availability in other parts of the world or from online merchants; but in seeking any wine of interest, I always recommend starting with a good wine shop in your own community. Don't be shy about asking the management for help. A friendly and knowledgeable wine merchant can be your best friend in your effort to find any wine of interest.

What were your best wines, and wine values, of the year just past? If you would like to talk about them, I invite you to join in the chat on our Wine Lovers' Discussion Group, or send me E-mail to wine@wineloverspage.com. I regret that the growing circulation of the "Wine Advisor" makes it difficult for me to reply individually to every note, and my travels this month will also limit my ability to respond; but I'll answer as many as I can; and please be assured that all your input helps me do a better job of writing about wine.

We hope you'll invite your wine-loving friends to register for their own free weekly copy at http://www.wineloverspage.com/wineadvisor.

30 Second Tasting Notes:
One more fancy bubbly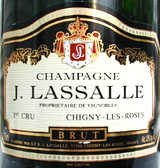 J. Lassalle non-vintage Champagne 1er Cru ($29.99)
This small but respected producer makes a sparkling wine that's both rich and balanced, a fine way to see out the Old Year and toast the New. Pale gold, with abundant, lasting bubbles, it offers full, fresh scents of apples with a pleasant overtone of cocoa. Full-bodied and "toasty," zippy acidity and apple fruit combine in a creamy flavor and long, clean finish. U.S. importer: Kermit Lynch Wine Merchant, Berkeley, Calif. (Dec. 31, 2000)


FOOD MATCH: Couldn't ask for a better match with New Year's Eve dinner: Steaming, rich oyster stew, and blini with sour cream and caviar.

Wine Lovers' Voting Booth:
Vintage of the Century?

As the world turns into its third millennium and the 21st century officially begins, we thought it would be fun to consider which year of the century past was the best for wine everywhere. Technically, of course, no one year produces great wine in every part of the world. But from time to time, weather patterns meet in happy coincidence to provide a year that yields great wines in many parts of the world and respectable wines in most others. What's your opinion? Please drop by the Wine Lovers' Voting Booth, http://www.wineloverspage.com/votebooth, and tell us which of the last 101 vintages you consider the best for wine everywhere.

30 Second Advertising Partner:
Winetasting.com

Where do you go to find those special wines you like? A warehouse store? A specialty retailer? The former offers great values and the latter broad selection; but to buy those hard-to-find special "nuggets," until now you had to go right to the winery. Can't get to Napa Valley? Now you can visit your favorite winery's online tasting room at Winetasting.com!

Winetasting.com is an online cooperative of California's leading wineries selling directly to wine lovers. This gives customers like you unique access to limited-release wines not available outside the tasting room. For full information, visit http://www.winetasting.com/hub/landing.asp?wlpgid=WLPG001LA. I have known these folks for a long time and can confidently recommend them.

30 Second Administrivia

This free weekly E-mail publication is distributed to subscribers every Monday. Previous editions are archived on The Wine Lovers' Page. See http://www.wineloverspage.com/wineadvisor/thelist.shtml.

You are on the subscription list because you registered during a visit to Robin Garr's Wine Lovers' Page. If for any reason you no longer want to receive this publication, simply send a short E-mail to 'wine@wineloverspage.com' asking to be unsubscribed (and, if you wish, offering us any suggestions you may have as to how we could have served you better), and we'll remove your name from the list. We do not use this list for any other purpose and will never give or sell your name or E-mail to anyone. Please contact us in the same way if your E-mail address changes. And of course we welcome feedback, suggestions, and ideas for future columns. Send us E-mail at wine@wineloverspage.com.

A note about our HTML Edition: Please note that as of December, 2000, we have temporarily suspended publication of an HTML edition (with images), because of persistent technical problems. However, if you signed up for this edition, we are keeping your preference in the database, and you will get it again if and when we resume it.

All the wine-tasting reports posted here are consumer-oriented. In order to maintain objectivity and avoid conflicts of interest, I purchase all the wines I rate at my own expense in retail stores and accept no samples, gifts or other gratuities from the wine industry.

More time for wine?

You don't need to wait for Mondays to read about wine! Drop in any time on Robin Garr's Wine Lovers' Page, where we add new tasting notes several times each week and frequently expand our selection of wine-appreciation articles, tips and tutorials.

If you'd like to talk about wine online with fellow wine enthusiasts around the world, we'd be delighted to have you join the interactive, international forums in our Wine Lovers' Discussion Group.

Vol. 2, No. 50, Jan. 1, 2001

<!TODAY'S TEXT ENDS HERE!>

Subscribe (free) to The 30 Second Wine Advisor