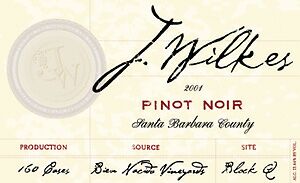 J. Wilkes: A new name for artisan Pinot Noir in Santa Barbara

© by Dennis Schaefer

Jeff Wilkes has probably done a lot of ersatz winemaking in his time, so it should come as no surprise that he's making wine for real under his own moniker. And no, this is not some Jeff-come-lately, jump-on-the-"Sideways" Pinot Noir bandwagon either.

For almost two decades, beginning in 1984, Mr. Wilkes worked for the Bob and Steve Miller families, marketing and selling their grapes grown at Bien Nacido Vineyard near Santa Maria. He also had a hand in establishing the Miller's Central Coast Wine Services, a brick and mortar "winery" that dozens of prestigious local vintners call their wine production home.

So it seemed only natural, after all this time talking and tasting (as well as growing grapes) with other vintners and seeing how they do things, that he and his wife, Kimberly, would take the plunge. Stylistically, Mr. Wilkes likes to pick Pinot a little earlier to avoid higher alcohols, which he believes obliterates the terroir of the vineyard site. He wants the wines to have extraction but still retain the delicacy of the grape. I found the wines to be well balanced, refined and deliciously food friendly. J. Wilkes may be a new name in Santa Barbara County winemaking, but his roots have been in the vineyards for over two decades.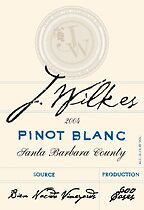 J. Wilkes Pinot Blanc, Bien Nacido 2004 ($18): Mr. Wilkes wanted to have a least one white wine on board and Pinot Blanc from Bien Nacido was the obvious choice. Also quite obvious is that this is a flat out fun wine, from the first sniff and swallow. The nose comes on strong with minerals and stone fruits. In the mouth, the fruit is very bright with a fine minerality and scintillating acidity. Though the ripe flavors of honeysuckle and apple blossom are apparent, the wine was fermented to dryness. It retains its freshness, fruitiness and clean cut of minerality all the way though to the persistent finish. Frankly, this Pinot Blanc is so refreshing that it should be a "go to" wine by glass at restaurants all over town this summer.

J. Wilkes Pinot Noir, Bien Nacido "Q" Block 2001 ($50): Cherry, black cherry fruit and cola on the nose and Smith Brothers cherry cough drop flavors, with a measure of darker fruits like plum and blackberry in the background. The tannins have softened at this point but without losing any of the fruit concentration. This wine was tightly wound early on but now it's really starting to come around and the aromatics and flavors really open up as you swirl it in the glass. Some undercurrents of spice and wood smoke also make an appearance. With good texture and palate feel, it's also showing some guts and grip, as well as good, firm acidity on the extremely dry and satisfying finish.

J Wilkes Pinot Noir, Bien Nacido "Q" Block 2002 ($50): A fruitier (and obviously younger) nose, picked from the same vineyard block, in what generally is regarded as an excellent vintage for Pinot Noir in Santa Barbara County. The fruit flavors are more full bodied, almost syrupy and certainly concentrated. Dark cherry, cranberry and pomegranate fruit hit a sweet spot on the mid palate, then fan out to display its rich and mouth coating aspects. Well balanced at this point, it carries its rich fullness well with commensurate acidity. It has a nice "al dente" chewiness to it also, that creates an even greater sense of depth, beyond the sweet spot. The finish echoes the whole package of flavors and persists long after you swallow. It has everything the 2001 version has and then some. Very enjoyable right now but it can easily deepen with aging over the next five years.

J. Wilkes Pinot Noir, Vall-Foss Vineyard 2003 ($27): In an effort to produce only the best Pinot Noir, Mr. Wilkes has zeroed in a particular parcel in the Napa Valley that offers a unique flavor profile. In contrast to the previous Pinots, this one is all about earth. The nose has cherry for its fruit aspect, but then violet, lavender, mushroom and minerals all rush in. Cherry flavors deepen into black cherry and plum, complemented by spices/herbs, wood smoke, minerals, chocolate and freshly turned loamy earth. The latter character is not, however, overbearing; and with everything that's going on in this wine, it seems a little edgy but the deep concentrated fruit helps to keep everything in control. It's J. Wilkes most rich and dense Pinot and, with a good tannic make up, has great aging potential ahead of it.

J. Wilkes Pinot Noir, Solomon Hills Vineyard 2003 ($37): This vineyard is a newer project (six year old vines) of the Miller family, and with their reputation for producing stellar grapes at Bien Nacido, many small wineries are wanting this fruit, seeing it as yet another source of top quality Pinot Noir. The vineyard is composed of sandy, well drained soil and planted to all the hot new pinot clones that everyone is talking about.

"You can see the ocean from the top of the vineyard," notes Mr. Wilkes, "it's closer to the ocean than most of the Santa Rita Hills vineyards." The J. Wilkes Solomon Hills version, just released, is not as spicy as the other J. Wilkes Pinots, even though it too sees all new oak. More pure and focused fruit gets the call here, with flavors of blackberry, black cherry, blueberry and plum that are very accessible. It's big and rich in the mouth and makes you take immediate notice. And at the risk of being misunderstood, I find it more syrah-like than the others; more masculine than delicate and feminine. But, without question, a very legitimate style of pinot and an very enjoyable one.

J. Wilkes wines are limited in production; for the 2004 vintage, 1500 total cases of Pinot Noir were produced. For more info, see http://www.jwilkeswine.com.

July 11, 2005

Back to the Schaefer on Wine Index

<!- Page Contents End Here ->