Veramonte: Hot bargains from seaside Chile
Article and photos © copyright 2008 by Dennis Schaefer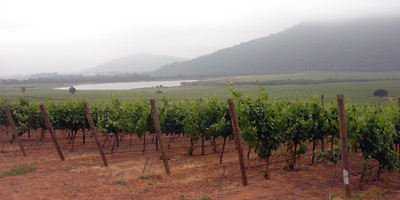 Veramonte vineyards, with the fog still apparent at 2 PM on a spring day! Photos © by Dennis Schaefer
Flying into Santiago, Chile, even from 30,000 feet in the air, it is clear what the defining geographical aspects of Chilean wine country are: on the left, the towering, snow-capped Andes Mountains and, on the right, the blue Pacific Ocean. Chile is, in fact, a skinny California that has been flip-flopped into the southern hemisphere. As the old saying goes, Chile is 2,500 miles long and a smile wide. Okay, okay, but at some points, it's as little as 100 miles from mountains to ocean. You can be snow-skiing on the Andes peaks in the morning and lounging around in flip-flops on the beach in the afternoon!
This is a natural environment for growing grapes, much like California, with warm days and cool nights. Grape growing in Chile dates back to the sixteenth century, when vineyards were planted by Spanish conquistadors. Chile's historic wineries were founded and influenced by French and Spanish immigrants, who brought specific grape varietals. However, the wine industry fell on hard times in the last century, until 1990, when dictatorial military rule was replaced by democracy; then new investment flowed into Chilean vineyards.
Now, it is nearly unbelievable what has happened with Chilean wines in less than 20 years. Case in point: Veramonte Winery in Chile's Casablanca Valley was founded in 1990 and built the winery in 1998; their vineyard land previously was either fallow or used for cattle grazing. They have become the Chilean poster boy for over-achievement, both in terms of offering quality wine and good value. (I show suggested retail prices, but check with your discount retailers for even greater QPR!)
Veramonte's estate vineyards are located between Santiago, the capital city, and Valparaiso, the main port city. As the crow flies, Casablanca Valley is only about twelve miles from the ocean; it's this moderate, maritime climate that makes for a long, even grape growing season. When I stood in the middle of their 410 acre vineyard (the largest contiguous vineyard in Chile) on a spring afternoon, the thick sea fog still enveloped the vines, keeping them cool. It reminded me of the maritime fog I have experienced in our own Santa Maria Valley or Santa Rita Hills.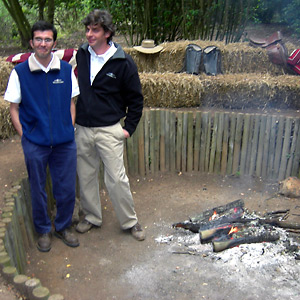 Veramonte vineyard manager, Jorge Figueroa (left) and winemaker Rafael Tirado, shown at a wine event in the vineyards. Photos © by Dennis Schaefer
About three-quarters of Veramonte's production is imported here, so it's easy to find. Tasting the wines with winemaker Rafael Tirado and vineyard manager Jorge Figueroa, I found the them to be of high quality; their reasonable prices also make them fantastic values. Upon returning to the States, I bought the same wines at retail and confirmed my initial, enthusiastic tasting impressions. Some notes on the wines, all highly recommended:
Veramonte Sauvignon Blanc Reserve 2006 ($10): Great aromatics with citrus, grapefruit, melon and a sense of minerality coming to the forefront. Medium bodied with very direct and very clean flavors with citrus, gooseberry, green pea and just a touch of grassiness. Great acidity makes the wine seem bright and full of life. Sauvignon Blanc in Chile is their flagship white varietal and they can compete with any New Zealand versions. Winemaker Rafael Tirado nails these flavors every year (2005 is also fine) by doing a lot of leaf removal in the vineyard to get more sun on the grapes. Then it's all stainless steel fermented (no oak) to preserve the freshness of the flavors.
Veramonte Chardonnay 2005 Reserve ($10): Another incredible value, particularly if you are a big fan of Santa Barbara County Chardonnay; truly, this one reminds me of the great Sanford Chardonnays of years past. The nose is just huge with pineapple, citrus and tropical fruit; I mean, it just billows out of the glass; you can smell it across the room. In the mouth, it's ripe, round and full bodied with a whole cornucopia of tropical fruit bursting through. Thirty percent barrel fermented in French oak (but with no malolactic fermentation), it is also very creamy, buttery and rich, but again, not without a great acid structure to keep the whole package together.
Veramonte Merlot 2005 Reserve ($10): Lead pencil and graphite at first on the nose; that is, a very pleasant sense of earthiness, is mixed with bright red fruits, like cherry and strawberry. Medium bodied, but soft and yielding in the mouth, the wine spends eight months in French and American oak, then six months in bottle to create an easy drinking smoothness. Spicy with strawberry and raspberry flavors, this is not an inky dark monster of a Merlot but rather one that's easily accessible and has an upbeat finish.
Veramonte Cabernet Sauvignon 2004 Reserve ($12): So many California Cabernets these days taste tricked upped and slicked upped. This an authentic representation of what Cabernet should taste like: dark berries and cassis with supporting but not overpowering spice from barrel aging. It's medium bodied (great for food matches) but it's not wimpy or watered down. The sweet, ripe blackberry fruit, with hints of tobacco and chocolate, seems to coat the mouth, but the wine still retains some finely grained tannins that give it some oomph.
Duo Sauvignon Blanc 2005 ($14): Duo is Veramonte's slightly upscale label, also widely available. This Sauvignon Blanc is intense with very direct and expressive lemon-lime, not just the fruit, but also a tinge of intriguing bitterness from the peel. Refreshing in the mouth, you get lemon-lime, spearmint and a fascinating hint of yellow/jalapeno pepper; the latter gives the citrus flavors a real lift on the back end. A step up from the Veramonte version; it has more substance and is creamier and lengthier.
Primus 2004 ($18): Primus is Veramonte's red Bordeaux style blend, about half Merlot, and the balance Cabernet and Carmenere (Chile's signature red grape). Everything here is darker and more concentrated; the idea being to make the best red wine possible. The fruits tend more toward the plum and mulberry end of the spectrum, but you can also find red cherry, leather, tobacco, pepper and Asian five-spice powder in the mix. Twelve months in oak gives it a spicy roundness that hits on mid palate and then finishes long and dry. It could age effortlessly for another five years.
January, 2008
Back to the Schaefer on Wine Index