Wine Spectator: You can't go Rhone again (please!)
© by Dennis Schaefer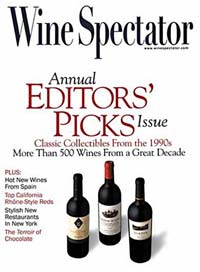 Wine Spectator's annual "comprehensive" tasting of California Rhone-style wines, with its startling slant toward the North Coast style, inspires Dennis Schaefer to a heartfelt but thoughtful rant for the second year in a row. Here's his commentary from this time last year.
If it's 2005, then it's time for my
annual rant
on how
Wine Spectator
, that supposed paragon of the consumer wine world, mistreats Santa Barbara County and Central Coast wines.
Last year I apparently had too much time on my hands when I compared and contrasted the published ratings of California Syrahs in Wine Spectator versus those in Wine Advocate. Jim Laube is the California specialist who heads up the tasting panel at Wine Spectator, while Robert Parker is responsible for Wine Advocate. Both claim to taste blind to remove any prejudice from their judgments. What I found was that Jim Laube and Wine Spectator consistently rated the Rhone-style wines from Santa Barbara and the Central Coast significantly lower than Wine Advocate.
While Wine Advocate is influential, especially among wine buffs, Wine Spectator reaches 10 times more people, wrapping its proclamations about wines in a vehicle that can charitably be classified as an "upscale lifestyle" publication. Wine Advocate, on the other hand, accepts no advertising and concentrates solely on wine.
Well, what I discovered was that Jim Laube and Wine Spectator are at it again. I direct your attention to the Jan. 31, 2005 edition, featuring, according to Mr. Laube, the largest and most comprehensive tasting of (more than 500) Rhone-style California wines ever conducted by the magazine. First things first: Comprehensive is not the word I would use when you don't entertain wines from Central Coast wineries like Bedford Thompson, Carina, Clos Mimi, Consilience, Curtis, Firestone, Gainey, Kunin, L'Aventure, Ojai, Rusack, Sine Qua Non or Tensley. But this sin of omission is only the beginning.
As you might expect, Mr. Laube and Wine Spectator tasting panel, who, by the way, are based in Napa, naturally give very high ratings to Napa Valley and North Coast Syrahs. The personal predilection apparently precludes any other style of Syrah from achieving greatness.
The highest rated Rhone-style wines are from Culler, DuMol, Hill Climber, Jade Mountain, JC Cellars, Lagier-Meredith, Lewis, Mayo, Novy, Pax, Rosenblum and Voss, all of course, from the North Coast. Don't get me wrong here; I've tasted a number of these wines and they are very good, some even special (Lewis). What I object to is how our wines get downgraded for not conforming to a preconceived style or flavor profile.
Kinda like Paul Giamatti ("Sideways") getting shut out of an best actor Oscar nomination in favor of Clint Eastwood ("Million Dollar Baby"). "Giamatti, he's an upstart, quirky kind of actor, let's go with the traditional, old school guy, who's paid more dues, like Eastwood," I can hear the Academy members saying. Same for those at Wine Spectator, who would be the taste police.
To be fair, Wine Spectator does acknowledge some regional winemakers, giving high marks to Jaffurs, Lafond, Linne Calodo, Beckmen and Alban. Of course, John Alban is a pioneering Rhone varietal viticulturist and well known internationally; leaving him out in a discussion of these wines would be like talking about the Catholic Church and not mentioning the new Pope. And while Beckmen got good mentions, its Purisima Syrah was pummeled with 77 points versus 90 from Wine Advocate; ditto for its Clone 1 Syrah which got a 75 versus a 93!
Wow, that's a big difference between "an average, drinkable wine that may have minor flaws" and "an outstanding wine of exceptional complexity and character." These are not isolated examples. Let me give you more scores (based on the 100 point scale), with Wine Spectator's low ball rating listed first, and Wine Advocate's rating following the slash. For Eli Parker's Epiphany label: Revelation 88/93, Star Lane Syrah 85/92. For David and Becky Corey's Core label: Blend 352 82/90, Elevation Sensation 83/91, Hard Core 86/90.
Pioneering Tablas Creek's wines: Cote de Tablas blanc 83/91, Cote de Tablas rouge 78/90, Espirit de Beaucastel 85/93.
I feel the most empathy for those Paso Robles winemakers whose style is apparently foreign to the North Coast-centric Wine Spectator. Garretson Wine Co., who was last year's whipping boy, fared only a little better this year: Garretson's Georgia Cuvee 83/89, Mourvedre 82/90, Craic Syrah 79/91, Bulladoir Syrah 89/95, Chumhra Viognier 83/89 and Duine Viognier 83/88. This year's poster boy is newcomer Cris Cherry's Villa Creek label: Avenger 76/94, Garnacha 86/91, High Road 72/94 and Willow Creek Cuvee 78/90. Justin Smith's Saxum wines didn't fare much better: Broken Stones Syrah 88/96 and Bone Rock Syrah 75/95+. I can personally say that I've tasted all these wines and I have found them to be outstanding.
Why is any of this important? Because the wine-buying public make purchasing decisions on the basis of perceived expertise, in this case, Wine Spectator, more often than not. I know, everyone says you should trust your own taste. But Sally in Tallahassee or Joe in Minneapolis, who are busy with their work life and raising a family, don't have the time, money or inclination to taste through the 15,000 or so wines that are released every year to find something they like. So they depend on publications like Wine Spectator and, if they are unaware of its bias, will truly be deceived about Santa Barbara and Central Coast wines.
Lastly, I'm not for a moment suggesting Wine Spectator ratings are some nefarious CIA-like plot to denigrate our wines. Though based on "Letters to the Editor" in the same issue of Wine Spectator, Laube is now even failing at judging his own specialty: North Coast Cabernet (e.g. 2001 Joseph Phelps Cabernet "Backus," a 79 versus Wine Advocate's 93). Maybe he's suffering from mid-palate crisis; I just don't know.
I'm sure Jim Laube and his tasting cohorts are nice guys, but the fact remains that they are guilty, quite unconsciously no doubt, of having a North Coast palate that tends to reject everything that doesn't conform to their proscribed preconceptions. There is no way to explain this difference in perceived quality other than personal taste. As long as they hand down their tasting proclamations for Wine Spectator, Santa Barbara County and the Central Coast will never get a fair shake with wine consumers.
That's my rant and I'm sticking to it.
April 25, 2005
Back to the Schaefer on Wine Index