Rusack Vineyards sets a new quality course
© by Dennis Schaefer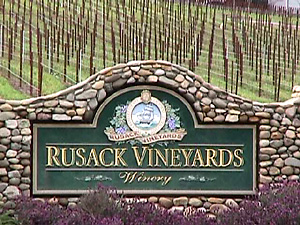 It was a red-letter day in the summer of 2001 when Rusack Vineyards signed on the husband and wife team of John and Helen Falcone as their new winemaker and enologist, respectively. The winery owners, Geoff and Alison Rusack, had purchased the former Ballard Canyon Winery in 1995, but were just going with the flow. When the Falcones came on board, the Rusacks made the commitment to quality. They underwrote the total replanting of their estate vineyard in 2001, incorporating better varietals, clones, rootstocks, spacing and trellising.
While waiting for the new vineyard to come to fruition, they started sourcing grapes from some of the top vineyards in the county. Before migrating to Santa Barbara County, the Falcones were a proven quantity in the competitive landscape of Napa Valley. John was winemaker at Atlas Peak and also oversaw the Callaway coastal line of wines, while Helen worked at boutiques like Paul Hobbs and Chimney Rock. Maybe the Falcones wanted to leave the rat race of Napa behind or were tired of corporate winemaking; whatever the reason, Rusack offered them the opportunity to get back to hands-on winemaking.
Pretty much everything else has also been retooled at Rusack, including the new Jeff Caldewey-designed label, now sleek and sophisticated, featuring a beautiful Catalina tile as their logo (Alison's great-grandparents opened a ceramics factory on Santa Catalina Island over seventy-five years ago). To the Rusacks, the Catalina tile represents a family tradition of hand-crafted excellence and creativity, exactly what they are striving for today in the art of winemaking. Indeed the label is elegant, reflecting what's now being captured in the bottle.
The Falcones hit the ground running with the 2001 harvest and their hard work paid off, as wine quality immediately took a quantum leap in that vintage. The current Rusack releases are even better and, to my way of thinking, the pricing still has not yet caught up with the quality being offered, as evidenced from the notes below.
Sauvignon Blanc 2003 ($16): Evenly sourced from Valley View and Westerly Vineyards, this white wine shows very fresh fruit flavors and aromas. Deep dish, zingy stuff with a back beat, it has flavors of ripe pear, pineapple, melon and a bit of Meyer lemon. Tasted blind, you might think it's from New Zealand, but the added attraction here is the rounded mouthfeel and the fine cut of acidity on the finish.
Chardonnay 2002, Santa Barbara County ($18): An artfully blended wine, this Chard comes on with a lemony nose with citric high notes. In the mouth, it's so creamy with lemon-lime citric like flavors as well as a tropical influence with orange blossom notes. On second taste, some pear and honey slip into the mix, lending weight to a creamy mouth feel and long lived finish.
Chardonnay 2002, Santa Maria Valley ($25): Specially selected Chardonnay lots are given more of the new oak treatment here. Again, even more creamy, this version has a lemon meringue nose mixed with pineapple. Mid palate flavors are concentrated with a lemon curd style density, buffered by smoky character from the new oak. Very ripe fruit flavors with plenty of stuffing to chew on.
Pinot Noir 2002, Santa Maria Valley ($25): A very Pinot like nose of crushed red berries along with a dollop a brown spices from the oak. Raspberry and strawberry flavors in the mouth are very open and accessible early on: you don't have to go off the deep end trying to find the fun part of this wine. The bright mouthful of tangy strawberry fruit just grabs your senses with its moderate intensity as well as its good balance.
Pinot Noir 2002, Santa Rita Hills ($32): Primarily sourced from the new and exciting Fiddlestix Vineyard in the cooler Santa Rita Hills appellation towards Lompoc, this is a more serious wine that requires some extended swirling in the glass (or even decanting) to reveal its aromatics. But underneath it all, there is a big ball of sour black cherry and dark plum flavors, with a minimum of wood spice at this point. The viscosity and body give this Pinot some weight. It's a big wine that's really elegant but not delicate, if that makes any sense. Tightly wound but possessing structure and balance, it needs time to come undone. Sock a couple bottles away, then taste at six month intervals. Patience will be rewarded.
Syrah 2002, Santa Barbara County ($25): Their 2001 version won just about every award and gold medal there is and this Syrah is a worthy successor. Dark plum and red fruits (like raspberry/cherry Jello) jump out of the glass. Not "Syrah lite" though, the dark purplish fruit hits first and then is followed by the bright stuff that makes it seem delicious right now. Not necessarily jammy, but a nice sheen of vanilla coats the red raspberry fruit on the back end. Full-bodied and dense, it could also benefit from aging, if you can keep your hands off it now.
Anacapa 2002, Santa Ynez Valley ($36): The Falcones have been successful in sourcing grapes from the right property to produce something quite interesting that you usually don't see in Santa Barbara County: a Bordeaux-style blend. With 60 percent Cabernet Franc, 35 percent Merlot, with the balance Cabernet Sauvignon, this version (like their 2001) is a real winner. Blueberries, toast and vanilla on the nose continues to follow up on the palate with wave after wave of various fruit flavors. As it opens in the glass, you can sense the depth of the concentrated fruit, caressed by plenty of vanilla. Cherry and dark berry flavors are embroidered with an anise/licorice component and hints of green herbs, espresso and dark chocolate. The fruit flavors here are forward enough to get to right now, but there will be plenty of additional facets to experience as the wine ages and opens up even more.
September 2004
Back to the Schaefer on Wine Index