"Syrah, The Next Big Red," Wow! Imagine that!
© by Dennis Schaefer
"Syrah, The Next Big Red," screams the headline on the cover of a recent issue of the most widely read print wine publication in the world. After I did a double take and confirmed that my eyes did not deceive me, I doubled over in laughter and then pondered the incredulity of it all. And then I realized it was deja-vu all over again. Back in the summer of 2001, the headline of the regular wine column in USA Today was "Sip Syrah, a most exciting new wine." So what I'm wondering is: where have these folks been in the last 25 years?
That's nearly how long I've been drinking California Syrah.
It was back in 1974 that Christian Brothers Winery sold Joseph Phelps Vineyards in Napa a paltry 10 tons of Syrah (which the Brothers had always buried in their blends) plus budwood to plant their own Syrah; when that Syrah was released in 1977, it was probably the first time since Prohibition that a California Syrah was commercially available and released under its varietal name.
Meanwhile, on the Central Coast, Gary Eberle had planted Syrah at what was then called Estrella River Winery (now Meridian Vineyards). Later Zaca Mesa Winery would start making Syrah and Estrella would often sell their Syrah grapes to upstarts like Bob Lindquist of Qupé Wine Cellars or Randall Grahm of Bonny Doon Vineyard. And the thing snowballed from there into a loose-knit group of like-minded winemakers dubbed "The Rhone Rangers." Now Syrah is planted up and down the coast and there are dozens of producers.
But since Syrah "is now blossoming in American vineyards" and beginning to "muscle its way into the American mainstream," (from USA Today), I might as well jump on the bandwagon too and beat the same drum for Rhone varieties as I have done for the last two decades. Now it's no surprise that Santa Barbara County is a leader in this area, so here are some thoughts and tasting notes on two wineries solely devoted to Rhone varieties.
---
Craig Jaffurs had spent his 17-year career as a cost analyst in the aerospace biz. But somewhere along the line, the wine bug bit him and bit hard. He began working harvests and performing cellar rat functions at Santa Barbara Winery, under the watchful eye of winemaker Bruce McGuire. In 1994, he took the leap and crushed his first grapes in a rented facility. Today Jaffurs Wine Cellars is one of California's great wine success stories.
In 2001, he built his own winery in the heart of Santa Barbara. A small but utilitarian space built to his specs, it will allow Jaffurs to take his wines to the next level. He now can do things he wasn't able to do before, like cold soaking Syrah before fermentation, monitoring fermentations closely, avoiding the pumping of red wines and leaving the wines extra time in barrel. Jaffurs focuses on producing limited quantities of Rhone varietal wines, from grapes purchased from Santa Barbara County vineyards.
2001 Viognier ($23): Jaffurs' Santa Barbara Viognier is always one of the prettiest in the county. Apricot, tangerine and peach skins as well as the proverbial lichee nut are among the perfumed aromatics that don't need to be coaxed out of the glass. Bright mineral and stone fruit flavors, dried apricot among them, are medium bodied and show good weight on the mid palate. A zippy finish with bracing acidity makes this "Condrieu like" wine very food friendly.
2000 Mourvedre, Stolpman Vineyard ($20): This is Jaffurs' last Mourvedre from this vineyard but not his least. Mourvedre is a work horse grape, usually blended with other Rhone varietals, but this one stands alone. Plenty of jammy fruit mixes with meaty aromatics and, with swirling, a distinct black cherry jello nose becomes obvious. Substantial meaty and bouncy fruit flavors come through in the first flavor wave, but rose petal, brewed tea, lavender and Provencal herbs are also woven through the fabric of this dense wine.
2000 Syrah, Santa Barbara County ($23): The most "generic" version of Jaffurs' Syrahs, it's a combined blend of all the vineyards from which he sources grapes. However, it is the furthest thing from "plain wrap" Syrah you'll ever taste. In fact, this is the most drinkable of his Syrahs upon release. It shows blueberry and blackberry fruit that have good weight but also a certain lightness (it's 5 percent Viognier), with no noticeable tannins, that make it so easy to drink.
2000 Syrah, Bien Nacido Vineyard ($30): Very extracted color on this wine, with just a whole panoply of aromas: raspberry and blackberry fruit with dashes of nutmeg, white pepper, anisette and black licorice. In the mouth, it is perhaps the leanest of all the vineyard-designated Syrahs but still has powerfully concentrated flavors of raspberry and licorice. Still somewhat tightly wound at this point, the aromas and flavors change as you swirl the glass. A wine that deserves some time in the bottle.
2001 Syrah, Bien Nacido Vineyard ($30): The latest Bien Nacido release is more precocious. Again, very extracted in color, though the nose of blackberry and raspberry is big, bouncy, juicy and jumping out of the glass right now. It's a bigger, younger wine still showing a lot of primary fruit flavors in spades - blackberry and black cherry - because it was picked about a month later. Though it has a great smack of well-rounded, dark fruit on the mid palate, it's a bottle that will reward aging, if you can keep your hands off it now.
2001 Syrah, Stolpman Vineyard ($32): A very pretty fruit nose starts things off, more the forward cherry fruit than the dark fruits, though a blackberry element is evident. Oh so elegant in the mouth, this wine stretches out for miles on the palate with flavors of cherry, blueberry, tar and minerals. Other complexing elements are oozing just under the surface of the primary flavors, cumulatively contributing to the perceived complexity. A powerful wine, yet refined and superbly balanced.
2001 Syrah, Melville Vineyard ($32): This wine could the most Rhone-like (i.e. Cote-Rotie) in the lineup. Dark, deep color on this wine, almost black, which is a precursor for how extracted the aromas and flavors will be. And true to type, the nose is dark raspberry, very concentrated in an almost syrupy, kirsch like way. Flavor-wise, there are bits of spices and herbs around the edges, but the very focused raspberry and plum fruit flavors are massive and clearly the main attraction. It shows more of its stuff as it sits in the glass over the course of a meal.
2001 Syrah, Thompson Vineyard ($34): As if you couldn't already tell, Jaffurs is big on aromatics and this wine is no exception. The Thompson Syrah shows perhaps the most heavyweight aroma of the group; you can literally smell it from several paces away as the wine is poured into the glass. The nose is of very dark, ripe fruit, like blackberry and black cherry with warm, tarry asphalt aromas in the earthy mix. In the mouth it has a candied or thick preserve quality that on one hand seems very cherry-cordial-like and on the other hand seems high-toned and pleasantly medicinal. A fascinating amalgam, it nevertheless wears its extracted flavors well, wrapped as they are in a full bodied package with a rich mouth feel and a long satisfying finish.
---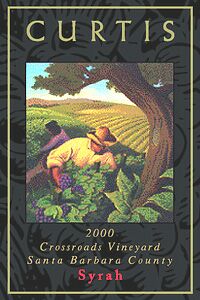 The perception may still exist that Curtis Winery is somehow an adjunct to the larger Firestone Winery, located just up the hill from it on Foxen Canyon Rd. I imagine wine travelers still amble into the tasting room, looking for a glass of Chardonnay. While Curtis is part of the Firestone family, it has its own winemaking mission, separate from Firestone and, no, Curtis doesn't produce Chardonnay.
Established in 1995, Curtis is exclusively devoted to producing Rhone-style wines. Winemaker Chuck Carlson, who has 20 years of experience making these wines locally, believes the character of Santa Ynez Valley makes it a premier appellation for world-class Syrah, as well as Viognier, Roussanne, Grenache and Mourvedre.
Vintage 2000 marks the first Syrahs from the estate Crossroads vineyard and Vogelzang vineyard sites. The resulting wines, from young vineyards, exceeded Carlson's expectations. "With these wines," says Carlson, "I think we are beginning to fulfill our long term goal of producing some of the region's most exciting Syrahs." And that's no idle boast. Tasting through the current releases listed below, I find Carlson is making the best wines of his career. Discover these wines now, while they are still under-priced compared to their quality.
2001 Heritage Blanc ($12): Don't let the generic name put you off of this aromatic white wine. It's 81 percent Viognier and could legally be labeled as such (the balance is Roussanne and Chenin Blanc). There's plenty to notice in the nose of apricot, peach, lichee nut and lilac. On the palate, it's light and crisp, showing tropical fruit and citrus, as well as apple and peach notes. It turns nutty on the finish and the fine cut of acidity emphasizes how smooth and upbeat the wine is. A best buy.
2001 Viognier ($18): Great perfume of white peach and pear from this single vineyard offering, from the up and coming Vogelzang plantings. Very rich in the mouth and almost oily, the flavors of white peach, pear and apricot come on strong, while shades of lanolin and roasted nuts sneak in too. Mouth coating and viscous, this full-bore white is the Big Bopper of the Viognier set. A double gold medal winner at the Santa Barbara County Wine Fair competition.
2000 Heritage Cuvee ($14): This red blend, substantially Mourvedre and Syrah, shows a rich berry nose indicating that ripe, hard-core fruit lurks beneath the surface. In the mouth, the flavors of red and dark berries are caressed by vanilla, imparted from oak aging. Toasty caramel, violets, spice and earth tones are all part of the flavor package too. Very much in the style of a Cotes du Rhone, this is just a delicious mouthful of wine that hits you with plenty of fruit but is still well rounded and fat in the mouth.
2000 Syrah, Vogelzang Vineyard ($18): Dark plum and dried cranberries lead the way on the nose of this darkly extracted wine. Bright and fruity flavors of red cherries expand on the palate, segueing into darker fruits, like plums, with clove and wood spice around the edges. The conceit here is that the sappy, ripe fruit flavors draw you in, but the darker fruits keep you coming back for another taste to find further flavor permutations. The tannin levels are moderate and consistent with the level of fruit, giving you a little something to chew on.
2000 Syrah, Ambassador's Vineyard ($25): This wine shows a lighter but emphatic nose of blueberries and black fruits. On the palate, blueberry, wild cherry and vanilla coalesce into a delicious mouthful of wine. Gamey and bacony notes add to the complexity along with a soupcon of licorice and white pepper. You can sense a tightly wound wine that's just now beginning to uncoil, soften up and become lip smackingly supple.
2000 Syrah, Crossroads Vineyard ($30): Wow, what an exotic nose of aged meat, olive pomace, blueberry, violets and vanilla ... along with dashes of bacon fat and soy sauce! It would be an understatement to say that there's a whole lot going on in this wine and, oh, did I mention the smokiness and mild herbal character too? True to its nose, it follows through in the mouth with flavors of very ripe black fruits and violets with bits of dark chocolate and soy sauce. Big, rich and extracted, the wine has fine textural nuances and great balance. Carlson jam packs so much oomph in the wine by allowing the true expression of this 20-year-old vineyard site to shine through.
2000 Syrah, Reserve ($??): This is Carlson's coup de grace: his effort to make the biggest, best Syrah he can, drawing on both the Ambassador's and Crossroads Vineyards and then giving the wine extended aging time in 100 percent new French oak. A big blast of vanilla is readily apparent on the nose with dark fruits kicking in too; the extracted richness of the wine is so obvious from the nose. Right now, both the bright and dark fruit flavors are beginning to peek out from underneath the oak; interestingly enough, some gaminess and wild "sauvage" from one vineyard blend well with the densely fruited aspects of the other vineyard. Rich, full bodied and intense (and in need of cellaring), this is the Silver Oak of syrahs.
Nov. 27, 2003
Back to the Schaefer on Wine Index