Doug Margerum has left the building
Article and photos © 2009 by Dennis Schaefer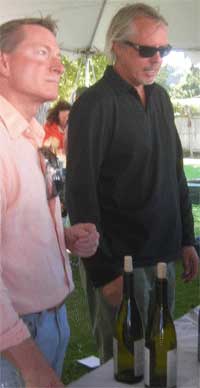 Production winemaker Doug "Scotty" Scott (L) and vintner Doug Margerum of Margerum Wine Company pour at Vintners' Festival of Harvest. Photos © by Dennis Schaefer.
In Santa Barbara County winemaking circles, Doug Margerum is nearly legendary. His wine shop and restaurant, Wine Cask, was ground zero for the nascent and then emerging Santa Barbara County wine culture, over twenty years ago. Beginning in the 1980s, he was a fearless champion of Santa Barbara County wines and he helped to nurture winemakers by not only providing a space for their bottlings in his wine shop and on his wine list, but also by promoting those wines as local (long before the locavore movement).
As interest grew in Santa Barbara County wines over the years, Wine Cask became known as "the place," sometimes the only place, to acquire the hard-to-find single-vineyard minuscule-production Santa Barbara wines that seemingly every wine collector wanted. The Wine Cask restaurant became a destination wining and dining spot for vacationing wine lovers from all over the country, recognized for having one of the best wine lists in the country.
Margerum also organized Wine Cask'sSanta Barbara Wine Futures, an annual event where Santa Barbara County winemakers showcased their latest releases and barrel samples. Eager tasters would line up an hour in advance outside Wine Cask to get in to taste the wines and secure the purchase of the many limited availability bottlings.
But all that is now gone. Margerum sold the Wine Cask complex to Long Beach restaurateur Bernard Rosenson in 2007, who brought in a new, highly regarded chef from Los Angeles to man the stoves. Rosenson planned to continue in the same mold and everything seemed to be going well at first; even the hard-boiled restaurant critic at the L.A. Times was upbeat and positive about the dining experience. However, this past February, Rosenson put Wine Cask up for sale for $517,000. About ten days later, Wine Cask space was cleared out, the doors locked and a "closed" sign hung on the door. Rosenson was months behind on the rent and summarily evicted. Was Wine Cask another victim of the faltering economy, an unrelenting landlord, or bad management? It's a topic that's still up for discussion.
Margerum commented immediately on hearing the news. "I was very saddened to hear that the Wine Cask has closed...the economic climate has changed so dramatically since June of 2007; no one could have predicted what was going to happen...my hope is that Wine Cask could begin anew now that this chapter has ended and I suspect a phoenix will rise from the ashes," he said. As of this date, that has not happened.
But while Margerum has left the building, he has not left the wine business. Those who knew him well, also knew that he had a personal passion for winemaking. While running the Wine Cask complex, he also made wine under the tutelage of and with Jim Clendenen (ABC), Bob Lindquist (Qupe), Fred Brander (Brander) and others. Many of these wines were Wine Cask labeled bottlings to serve as house wines for the restaurant; others were made under the MWC label and sold at retail. When Margerum left the restaurant business behind, he had plenty of winemaking experience and was finally able to devote his full time and attention to winemaking at Margerum Wine Company (www.margerumwinecompany.com), where he focuses on Rhone style red wines and eclectic whites, assisted by production winemaker, Doug "Scotty" Scott.
I tasted through many of the wines and found them to be food friendly and well balanced, not a surprise coming from a former restaurateur. While Margerum has some newer releases, many of these wines below are still in the retail pipeline. And another tip: the 2007 vintage was a stellar one in Santa Barbara County.
The wines
Pinot Gris, Alisos Vineyard 2007 ($19): Like all Margerum wines, this pinot gris is made with food and the daily dining table in mind. That goes twice for this wine. Ripe pear and lemon zest on the nose are followed by flavors of apple, pear, and peach, along with an undercurrent of minerality. Acidity is what makes this wine beg for food, but beyond that it has a great sense of lightness and balance, coupled with a broader sense of flavor depth just lurking under the surface. Among the best California Pinot Gris I have tasted.
Pinot Gris, Margerum Ranch, Washington State 2007 ($16): No, that's not a misprint; Margerum has a vineyard property in Washington. This wine shows a lot of vibrant pear fruit; certainly more overtly fruity and "sweet" than the Alisos version. Pear, mineral and sea salt seem to be in the mix, resulting in a drink that is sweet and savory at the same time. With its long fermentation time and its spiny acidity, it seems more like an Austrian Gruner Veltliner. And that's a good thing.
Sauvignon Blanc, Sybarite 2007 ($19): Sybarite, from the Greek city of Sybaris, whose residents were pleasure seekers, is the name for the most pleasurable blend of Sauvignon Blanc that Margerum can produce. The ripe fruit flavors, with melon, gooseberry and lemon, are the hallmark of this wine that turns complex on the mid palate; it's bright yet at the same time viscous and mouth coating. Dry and crisp on the back end, it has flavor persistence.
Sauvignon Blanc, Vogelzang Vineyard 2007 ($30): While Sybarite shows off the winemaker's blending skills, this wine shows off the terroir of a singular vineyard site. Plenty of bright fruit comes to the fore in this one, like capturing liquid sunlight in a bottle. The pervasive flavor is honeysuckle, though it goes beyond that with honeycomb and florals in a complex mix. Akin to Brander Vineyard's (where Margerum once made his wines) Au Naturel bottling in style and substance.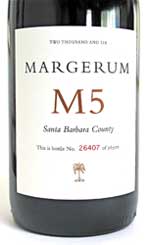 M5 has always been my favorite Margerum wine.
M5, Santa Barbara County 2006 ($28)
: M5 has always been my favorite Margerum wine, concocted from five Rhone varietals: Grenache, Counoise, Mourvedre, Cinsault and Syrah. Actually, I often mistakenly call this wine "MC5," after the Detroit based rock group (MC5 = Motor City 5) of the late 60's, whose rocking debut LP was "Kick out the Jams." Well, that's exactly what this wine does in the same rebellious spirit of MC5. Sweet ripe fruit, both red (raspberry and cherry) and black, combine for a bombastic, high tempered, full bodied red wine in a Chateauneuf du Pape style that, like I said, will kick out the jams and give you immediate flavor gratification.
Syrah, Purisima Mountain Vineyard 2006 ($40): Aromatically this Syrah is still a bit tight, but it is showing its beauty with well tuned flavors. Dark purple and plummy, this is very juicy, fruity and accessible, with some trailing chalk and vanilla as punctuation marks. It has a very precise focus which is not at all at odds with its approachability; finely grained tannins and bright acidity help this syrah make a signature statement.
Syrah, Colson Canyon Vineyard 2006 ($40): As much as the Purisima Mountain Syrah is elegant, the Colson Canyon is its muscular counterpoint. Beefy, fruity and peppery on the nose: these aromatics just take flight from the glass. Dark plum fruit, along with bacon fat, shine like a jewel, while secondary flavors of sausage, roast beef and smoked meat bring on more flavor intrigue. The savoriness of the latter obviously suggest the food match ups. But fruit flavors are at the heart of it and the meatiness brings out different but complimentary flavors in this syrah.
Syrah, Uber, Santa Barbara County 2006 ($50): This is an intensified M5, but involving only Syrah from the top vineyards Margerum works with and then, to add a further twist, the various vineyard syrahs are co-fermented. So, as each wave of vineyard picks come into the winery, they get dumped into the already fermenting bins. The result is a long and extended fermentation that extracts a total flavor panorama from the grapes. A wave of dark fruit, like blackberry and dark plum, augmented by white pepper and brown baking spices, just washes over your palate; quite intense and concentrated, but still well structured and balanced. Built to last, put this in the cellar for further flavor evolution.
Grenache, Santa Barbara County 2006 ($36): Normally Margerum does not bottle Grenache separately; it's used in the blends, but 2006 seemed an exceptional year. Folks who love wine that pairs seamlessly with food will "get" this wine immediately. It's not dark, nor super concentrated; in fact, it's almost Burgundian in nature with bright red fruit that's sweet and delicate with lively acidity. Not your father's Grenache, this red wine is sleek and supple.
Next time: Doug Margerum's further adventures as winemaker for two wineries in the up-and-coming Happy Canyon area of Santa Ynez Valley.
August 2009
Back to the Schaefer on Wine Index