Foley Estates ups the ante for Pinot Noir
© by Dennis Schaefer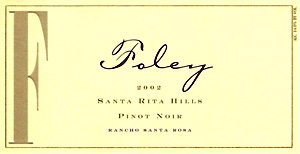 I've traveled on Highway 246 west of Buellton in the Santa Rita Hills appellation of Santa Barbara County many times and always wondered who owned that majestic looking, oversized horse barn, set back from the highway, secured by a perimeter fence and devoid of any signage.
As it turns out, the beautifully weathered building was built in 1983 for horses, but Foley Estates Vineyard and Winery bought it, and the surrounding 460 acre ranch, in 1998. The southwest facing hillsides were perfect for low yielding vineyards and, over the next two years, 240 acres were planted by proprietor William Foley II and director of winemaking Alan Phillips, primarily to Pinot Noir and Chardonnay, with a minuscule amount of Syrah and Pinot Gris.
Originally a Spanish land grant parcel, the ranch is divided into 33 unique blocks or sites, matching the soil types and sun exposure to the appropriate rootstocks and clones; the hillside property extends 500 feet in elevation to nearly a 1,000 feet above sea level. The undulating hills provide a variety of terrains and exposures, which coupled with vineyard's direct access to the cooling wind and fog of the Pacific Ocean, make it ideal for Pinot Noir and Chardonnay.
Despite its size, Rancho Santa Rosa was conceived from the beginning as multiple micro-vineyards; in fact, each block has sub-blocks with an average size of 4 acres so Foley can take advantage of the sometimes minute but individual variations in climate, exposure, soil type and elevation. Again due to this diversity, multiple rootstocks and clones (particularly Pinot Noir) were utilized and, obviously after going to all that trouble, the sub-blocks are vinified separately in the winery.
Foley, of course, still draws on its original home vineyards in the Santa Ynez Valley on Alamo Pintado Road, as well as sourcing grapes for other top growers in the county. But, ultimately, the future of the Foley label is tied to their success at Rancho Santa Rosa site. 2002 was the first vintage from the vines on the ranch and, if that's any indication of things to come, then Foley's future is very bright indeed.
With interest high for regional Pinots from Loring, Sea Smoke, Melville, and Brewer-Clifton, Foley should be on that short list as it is a major player in the Santa Rita Hills Pinot venue as well as being on the same quality page as the smaller wineries.
Some thoughts on Foley's current 2002 releases, all from Rancho Santa Rosa:
Chardonnay, Rancho Santa Rosa ($30): Everything you could want from a cool climate Chardonnay. including citrus, mineral and racy tropical fruit aromatics and flavors. Full bodied with big flavor impact, it nevertheless has impeccable balance. A buttery creaminess runs through it, enriching its suppleness and mouth feel. And while the fruit is up front and present, it maintains its intensity all the way to the finish.
Syrah, Rancho Santa Rosa ($30): A very meaty Syrah; and by that I mean not only dense as in, something you could sink your teeth into, but also the aromas and flavors of dried aged sirloin. This is the darker side of Syrah: bigger, richer and more concentrated stuff that leaves a long trail of after effects, like fireworks going off in your mouth. Dark plum and the darkest berry fruit lend substance to the beefy flavors and the finish is lip smackingly good.
Pinot Noir, Rancho Santa Rosa ($38): Dark fruit and plum aromas are embellished with the brown side of the spice rack, as well as a very subtle sense of wet and decaying autumn leaves/forest floor in the mix. Hey, this is complicated stuff! Dark concentrated flavors of plum are the primary focus, seasoned with cinnamon, cardamom, allspice and more. All of it comes rushing together and fans out its flavor spectrum on the mid palate. A big and viscous wine, it literally coats the mouth with flavor, then displays resounding staying power in the mouth, even after you swallow.
Pinot Noir, Rancho Santa Rosa, Block 4D ($45): Wow, plenty of rich blue/black berry fruit here, with the wood spice taking a back seat to the incredible concentration of this wine, made from the Pommard clone. It had to be picked very ripe, because you can just sense the sweet fruit on the tip of your tongue. This has got to be the "dark star" of Santa Barbara County Pinots. A wine where everything is in its appropriate place; its full bodied and rich flavor impact is commensurate with the deep and complete fruit flavors.
Pinot Noir, Rancho Santa Rosa, Block 5C ($45): From a different block, this is a totally different animal, made from the Dijon clone 667. Here you get delightful aromas of raspberry and cherry jello that are big, obvious and in your face. It's a fun wine that's immediately appealing in a fruit bomb sort of way. But as you taste, you realize the wine goes so much further and deeper than that. While it has more up front fruit, it displays a fuller body and a tannic grip on the back end. All the red and black fruits fanning out across the palate are quite an amalgamation of sensory over load. It's one of the pinots where you can kind of have your cake and eat it too.
Pinot Noir, Rancho Santa Rosa, Barrel Select ($50): The deep, dark, smoky aromatics are both beguiling and intriguing. The entry is rich and very full bodied in the mouth. Fruit forward, with dark berries and beet root, but gracefully augmented with wood smoke and brown spices, it's more traditional in nature, more in the quintessential Burgundian style. Balanced and elegant, this pinot has it all: depth, length and great stuffing in the middle. It seems light on its feet but there's a lot going on below the surface. A classic in the making, one that will compliment anything you put on the dinner table.
Dec. 5, 2004
Back to the Schaefer on Wine Index