Emiliana Organico: Chile's leader in organic and biodynamic wines
Article and photos © copyright 2008 by Dennis Schaefer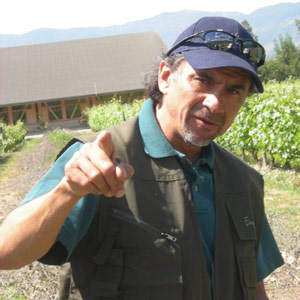 Emiliana winemaker Alvaro Espinoza, standing in the vineyards, makes a point about biodynamic farming. Photos © by Dennis Schaefer
If you pay attention to media reports, you know there's a worldwide trend toward a greener planet that includes naturally produced and minimally processed goods. That's true in the wine world as well, where organically grown grapes are seen as a "best practice" in sustainable agriculture. Furthermore, some vintners are embracing biodynamics, a way of looking at growing crops in harmony with nature, based on the principles of the late Austrian scientist and philosopher, Rudolf Steiner.
Organically grown means the grapes are grown without the use of pesticides, herbicides or chemicals. Pests and diseases in the vineyard are managed through natural means like cover crops, insects and animals. Biodynamic growing ups the ante even further with stricter regimens. No synthetic chemical fertilizers are used and a varietal of natural preparations are applied to the vineyard in conjunction with cycles of the moon. It's a holistic and biodiverse approach that regards the vineyard as a living thing that needs to be naturally nourished.
I came to put a face on both of these philosophies when I visited a winery called Emiliana Organico in the Colchagua Valley of Chile. Beginning in 1998, Emiliana began to convert vineyards to organic growing; today with 1700 certified acres, they are the largest organic grape grower in Chile. At their Los Robles vineyard, I observed portable chicken coops, so that chickens could be moved about in the vineyard for pest management. Ladybugs are also beneficial and on patrol. Llamas (and ducks) roam the vineyard rows munching on intrusive weeds and providing natural fertilizer. All herbal and biodynamic preparations, that are sprayed, composted or buried in or on the vineyard, are grown in their own garden, including dandelion, stinging nettle, white yarrow, valerian root, horsetail and others.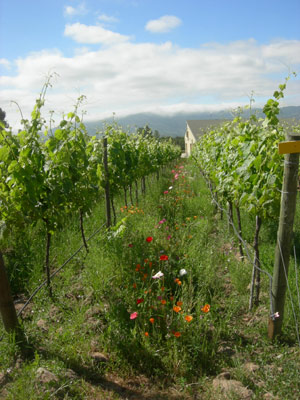 Organic beneficial cover crops are planted between the Los Robles vineyard rows. Photos © by Dennis Schaefer
Emiliana winemaker, Alvaro Espinoza, is no newcomer to this type of grape growing. He apprenticed with the Fetzer winemaking family (Fetzer and Bonterra labels) in Mendocino County, the largest organic grape grower in California. He was educated at University of Bordeaux, which accounts for his elegant winemaking style, as interpreted in Chile. Mr. Espinoza believes that growing grapes in a natural way produces higher quality fruit and thus better wine. With no unnatural intervention, he says, the Emiliana organic wines, labeled "Natura," respect the conditions of the soils and reflect the terroir where they are grown. The Natura wines have recently become widely available in this country. At around $10 a bottle, they represent great value.
2006 Natura Chardonnay: Nicely done aromatics: lemon, lemon zest, minerality and tropical fruit; you can just sense the rich butter cream that awaits on the palate. Very lemony fruit flavors, followed by pineapple, mineral and chalky limestone; then some apple and pear on the back end. And, did I mention that oh so creamy, silky texture you get when inhaling a mouthful of this Chard? Juicy and succulent, it's seemingly more balanced and less harsh than many California Chardonnays. The sweet ripe fruit just keeps beating on your senses to bring you back for another taste but it never goes over the top. It's very much a balanced wine: the oak is not evident and doesn't get in the way (it's not barrel fermented and only half of it spends of few months in French and American oak). Rich yet light on its feet at the same time, it also shows decent natural trailing acidity. The pleasant bitter lemon/citrus note on the finish caps the entire proceeding with an vinous exclamation point. With its fresh vivacity, the wine works well as a cocktail, but really becomes something more with an appropriate food match.
2005 Natura Cabernet Sauvignon: Ripe red and black fruits on the nose have a ripple effect: the more you swirl the more aromatics you get, including some interesting floral notes (a happy surprise in a Cabernet). The flavors are elegant and refined, more in the way of the Bordeaux model than the Napa Cabernet model, and drip with red and black cherry fruits. But wait, there's more! Blueberry insinuates itself into the mix, as well as hints of bacon fat, tobacco and wet earth. The latter are restrained, however, and are utilized as a chef would use spices in a preparation: to compliment the main theme. There's nothing brooding about this Cab. It's easily accessible for current drinking, with smooth tannins. Now, to be fair, it's not a complex wine, but then again it doesn't sport that prohibitive Napa Valley Cab price either. Moderately bodied, it's juicy in the mouth with true fruit ripeness. I call it a working class Cab. You don't have to age it, you don't have to decant it, you just open it tonight or whenever the spirit moves you. Oh, I nearly forgot to tell you about the yin/yang of vanilla/chocolate flavors that subtly works its way into (and enhances) the fruit flavors of this easy going wine.
2005 Natura Carmenere: Carmenere has become Chile's signature red grape; it seems to thrive there better than anywhere else on the planet. It is not indigenous however: the French brought it over from Bordeaux in the 19th century and propagated it in Chilean vineyards. Carmenere was once considered a major grape varietal in Bordeaux blends, but it is no longer prominent there. In Chile, Carmenere was, as recent as twenty years ago, confused with Merlot in the vineyards. And, in fact, my take is that Merlot would love to taste like Carmenere if it could. This 2005 Natura version shows a nose of rich red currant, dark plum and black fruit, as well as toffee and wood spice. It's a bigger structured wine than the cabernet with red currant, bing cherry and dark plum flavors that are fully ripe and intense. Deliciously fruit forward for present drinking, it also shows some depth, including notes of lead pencil and graphite, that come from half of the wine spending a year in small oak barrels. Even though the wine is darkly extracted, the requisite tannins are fine grained and smooth. It has the fruit, the extraction, the power and the fist in the velvet glove. What's not to like about Carmenere?
The Novas wines ($16), also produced by Emiliana Organico, are a step up from the Natura label. Again, they are made from organically grown grapes, but the grape yields per acre from the vineyards are less and the resulting wines are, both by taste and analysis, drier. The Novas bottlings seem more concentrated and less easy going than Natura and tend to have more stuffing in the middle.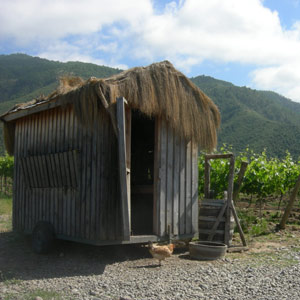 Portable chicken coop in Emiliana's Los Robles vineyards can be moved as needed for natural insect control. Photos © by Dennis Schaefer
2006 Novas Chardonnay
: A refreshing nose, more devoted to the tropical and pineapple side of things (includes 4 per cent Viognier), comes on strong. Flavors are also fresh and bright, less soft in the mouth than Natura, due to the lively acidity. Pineapple, citrus and quince flavors are buttery and rich in the mouth, with the ripe fruit given the appropriate intensity along with a kiss of lightly toasted oak (1/2 aged in French oak and 1/2 held in stainless steel tanks). Lees stirring gives a textured feel to the mid palate and the crisp and juicy flavor components stretch out on the palate, proceeding to a bright but forceful finish. While the flavors are easy to wrap your palate around, this Chard is more structured and tightly wound than the Natura. I prefer to take this bottle out of the refrigerator, pour a glass, and then let the bottle sit out on the counter: as it warms up, the wine will reveal more if its facets.
2005 Novas Carmenere-Cabernet Sauvignon: Here's a smart combo: 80 per cent Carmenere and 20 per cent Cabernet Sauvignon, giving you the dark plum and cassis nose from the git go, like macerated dark fruit essence. Some toasty notes come through on initial palate entry but then plum, black cherry and mulberry sweep into flavor contention with chalkiness and a bit more toast on the back end. And while the fruit flavors are, again, accessible and direct, there's something deeper and more substantial going on here as well. And it's a sense of the actual crushed fruit that remains vibrant and lively, as if an essence was extracted from the grapes, right down to the pulp. Easily a $30 wine if it came from anywhere in California, this blend has a flavor profile unlike anything else being made in the U.S. It will probably not make old bones, but it is in its sweet spot for drinking right now.
Two additional wines from winemaker Alvaro Espinoza and the Emiliana folks really up the ante, throwing down a high-end quality challenge to all Chilean wineries. Coyam ($30) is a red wine blend made from organically grown grapes, while "G" ($80) is their red wine tour-de-force, made from biodynamically grown grapes, the first wine from Chile ever to be certified as biodynamic by Demeter, the international biodynamic certifying body.
2004 Coyam: Coyam means "Chilean oak" in the local indigenous language; these trees surround Colchagua Valley vineyards where the organically grown grapes are grown. Of all the wines I tasted in Chile, and there were literally hundreds, this raucous blend of Syrah, Carmenere, Cabernet Sauvignon, Merlot and Mourvedre, was one of the best and the wine I turned to for pure drinking pleasure. I tasted it in multiple settings and every time it showed extremely well; it's probably its peak for drinking right now. The black fruit aromatics are plentiful in this densely, darkly colored wine. At first, it's subtle in the mouth, then a rush of plum and blackberry fruit comes through on mid palate with a measure of tobacco and secondary spices. The initial subtlety in the mouth seems to expand to fill out all the hollow spaces with earthy complexity along with full, rich and lush fruit flavors. A very finely balanced wine, it's one that just keeps on giving and giving, all the way to the finish.
2003 G: G is also a red wine blend, about half Syrah, with equal parts Cabernet Sauvignon, Carmenere and Merlot. The grapes coming in from the vineyards in Colchagua Valley go through a double sorting process, on a conveyor belt type sorting table, before going in the fermentation tank. Starting with a 5 day pre-ferment cold soak, the must was fermented fairly warm and pump over were the norm for extraction. Left on the skins for another 10 days after fermentation, the wine was aged in French oak for 15 months, then rested in bottle for another 18 months before release. Dark plum and black fruits, once again, on the nose. Rich and full bodied in the mouth, though that same subtlety appears again; maybe it's that G seems very polished (though it's not fined nor filtered) with an elegant sheen of sophistication. The flavors are, however, wonderfully palpable and sappy, something you can sink your teeth into, but rich and smooth as well. Wait awhile, and different things start to emerge from the glass: shoe polish, earth, tobacco and other natural spice elements to complement the fruit. This wine is still on its upward aging arc and is not completely fleshed out yet, even though it's 5 years old. If you want to drink this one now, be sure to decant it to let it stretch out and show you its stuff.
June 2008
Back to the Schaefer on Wine Index