Getting down with (downtown) Byron Kent Brown
© by Dennis Schaefer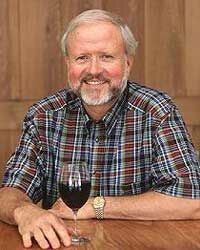 KEN BROWN
Byron Kent Brown, aka Ken Brown, is a known quantity around these winemaking parts. Almost 30 years ago, he was excited about Santa Barbara County's potential for growing grapes and producing world class wine. So much so, that he left the hospitable winemaking environs of the North Coast and accepted a position as the first winemaker at the new Zaca Mesa Winery. As founding winemaker, he helped design the winery and set the standards in this renegade wine district. Perhaps unwittingly, he also established the informal Zaca Mesa University of winemaking whose "graduates" would come to include Jim Clendenen, Bob Lindquist, Adam Tolmach, Lane Tanner, Ben Silver, etc.
He moved on and established Byron Vineyards and Winery in 1984, concentrating on Pinot Noir and Chardonnay. The Robert Mondavi family acquired the winery in 1990, hooked on the potential for Pinot on the Santa Maria bench, and he was jazzed by the level of investment and experimentation that the Mondavis brought to the table.
Eventually he saw the handwriting on the winery wall, perhaps a bit before the Mondavi holdings were bought out by Constellation Brands. On July 1, 2004, he officially parted ways with the Mondavis and the winery that bears his name, and became an independent vintner. Ken Brown Wines is his new moniker and the 2003 vintage releases were made at the gravity flow Byron Winery.
Ironically, in the what goes around, comes around department, one of the vineyards that first attracted him to Santa Barbara County was the then fledgling Sanford and Benedict Vineyard; in his long career here, he's never made wine from that vineyard, however he happily accepted an allotment from the vineyard in the 2005. Needless to say, he's excited about bringing his decades of Pinot winemaking experience to bear on these storied vineyard grapes.
When I visited him, during the throes of the 2005 harvest, he was ensconced in a new, utilitarian winemaking warehouse space in downtown Lompoc, not far from young turks like Brian Loring and others further down the road in the industrial winery "ghetto" (SeaSmoke, Longoria, Presidio, Curran, Fiddlehead, Samsara, Holus Bolus, Ethan, etc.) hard by the Home Depot. The 2003 vintage is only 1,500 cases (California only distribution) but Mr. Brown expects the most recent harvest to yield around 3,500 cases, which will be available in selected markets. The wine can also be purchased winery direct at www.kenbrownwines.com. My thoughts on the 2003 vintage, now in release:
Pinot Noir, Santa Rita Hills 2003 ($35): Brown spices with a cornucopia of plum, blackberry and strawberry aromatics that you can smell half way across the room. In the mouth, a good, round ball of fruit is obvious, with a great purity of clean fruit flavors. However, it's not just the fruit that's attractive: there is so much going on a deeper level too. Plum, blackberry and other blue/black fruits are highlighted but it's a moving target because it changes as it rolls around in the mouth, revealing more complex aspects. It's smoky too and shows vanilla (generally thirty percent new French oak is used) but the wine certainly retains the deep dish Santa Rita Hills fruit character. The Prince of Pinot newsletter (www.princeofpinot.com) said this wine "was one of the best Pinot Noirs I have had the pleasure of drinking this year."
Pinot Noir, Bien Nacido 2003 ($35): Plum, dark cherry and candied fruit on the nose, then big, rich and full bodied in the mouth. While the Santa Rita version may be silkier, this is chewy and multi dimensional from the first taste. Plum and darker, dark fruit dominate in a wine that is stuffed to the max with flavors, including some brown spices, vanilla, tobacco and leather in the mix. The longer chain tannins here give it a fine mouth feel and luxurious texture. A very complete, well rounded Pinot that is starting to drink well right now, though to get at its full potential, it would be wise to decant and let it breathe before serving.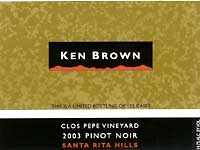 Pinot Noir, Clos Pepe 2003 ($45): As much as I like the two previous Pinots, my notes on the Clos Pepe begin with two words: "amazing stuff." This one has the darkest extracted color of them all. The aromatics and flavors of this wine just sort of merged themselves inside my head and beat on my senses. First, there's dark plum flavors and then a red raspberry type of taste but it's a deeper kind of red raspberry than you're used to, almost liqueur like, say something akin to Chambord. Dark black and blue berry fruit also kick in to provide a different and complementary flavor blast. The low yields from this vineyard (one ton per acre) and the low vigor sandy soil rich in calcareous shale are responsible for this type of concentration. Very tightly wound and chewy with oodles of depth and a long, long finish, this is a Pinot for the cellar.
Syrah, Santa Barbara County 2003 ($25): Deep purple color on this wine that exemplifies a winemaking style that's a hybrid cross between French and Aussie technique, with the end result being to maximize extraction and concentration. Blueberries and vanilla on the nose with some peppery and gamy notes too. A hard core of dark fruit, including blackberry, plum and cherry flavors, with a back beat of licorice and baking spices, show plenty of focus. According to Mr. Brown, the fermentation methodology helps preserve the true fruit character of Syrah, while at the same time building in supple tannins. Truly an opulent wine with a dense texture.
Syrah, Bien Nacido 2003 ($35): Sourced from the same block of Bien Nacido vineyard as Adam Tolmach's Ojai Syrahs, this wine is indeed more like Mr. Tolmach's as opposed to Bob Lindquist's Qupe Syrahs. Smoke, vanilla, dark plum, blackberry and black pepper are the main aromatic and flavor characteristics of this wine. The aromatics just keep on coming out of the glass, something to be savored for a while, like the evolving essence of a fine perfume. There's a lot going on here, so it's wise to sit with this one for a while and enjoy over the course of a long dinner to see all the things the wine can reveal. You might also find a background of smoked meat, gaminess and brown spices from the nine months spent aging in forty percent new French oak. This Syrah can stand head to head with other classic renditions from Bien Nacido; it is dark and brooding stuff that shows an appropriate mix of fruit and spice, all hung on a concentrated and richly textured frame.
Feb. 22, 2006
Back to the Schaefer on Wine Index