Albariño: When old world meets new world
© by Dennis Schaefer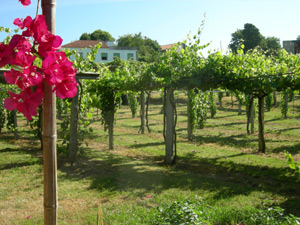 Traditionally pergola trellised vineyard of Santiago Ruiz Winery. Photos by Dennis Schaefer
Albariño may be the most exciting white wine variety you've barely heard of. As I noted in my last column, Albariño's forte is that it is crisp, fresh and snappy with great acidity, which makes it great with food. Not really a stand in for Viognier or Riesling, it's absolutely like no other wine in the world. The northwest area of Spain, the Rias Baixas, is the home of Albariño and it ripens well in the maritime climate. Part of its attraction is its salinity: you can almost taste the salty sea spray that mingles with refreshing, honeyed flavors of apple, citrus, and stone fruits.
While the wines are not necessarily simple, they are direct with great aromatics, plenty of luscious flavors and crisp finishes. Winemakers play to the strength of Albariño by emphasizing this style. It's also fairly simple to make: temperature control the fermentation in large stainless steel tanks and bottle the wine early to retain its characteristic freshness. But many modern producers in Rias Baixas are experimenting with production techniques because they want to offer what would be perceived as a prestigious and more "serious" white wine than their regular bottling. To that end, producers are utilizing extended pre-fermentation maceration, encouraging secondary malolactic fermentation and aging in small wooden barrels.
As in any break from tradition, some wine producers are more successful than others. For example, Agro de Bazan 2005 Granbazan Amber Albariño is all free-run juice, part of which undergoes malolactic fermentation. It retains the freshness and the floral aromatics of its regular bottling; it's more viscous in the mouth too and shows more fleshy peach, nectarine and citrus flavors as well as a good acidic grip on the finish. In contrast, 2005 Granbazan Limousin Albariño spends six months in French oak barrels; it is all butter cream, caramel and vanilla and, although some honeysuckle does shows through, a lot of the lovely, lush fruit flavors are submerged.
One of the smallest producers, Santiago Ruiz, produces an Albariño that is blended with other approved regional grapes. The 2005 Santiago Ruiz O Rosal has fragrant notes and flavors of red apple, citrus, hay with a hint of herbs and balsamic in the foreground. It's a very distinctive wine of great intensity and persistence that really shines the spotlight on the multiple flavors involved. They experimented in 2005, barrel-fermenting some Albariño with the full malolactic and six months aging in French oak. The result is that it smells like Viognier and tastes like Chardonnay. Some producers think using these processes will make their wines more "internationally appealing" and more "modern." But why would you want to drink an Albariño that tastes like a Chardonnay? These are the types of questions 21st century Rias Baixas producers are grappling with.
What really matters here, I think, is the prudent application of these techniques to the specific vineyards. For example, the 2005 Condes de Albarei Albariño hits all the right tangy notes with its lovely concentration and flavors of lemon-lime, honeysuckle, quince and salinity. Meanwhile their 2005 Enxebre Albariño uses grapes from their oldest vineyards, which are whole cluster macerated for two weeks to extract more backbone This is a sophisticated and elegant wine, a reserve style with so much richness and length that, while it has traditional Albariño characteristics, it transcends the boundaries of the grape. It's not just Albariño anymore, it's the winemaker's idea of great white wine.
At the Fefinanes winery, their 2005 Albariño de Fefinanes is very fresh with minerals, lime zest, apple and orange blossom. They were pioneers in the region, being the very first to bottle Albariño commercially. Their knowledge has allowed them to produce an Albariño with lees contact and extended aging: the current 2003 Albariño de Fefinanes III Ano is texturally more complex, shows a deepening of all the usual Albariño flavors, but still has a freshness. The 2004 Albariño de Fefinanes 1583 has all the bells and whistles, including malolactic and barrel aging; surprisingly the creaminess of the oak supports instead of overwhelms the pretty citrus flavors.
At Martin Codax, one of the largest grower cooperative wineries, they produce a very distinct, entry level Albariño: the 2006 Martin Codax Albariño is less aromatic and less exotic than some, but still with apple, pear, melon and lemon zest at its flavor core. They have tried their hand at late harvest Albariño, which seems like a natural, but most years when the rains come in hard and heavy, there is little chance for "noble rot." Feeling red-wine challenged in Rias Baixas, their assistant winemaker conspiratorially confides that they are experimenting with plantings of Pinot Noir! Meanwhile, they have looked to Rioja for their companion red wine, releasing a 2005 Martin Codax Rioja called Ergo.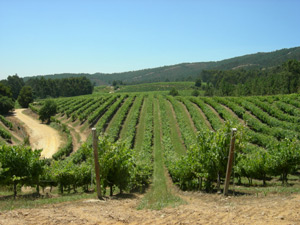 Vertical shoot positioning (VSP) trellised vineyard of Terras Gauda.
The rebel grower in Galicia is Terras Gauda, who broke from the pack by using a European cordon trellising system rather than the traditional pergola system. They also planted an experimental vineyard of Albariño clones, trying to isolate which strains produce the best wine in their region. Their flagship wine,
2005 Terras Gauda O Rosal
, is 70 percent Albariño blended with Loureiro and Caino Blanco grapes; it's a beauty with flavors of red apple and stone fruits concentrated on the palate with a touch of spice. Here, the key to making a more interesting wine is not winemaking technique but rather vineyard management and the skillful blending of grapes.
In the New World, a number of Santa Barbara and Central Coast winemakers have visited Spain and have been intrigued by Albariño. "Albariño is like a breath of fresh air or should I say a burst of racy acidity and balance," says Louisa Sawyer Lindquist at Verdad, a pioneer who planted her first vines in 1996 at the Ibarra-Young Vineyard in Santa Ynez Valley.
In Edna Valley, Baileyana winemaker Christian Roguenant, who heads up the new tangent label, credits Albariño awareness "to a very strong interest in unusual varieties." Plus, says Saywer Lindquist, "it marries well with food and doesn't overwhelm dishes." While Roguenant adds, "Albariño is a category here to stay, especially as more and more people enjoy seafood."
Wine maker Rick Longoria sources his Albariño from a newly planted vineyard in Santa Ynez. "The inspiration to make Albariño was one of those crazy artisanal things ... that satisfies the urge to see what will happen here in our area with a brand-new variety," he explained. Notes follow on Central Coast Albariños, all recommended.
2006 Verdad Albariño: The seventh Albariño vintage for Verdad echoes its Galician counterparts; the aromatics are fresh with florals and minerals but also lime and orange blossom. It builds its flavor impact with Asian pear, green melon, quince, citrus, all in one tasty package. Some texture is provided by 25 percent neutral barrel fermentation and a nice sweep of saline minerality, bitter almond and racy acidity hits on the finish.
2006 Longoria Albariño: The third vintage for Longoria shows a mineral austerity on the nose; it's a little tight right now but swirling the glass reveals pear along with wet hay, a touch of brown spices and a hint of anise. In the mouth, the flavors are unripe pear, grapefruit and green apple; along with its salinity, a sense of crushed sea shells and limestone also informs the flavor profile. The bracing acidity is just perfect.
2006 tangent Albariño: From the Niven (Baileyana Winery in Edna Valley) family's new label, tangent, dedicated to alternative white wines, this screw capped Albariño is easy to like, with honeyed tangerine and stone fruit aromatics. Nothing gets in the way of the fruit flavors: peach, nectarine and tangerine blossom are apparent, along with a hint of grapefruit and banana. It's all held together by a robust honeyed character.
2006 Ca' del Solo Albariño: From the fractured mind of Randall Grahm, his Albariño actually has a bit of Loureiro and Treixadura in the blend. Who knew that these two even more obscure Galacian varietys were being grown in his biodynamically farmed Monterey County vineyard? Perhaps not as aromatic as the others here, the wine still shows floral, mineral and almond on the nose, as well as lively but measured flavors of grapefruit, yuzu, tangerine and dreamsickle. Just as the blended Rias Baixas wines are not as immediately demonstrative, the Ca' del Solo is less showy that its California counterparts, but it has an intrinsic sense of focus and balance.
2005 York Mountain Albariño: Sourced from the cool Edna Valley (as the 2006 tangent is), this wine shows florals and white gardenias on the nose as well as peaches and apricots. Ripe fruit flavors on the palate including lemon-lime, peaches, nectarines and apricots, are pretty and up front. Very distinctively aromatic with big fruited flavors, there's plenty of oomph and presence here for any jaded white wine drinker.
October 1, 2007
Back to the Schaefer on Wine Index