<!- Page Contents Begin Here ->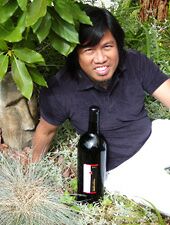 Wine & Food Advisory
from the Melting Pot of the Pacific
Zinfandel is Autumn Under Glass
© Randal Caparoso
La de da, la de dum
'Tis autumn
- Henry Nemo
Ask someone who lives on a tropical island, but who originally came from more northerly climes, what he misses most about "home," and he'll often tell you it's autumn - the creeping chill, the deepening colors, and aromas of spices and ripening fruit in the air.
If there is any wine that captures that autumnal feeling perpetually in the glass, it's the California red wines made from the Zinfandel grape. The varietal characteristics of Zinfandel are often described as berryish -- more precisely, like raspberry or blackberry jam - mixed with aromas of freshly ground pepper, and often cinnamon and clove.
But Zinfandel is more than a flavor, it's also a way in which it comes across: at its fullest, red Zinfandels almost gush, like liquid cornucopia, out onto the palate. The color is vividly purple, sometimes black as a moonless night, the aromas ripe and intense, and the feel in the mouth vigorously alive, dense, almost decadent with those wild berry qualities.
Zinfandel is also versatile; grown, as it is, in virtually all the wine regions of California. Zinfandels come light and easy, and Zinfandels come thick and plodding. They can be straightforwardly berryish, or they can be layered and complex with multiple fruits, oak and spice.
Until recent years, most Zinfandels - championed by winemakers in overalls (August Sebastiani) or Western shirts (Louis Martini) - were soft, simple affairs; not too different from easy drinking French Beaujolais or Italian Valpolicella. Good spaghetti wines. Then again, who doesn't need a wine for spaghetti?
The image of many of today's Zinfandels is more serious. While still piquant and fruity, they can also be bigger, oakier, more refined and complex, and possibly capable of at least some bottle aging. Closer, in this respect, to classic French varieties such as Cabernet Sauvignon and Pinot Noir.
The best Zinfandels, in other words, can be great.
What makes for great Zinfandel? Dusting off an old wine journal, I recently reread some notes on one of the more memorable California classics: the 1977 Clos du Val Zinfandel from Napa Valley. I'll always remember this particular bottling as being as explosive as anything I've ever had since. Drinking most of it at the ripe, young age of three or four years, I had its dimensions broken down into three main categories:
1. An exceptionally full body - oh, I loved its heart pounding 14.5% alcohol size -- and generosity of tannin, thickening the palate without hurting it. To heck with subtlety, it was the immense, dramatic feel that still makes this wine burn in my memory.
2. An almost dizzying array of aromas. First, the distinct blackberry Zinfandel fruitiness, ripe without being overripe or pruney. Second, a pungent, spicy note, like sticking your nose into the bottom of a pepper grinder. Third, the deep, warm, vanilla-like fragrance of French oak, which I never could get over. Whereas most Zinfandels of the late '70 (and even up until today) are aged in rawer scented American oak barrels, the use of French oak in an American Zinfandel in the late '70s was like dressing a pauper like a prince… and it worked!
3. A terrific balancing acidity - lifting the natural fruit qualities - filled out by the wonderful feel of glycerol (a higher alcohol component), adding up to a sleek texture and overall sense of grace and proportion in spite of the wine's giant size and teeming fruitiness.
I never thought of a big, California hewn Zinfandel as something that could possibly be described as "elegant" until I tasted the '77 Clos du Val; vinified, as it were, by Bernard Portet, a winemaker originally born, raised and trained in France's Bordeaux region.
So like the classic red Bordeaux (and their California counterparts made from Cabernet Sauvignon), we ended up enjoying the Clos du Val, and many of the finer, more complex Zinfandels (such as Grgich-Hills and Robert Biale) tasted since, in a variety of food contexts. I wouldn't argue if you say that beef is always best with Cabernet Sauvignon, but I've been amazed by how well a sturdy, sweetly berryish Zinfandel goes with roasted prime rib bathed in horseradish tinged natural jus; better yet, thin slices steeped in soy, sugar, sesame, garlic and ginger in the fashion of Japanese, Mongolian and Korean marinades, charcoal grilled or seared on a smoking hot iron, and plopped on steamy white rice.
It's also said that lamb calls for Cabernet Sauvignon or Bordeaux. In the late 1970s both Montevina and Carneros Creek Winery made a number of positively black, jammy, cinnamon-and-pepper spiced Zinfandels, inundated with oak and 14%-plus alcohol, that I fondly remember drinking with legs of lamb caked with mustard, as well as racks of spring lamb grilled on the barbie with chunks of eggplant, or coming out of the roaster dripping with buttery bread crumbs and slathered with sweet mint jelly. It was a great time to be young, in love, and more naturally trim around the waist!
Because of their mildly acidic, zesty quality, many Zinfandels make a sensible match with Italian inspired meals. Start it off nice and easy with a classic: an antipasto plate - roasted bell peppers, marinated mushrooms, egg fritters, soft, springy Mozzarella and all - washed down with one of those curiously pink (more like pale salmon) "White" Zinfandels. Typical bottlings such as Sutter Home and Beringer may be unabashedly fruity, but are no-brainers with first bites generously drizzled with sweet, winy balsamic vinegars. Call me square, but I still think of a red wine turned into a pink one as something racy; but hey, it never took a lot to get me going.
Second course: a pasta such as fettucine tossed with mushrooms and parmigiano, or linguine with clams, mussels, tomato, garlic, and some pungently defined cheese like pecorino. This is where the moderately scaled red Zinfandel classics - like Louis Martini, Sebastiani, and the lighter coastal blends by Ridge Vineyards - start to shine. You really don't want a big, hunky style of Zinfandel with pastas; just something moderate, easy, bright and snappy, and that can even be served slightly chilled (or on ice cubes, on a warm day).
If you're up to doing a meat course, then you've got the fats and proteins for the most concentrated Zinfandels, ripened long enough to reach alcohol levels ringing past 14% and even 15%, with corresponding levels of tannin and jammy fruit intensity. It doesn't have to be lamb and beef, especially since pork - a roast dripping in juices, pan fried with rosemary, or smothered in white wine and herbs - may very well be the ideal foil for the biggest and baddest brands, such as the single vineyard bottlings of Ridge, Turley, Ravenswood, De Loach, and Rosenblum.
But will the big, bad Zinfandels age? Who cares? At just three, four, or five years of age they are perfectly delicious. Personally, not only have I preferred them right out of the barrel, I've even purchased a few barrels over the years in order to get wildest, unbottled tastes possible (being a part owner of multiple restaurants gives you that advantage).
In fact, there are more than a few aficionados who believe that if laid down for over, say, eight years, a high alcohol Zin begins to lose its fruitiness, thus leaving a wine that tastes more of bitter tannin and mouth burning alcohol.
So you should never be afraid to open a brand new bottle of Zinfandel, red, pink, young or old. In fact, pour any of the better ones into a good sized (at least 14 oz.) glass and smell… ahh, autumn!
Do the Best Zinfandels Age?
A 1998 Vertical/Horizontal of Ridge Zinfandels
Although even the most hardened Zinfandel lovers drink their prized bottlings young, there are still many who tempt fate by laying them down. In the case of Ridge Vineyards - the winery that first brought respect, and even reverence, to the grape with its single vineyard bottlings beginning in the mid '60s -- sometimes as long as 30 years.
In early 1998 I joined up with Ridge's CEO and longtime winemaker, Paul Draper, for a look at his Zinfandels going back to 1964. The bottles, 33 in all, were combined from temperature controlled cellars of several collectors, supplemented by some from Ridge's own cellars. And because of Draper's interest in seeing his wines enjoyed in the context of food, we also customized a few Asian influenced courses to carry us through this long and deliberate tasting.
Some initial conclusions:
1. Zinfandels, both young and old, taste great with Asian influenced food; a happy confluence of exotically spiced, concentrated, fruit toned flavors in both wines and dishes.
2. Even big-time Zinfandel specialists like Ridge have their ups and downs --great years, merely "good" years, and their tough, average years. But what incredible ups!
3. Based upon the incredible showing of Ridge's stable of 1990 and 1995 growths -- and the good showing of some '88s, but average to lackluster showing of most of the other vintages -- one is led to conclude that even the greatest California Zinfandels are probably best drunk well within 12 years of age; and in most (average quality) years, during their first 4-6 years.
In the following accounting, all of the Ridge bottlings were predominantly Zinfandel "field blends" - typically mixed with smaller portions of Petite Sirah, Mourvedre, and/or Carignane - which Ridge has always done out of respect for the wisdom of each vineyard source's original planters (usually Italian-Americans). The wines tasted, along with their accompanying dishes:
Flight 1
Ahi Tuna Vegetable Tortellini in Natural Beef Broth
1964 Monte Bello
1968 Geyserville
1969 Monte Bello
1970 Occidental Late Harvest (Sonoma)
1973 Geyserville (Late Picked)
1973 Monte Bello
Flight 2
Napa Cabbage Winter Rolls with Rice Noodles, Shiitakes & Pork in Mild Wasabi Mustard Sauce
1974 Geyserville (Trentadue Ranch)
1974 Monte Bello
1976 Pecchetti (Late Picked/Monte Bello)
1976 Esola Ranch (Late Harvest/Amador)
1977 Geyserville (Late Harvest/Trentadue Ranch)
1978 Monte Bello (Jimsomare & Pecchetti Vineyards)
1979 York Creek (Spring Mt.)
Flight 3
Waimanalo Mesclun Salad with Crispy Gizzard Croutons in Warm Balsamic Vinaigrette
1980 Geyserville (Trentadue Ranch)
1981 Geyserville (Trentadue & Angeli Ranches)
1982 Geyserville
1983 Geyserville
1984 Geyserville
1985 Geyserville
Flight 4
Wood Roasted Salmon in "Drunken" Sake Sauce
1986 Park/Muscatine Vineyard (Howell Mt.)
1987 Lytton Springs
1988 Beatty Vineyard (Howell Mt.)
1988 Geyserville
1989 Geyserville
1990 Geyserville
1990 Lytton Springs
Flight 5
Rosemary Spring Pork Loin Skewers in Natural & Green Herb Sauces
1991 Geyserville (50% Zinfandel/Carignane & Petite Sirah)
1991 Lytton Springs
1992 Lytton Springs
1994 Geyserville
1994 Lytton Springs
1995 Geyserville
1995 Pagani Ranch (Late Picked/Sonoma Valley)
The most impressive Zinfandels were undoubtedly the ones that were less than eight years old; beginning with the 1990 Geyserville, a sweet, juicy, massive concentration of blackberry (verging on blueberry) fruit with black pepper and soy-like intensities in the nose, flooding the palate with round, dense, plump, smoky-oaked flavors. At just over seven years of age, a perfectly scaled behemoth.
Not far behind was the 1990 Lytton Springs; a thrilling wine, revved up with even zestier, higher toned blackberryish fruit than the Geyserville.
But in this tasting, extreme youth was also served: the 1995 Pagani, hugely lush, forward, and concentrated with wild berry flavors; and the 1995 Geyserville, a brash, wild, intoxicatingly aromatic bottling, with exotic spice and framboise-like fruit wrapped in glistening jet ink and sinewy texture.
To give them all the benefit of the doubt, we had tasted the older wines first, when our senses were most alert and ready with anticipation. But of all the older vintages, only the 1988 Beatty appeared to retain that fresh, buoyant raspberryish zing I like in a Zin. The 1973 Geyserville was the true anomaly among the Zinfandels over 20 years of age; showing miraculously refined and focused berryish fruit, still soft and pliant. Of special interest, however, was the 1970 Late Harvest bottling from Occidental, a Sonoma Coast planting pulled up long ago. I found its aroma to be sweet, smoky and caramely - sort of like roasting marinated beef - but nothing like the huge, opulent, raspberry liqueur-like intensity that I distinctly remember finding in the wine when I first tasted it 20 years earlier.
Notable for some attractive notes -- but certainly past their peak in respect to intensity and/or overall balance -- were the 1989 Geyserville (in spite of leathery tones), the 1987 Lytton Springs (fleshy and tobacco-like), the 1986 Park-Muscatine (silken raspberry roundness), and the 1986 Rancho Pequeno (leather encased blackberries).
Finally, noteworthy because of their durable, rather than earth-shattering, qualities were the 1981 Geyserville (even if slightly gamey), the 1977 Geyserville/Late Harvest (an almost caramelized, smoky intensity), the 1973 Monte Bello (herbal, but smoky and prettily scented), and the sweetish, tarry, but ultimately coreless 1970 Occidental/Late Harvest.
So do the best Zinfandels age? Yes… but not necessarily for the better.
Then again, there is no accounting for taste; especially since the only one that matters is your own!
September 2004
To contact Randy Caparoso, write him at randycaparoso@earthlink.net.
Back to Randy's World of wine
<!- Page Contents End Here ->