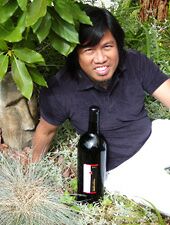 Wine & Food Advisory
from the Melting Pot of the Pacific
Wine, women and the price of a song
© Randal Caparoso
"Wine, women and song ... why reinvent the wheel?" That's the writing on a wall I recently saw in Las Vegas' Caesars Palace.
I fell in love with wine long ago precisely because of its social and romantic implications. Coffee gets you going, but wine brightens up the sense, and thus the entire world. Beer, on the other hand, makes you dumb, and whiskey even dumber; which is okay, if that's what you're shooting for. But the civilizing attributes of wine have been known since, well, the beginning of civilization. At least according to Robert Mondavi.
One other thing wine drinkers have always known: The finer the wine, the finer the experience. The only problem being, the finest wines do not traditionally go for a song. More like an arm and a leg. You may have noticed, however, that during the past few months the price of fine wine has been dropping like we've never seen before.
You have to go back to the early 1980s to recall the prices we're seeing now. Twenty years ago Glen Ellen practically revolutionized the wine industry by introducing fine quality, oak-finished Chardonnay selling for just $5.99 at every supermarket counter. Now we're seeing equal or better quality Chardonnay going for $4.99, and even $3.99. For red wine drinkers, premium quality Merlot and Cabernet Sauvignon are now approaching, and sometimes dipping below, the $10 mark.
In the ultra-premium range, there are still lots of wines priced (or rather, overpriced) between $50 and $150 a bottle. But there are more and more prestige quality wines -- particularly by California wineries such as Chateau St. Jean, Acacia, Qupé, Robert Mondavi and Chalone -- that retailed for $25 or more just one year ago, and are now being found in various places for $15 to $20. It's become a buyer's market.
The good news is that this is just the beginning. As the holidays approach you can expect to see even more competitive price slashing in the retail market. The reason for this is that wine producers around the world - not just in California, but also in Europe, Australia, and South America - are becoming desperate to sell off inventory that has been backing up since the middle of last year as a result of a global glut of product, and consumers' flagging interest in unreasonably priced wine.
Up until early last year, of course, things were peachy keen for the wine industry. The phrase "cult wine," for instance, came to epitomize the discriminating tastes of more well heeled consumers, who created a demand for small-production wines selling for more than $100, and even up to $1,000, a bottle. In response to this madness, wine producers around the world gleefully raised their prices while continuing to plant more vineyards in anticipation of the next proverbial wine boom.
But what they created instead has been a bust; an imbalance of supply over demand that most industry analysts predict will take another four or five years to aright. But not as long as sensible consumers resist. Meanwhile, internationally respected wine suppliers such as Joseph Ciatti have been sounding out the current sentiment within the production industry: for goodness sake, do not plant any more grapes!
But no matter how difficult it's been for growers and producers, the fact of the matter is that this has been very good for consumers. There are far too many $25 California Merlots, for instance, that really taste like they're worth $10. On the other hand, one of the finest, lushest, juiciest Merlots that I've tasted recently is the 2000 Echelon Central Coast Merlot, which has been retailing across the country for between $8.99 and $9.99. And I'm very picky. Why bother with the $25 stuff?
Of course, I probably prefer a smoother, rounder, softer and more aromatic style of red wine than most critics, who tend to give their highest ratings to reds that they can describe as "big," "powerful," "thick," "chewy," "serious," or with great "aging potential." When I buy a wine, it doesn't age much more than a few days before it gets drunk up.
So if your taste runs similar to mine, you might want to check out the following list of California reds that I think beat out most others going for $10 or $20 more:
1999 De Lorimier Alexander Valley Merlot ($17-$19)
2000 Costa de Oro "Gold Coast" Pinot Noir ($17-$19)
1999 Renwood "Old Vines" Zinfandel ($10-$15)
2000 Rancho Zabaco "Heritage" Zinfandel ($10-$12)
1999 Quivira Dry Creek Zinfandel ($17-$19)
1999 Carmenet "Dynamite" North Coast Cabernet Sauvignon ($12-$15)
1999 Simi Alexander Valley Cabernet Sauvignon ($19-$21)
Insofar as white wines, it has become even more of an embarrassment of riches for the consumer. Particularly for Chardonnay. For instance, any critic would be hard pressed to deny the fact that the 2000 Jacob's Creek "Barrel Fermented" Chardonnay from Australia ($7-$9) is just as bright, fresh, intense and refined as most Chardonnays going for twice the price. But American producers are no slouches either. Here are some of the finest Chardonnay values coming out of California today:
2000 Fetzer "Sundial" Chardonnay ($6-$8)
2000 Heron California Chardonnay ($8-$11)
2000 Edna Valley Chardonnay ($11-$13)
2000 Kunde Sonoma Chardonnay ($11-$13)
2000 De Loach Russian River Valley Chardonnay ($12-$16)
2000 Fess Parker Santa Barbara Chardonnay ($14-$17)
2000 Clos la Chance Chardonnay ($15-$18)
But if you're tired of the full-bodied, oak-influenced taste of Chardonnay, I suggest the light, dry, zesty, yet fragrant style of dry white wine made from the Sauvignon Blanc (also called "Fumé Blanc") grape. For instance, I'm thoroughly enthralled by the 2002 Giesen Sauvignon Blanc ($12-$15) and the 2001 Nautilus Sauvignon Blanc ($13-$16), both from New Zealand. Just thinking about these lemony dry yet silky smooth white wines makes me pine for a plate of raw oysters, or a bucket of clams. But there's also a host of wonderfully priced California-grown Sauvignon Blancs available in most major retail stores that could do the trick:
2001 Kendall-Jackson "Vintner's Reserve" Sauvignon Blanc ($8-$11)
2000 Kenwood Sonoma Sauvignon Blanc ($8-$11)
2000 Murphy-Goode "Reserve Fume" ($11-$14)
2000 Honig Napa Valley Sauvignon Blanc ($11-$14)
2000 St. Supery Napa Valley Sauvignon Blanc ($12-$15)
2001 Mason Napa Valley Sauvignon Blanc ($13-$16)
Don't take my word for it. Talk to your nearest retail wine specialist of good repute, and he'll supply you with a list of wonderful tasting values that is growing by the day. There are just no more reasons to pay too much for all the wine you need!
November 2002
To contact Randy Caparoso, write him at randycaparoso@earthlink.net.
Back to Randy's World of wine
<!- Page Contents End Here ->