GETTING STARTED | WINE NOTES | SEARCH SITE | DISCUSSION FORUMS | 30 SECOND WINE ADVISOR | CONTACT US
<!TODAY'S TEXT STARTS HERE!>
Wine & Food Advisory
from the Melting Pot of the Pacific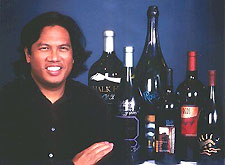 A World of Wines Awaits You
© Randal Caparoso
There are lies, as you know, and there are statistics. In any case, they make for interesting reading.
A recent memorandum from the Wine Institute based out of San Francisco provides global statistics collected by the Office International de la Vigne et du Vin located in Paris, France. Some of the figures provided are unsurprising. For instance, the fact that the U.S. still ranks fairly low - 33rd to be exact -- in per capita wine consumption. In 1998 the average American consumed approximately 1.97 gallons of wine per year; compared to the average Frenchman who consumed 16.14 gallons, and the average Italian who consumed 14.51. Perhaps it's not surprising that the average Croatian (12.59 gallons), Greek (7.46), and Brit (3.76) also consume more wine than us; but so does the average citizen of Uruguay (9.28), Madagascar (4.66), and Argentina (10.44). We beat out, however, countries like Azerbaijan (.91), Japan (.67), Ireland (1.58), Uzbekistan (1.81), Mexico (.04), and Latvia (.00). Someone, I presume, somewhere in Latvia is muttering "damned" lies.
But here are some figures that may surprise you. In actual production of wine, the U.S. now ranks 4th in the world. In 1998 we produced over 540 million gallons of wine. Granted, not as much as Italy and France (both over a billion) or Spain (800 million); but more than Germany (over 286 million) and Australia (195 million), and much, much more, among others, than Uzbekistan (38 million), Japan (34 million), Madagascar (2.3 million), and the U.K. (just 317,000).
In terms of vineyards planted, the U.S. ranks a lofty 5th in the world. There are now some 899,000 acres of wine, table and raisin grapes planted in the U.S.; albeit, less than Spain (the most at 2.9 million acres), France (2.5 million), Italy (2.2 million), and Turkey (1.4 million). The statistics also tell us that in countries like Japan (just 54 acres planted), Canada (17), and the U.K. (2 acres), a dearth of local viticulture obviously does little to dampen the enthusiasm for winemaking (from imported grapes).
Ah, but Turkey? If Turkey ranks a distant 62nd in the world in per capita wine consumption (a measly .10 gallons per year), where do all those grapes go? Turkey, in fact, is the proud producer of a bulk of the world's table and raisin grapes. What little is made into wine is actually distilled into a strong, anise seed flavored spirit called raki, drunk practically like water by the Turks.
And you thought numbers don't tell a story? Well, perhaps not as much as the actual taste of wine. What this reminds us is that there is a world of wines out there, waiting to be enjoyed like water. But does water enhance the flavor of pan fried shrimp the way that a light, crisply dry Sauvignon Blanc does? Does it help the palate digest the juicy taste of barbecued beef the way that a dark and lusty Shiraz can?
Surely, wine also inebriates; sometimes like Dickinson's dark, oppressive sky. But far more likely, it brightens up the spirit in any room; and besides, as W.B. Yeats once said, "the problem with some people is that when they don't drink, they're sober." I have friends like that, but that's okay. Here are some of the more deliciously unusual, globally sourced wines I have enjoyed recently:
1997 Catena, Mendoza Chardonnay ($14-$16) - There is so much anti-Chardonnay sentiment among the hipper wine drinkers of today; but seriously, folks, who cares? If they wish to make perfectly good and refreshing dry white wine in the "international" style, like this one by Catena, down there in Mendoza, Argentina... well, I think we're better off for it. There is a lightly creamy, smoky oakiness in the aroma, but also a luscious pear-like fruitiness; the flavors are crisp, moderately weighted, and almost irresistibly delicious. So what's more important, good taste or tasting great? If the Turks prefer their raki, who's to say they shouldn't? "Wine police," indeed!
1999 Altos, "Las Hormigas" Malbec ($9-$12) - Lusty red wines made from the Malbec grape is the emerging specialty of Argentina, where this wine comes from. And it certainly gets the blood pumping with its black-purplish color, its intense, juicy concentration of sweet and plummy black fruit aromas, and thick, meaty, palate filling flavors. Plus for the price, few wines can beat it!
1998 Chateau de Tourettes "Les Petites Tourettes" ($11-$14) - This red, from the South of France, takes second place in my current list of World's Greatest Best Buys. Made from the bright and strawberryish Grenache grape, revved up by some peppery, spicy Syrah (20%), it comes across as soft and easy, yet enthralls the palate with some deep, gripping flavors wrapped in a sexy, supple shroud of leather. Vinified by a highly respected Burgundian producer (Verget's Jean-Marie Guffens), the quality of this wine is real, and palpitating.
1997 Quinta do Crasto ($10-$13) - My little known, Best Buy #3 is this red wine from Portugal. The Portuguese - who, by the way, drink more than 6 times more wine than we Americans - turn much of their stuff into the famous fortified red known as Port, but they also can make a decently priced table wine like this: filled with smoky nuanced, dusty, strawberryish fruit, sitting on the palate soft, round, and velvety. There is nothing obviously fruity like in a California wine; the flavors release with tardiness, like the famous Iberian appetite, but seem just as strong, with an almost ineffable richness.
F.X. Pichler, Arachon "TFXT" ($28-$35) - This is not a "best buy," but it's an experience in itself - a rather revolutionary red wine blend from Austria made from the Blaufrankisch, Cabernet Sauvignon, Zweigelt and Merlot grapes. It combines an immense, thick feel and full tannin grip with a luscious, juicy, almost sweet concentration of black cherry qualities, with suggestions of spiced blue and red berries, all within a balanced, proportionate structure. A new wave style wine for new wave style foods (especially Euro-Asian fusions). Supply is on the rare side; but if just the idea appeals to you, it must not be missed!
Sept. 5, 2000
To contact Randy Caparoso, write him at randycaparoso@earthlink.net.