GETTING STARTED | WINE NOTES | SEARCH SITE | DISCUSSION FORUMS | 30 SECOND WINE ADVISOR | CONTACT US
<!TODAY'S TEXT STARTS HERE!>
Wine & Food Advisory
from the Melting Pot of the Pacific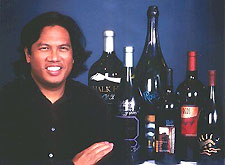 A Strategy for Holiday Wine Shopping, 2001
© Randal Caparoso
Attention, shoppers. If you haven't noticed already, this holiday season may be the best in years for finding great wine deals. Make that the best ever. Why?
Wine sales are down in the restaurant and hotel industries, leaving a glut of high quality wines targeted for quick sale in the retail market.
The term "world class wine" used to mean classics from France, and maybe a few from California and Italy. Now you can find world class wine in stores all across America that are imported from Spain and Austria, Australia and New Zealand, Argentina and Chile, not to mention Washington, Oregon, Canada, Mexico, and more.
In short, at the end of 2001 it's a buyer's market ... and it's about time!
The fact that more Americans than ever are staying home and enjoying their wine has certainly not been lost on the production and sales industries. Frankly, I never really understood the appeal of $50 Napa Valley Cabernet, or $100 French Bordeaux and Burgundy.
Although I haven't seen so much great wine sold under $12 in retail stores for over 20 years, in my opinion what's really happening is that fine wines are finally coming down into the price ranges in which they belonged all along. Not too long ago even the most price conscious consumers were forced to buy overpriced wines. But no longer!
So what is the current strategy for scoping out the retail market today? Here are some tips:
Find an Honest Retailer. There are advantages, mind you, to patronizing a retail store that specializes in wine, as opposed to just picking up whatever's on sale in your nearest supermarket or discount store. The big advantage is service - specialist wine stores are staffed with people ready and willing to zero you in on precisely the wine you're looking for.
Try two or three stores, and be specific on what you need. If you're wood roasting some chicken or pork, for instance, go in and ask for the fullest, finest, smokiest California Chardonnay for, say, $12. Don't be afraid to specify price. A good retailer will find that wine for you in seconds, but the sign of a truly caring retailer is that he also offers you an extra option or two. Why? Because quite often staffs in retail stores are trained - and pushed by bonuses and commissions - to sell certain wines that "must go." The best retailers will always have their priority wines to sell, but the best of the best care more about your needs than even their own.
Remember That Higher Price Does Not Equal Higher Quality. There are many, many wines that are priced well over $15, $50 and even $100 that are no better than other wines priced at $5, $10 or $20. Supply and demand is just as big a determining factor in the price of wine as actual cost of production. This means that the most underpriced high quality wines of the world are more likely to be ones you never heard of. This is why you need a good, honest retailer to guide you; but discovering something new and exciting can be ... well, new and exciting! It's all about altitude - if you're willing to try anything, your highs are more likely to be higher.
Do Not Overlook Large Producers. It may be fun, and even hip, to taste, for the first time, wines made by boutique sized California wineries with names like Clos la Chance, Jaffurs, and JC Cellars. But it is a big, big mistake to forget that producers like Ernest & Julio Gallo, Kendall-Jackson, Fetzer, Beringer, and Chateau Ste. Michelle are not only producing better wine than ever, but also wines that are priced $5 or even $10 less than brands of comparable quality. Most of this has to do with the fact that supersized wineries own more of their own vineyards, have stronger control of production costs, and feel less of a need to overprice their wines than smaller producers. Do not dismiss the big guys!
Fertilize the Vineyards of Your Mind. I've waited years to say that. That is to say, wine should be fun. It should also take you to unexpected places, especially when made from unexpected grapes and sources. Take Chardonnay from Australia, for instance. Twenty five years ago Australia didn't even grow Chardonnay; but now producers like Rosemount, Lindemans, Oxford Landing, and Tyrell's are churning out unique, tropical scented, incredibly well priced Chardonnay like there's no tomorrow.
Australia, of course, is also famous for its red wine made from the Shiraz grape, which they call Syrah in California and France. A scant ten years ago no one thought California could make good Syrah, let alone a great one; and now labels like Qupe, Jade Mountain, Preston, Anapamu and Echelon are making them every bit as full and sumptuous as Australia and France.
Most recently, there have been some spectacular Syrahs made in Oregon (look for Griffin Creek or Abacela) and Washington State (Columbia and Glen Fiona).
Ten years ago most people also thought Zinfandel was a pink wine, even though it's made from a red grape. Now Zinfandel is back to being a big, wham-bam red, such as those by Ridge, De Loach, Robert Mondavi, Trinchero, Montevina, Rancho Zabaco, and even Gallo Sonoma.
What else is new? There are the little known yet sensational dry whites of Italy (such as Zenato's Lugana and Anselmi's Capitel Croce), Spain (Albarinos by Morgadio, Lusco, or Pazo de Senoran), and New Zealand (wonderfully fresh Sauvignon Blancs, Chardonnays and Rieslings).
From Argentina, rich, masculine reds made from the Malbec grape (by Tikal, Ben Marco, Altos, and Bodega Norton); and from Spain, suave, sensuously smooth reds made from Tempranillo (especially Tinto Pesquera and Condado de Haza). "The vineyard and wine are great mysteries," Colette once wrote. Like a book you can't put down, or a song that won't go away, a good wine takes you beyond what's contained in the glass. Speaking of which ...
Treat Yourself to Good Wine Glasses. If you're drinking more wine at home and haven't yet invested in good glassware, now's the time. I've tasted wines from zillions of different containers, and I'm here to tell you that choice of glass does make a difference. A huge difference. Everyone knows that wine glasses properly come with a stem, are crystal clear for visual pleasure, and are curved inward to allow the nose to better enjoy the aromas collecting just below the rim. But size and shape also matter.
Generally speaking, white wines taste best in 12 to 14 ounce glasses that have that graceful tulip shape. You can drink red wines from the same glass, but they'll taste even better in glasses that are as big as 16, 18, even up to 30 ounces in size. Why? Because bigger bowls only increase the depth and intensity of aroma; and the more you can smell, the more flavor you taste on the palate. If you doubt it, do a comparison at home or in the next fine restaurant you go to. I guarantee you'll taste the difference.
Although oversized tulips do just fine, a lot of red wine lovers prefer a rounder, bowl shaped glass. What the bowl shape does is allow red wine to enter the palate at the very tip of the tongue, and it's at the tip of the tongue that most of your taste buds sensitive to sensations of sweetness are located. So with bowl shapes, your red wines end up tasting softer and fruitier; especially good if you're drinking more expensive, heavy red wines that are loaded down with hard, even bitter, tannins.
Riedel Crystal was a pioneer of these types of oversized glasses (the 22 ounce Riedel Vinum "Syrah" is my favorite all-purpose wine glass). But you don't have to spend $15 to $65 per glass for Riedel. There are plenty of good sized, economically priced alternatives available in any of the kitchen supply stores. The bottom line is: if you are still drinking wine in thimble sized, thick rimmed glasses with very little curvature, you are only depriving yourself of more pleasure. Life's too short for lousy wine glasses!
Nov. 26, 2001
To contact Randy Caparoso, write him at randycaparoso@earthlink.net.