GETTING STARTED | WINE NOTES | SEARCH SITE | DISCUSSION FORUMS | 30 SECOND WINE ADVISOR | CONTACT US
<!TODAY'S TEXT STARTS HERE!>
Wine & Food Advisory
from the Melting Pot of the Pacific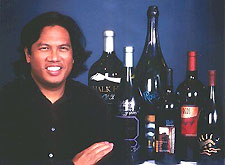 The Great Winemakers of Today
© Randal Caparoso
What makes for great wine? Not just good or decent drinking wine, but truly "great" wine - one with layers of flavors, a feel of luxury, and multitudes of aromas that regale, fascinate, and even shock us with every tasting, like each new listen of a musical masterpiece.
For many years in France - often considered the cradle of great winemaking - the answer was simple enough: it is the climat, the French word referring to the combination of soil and climate making up each individual vineyard. After that, the area where the influence of man plays a part becomes fuzzy. Many wine lovers, and many vintners, also consider the traditions associated with each vineyard - how the soil is tilled and fertilized, how the vines are trained, when and how the grapes are picked, and the countless human decisions required by the process of fermentation, aging, and finishing of each wine in the winery - to be very much a part of the concept of climat.
Then there is the French word, terroir; which technically refers to the geographic factors associated with each vineyard, but like climat is also intrinsically tied to the traditions associated with each vineyard. This is why both words, terroir and climat, are often used interchangeably by winemakers and connoisseurs alike when talking about the character of wines from vineyards in France, from the greatest down to the most ordinary.
Be as it may, it is the decisions made by human beings that explains why many people consider great winemaking to be as much an art as science. It is a science because great winemakers also have a great technical grasp of how vines respond to growing conditions, and how wines respond to vinification and aging regimes. But it is an art because of those thousands of decisions, or "moments of truth" as Roy Andries de Groot once put it, that growers and vintners face everyday, which end up making a difference between a plain, drinkable wine and a wine of great power and perfection.
Great wine can indeed move a wine lover like a symphony, but perhaps a more appropriate analogy might be the culinary arts. Zillions of people can turn out a dish that tastes good; but we know that it takes rare intuition, imagination, mastery of technique and a bold, even brash personality to turn out a dish that excites us, and even changes the way we think about food. Like the pantheon of star chefs celebrated today in nearly every medium, star winemakers have come to epitomize the artistry associated with the greatest wines of the world.
Not surprisingly, it is in the U.S., where concepts like terroir and climat are less firmly established than in Europe, that the personality and talent of the individual winemaker has become a stronger factor than even Mother Nature in the quality of wine. Year after year, for instance, a great American winemaker may rely on an individual vineyard to produce a signature wine. But in years when Nature refuses to smile on that particular vineyard - producing, instead, a meager crop of thin or unbalanced wine - a great winemaker can still turn around and blend wines from other vineyards, close by or faraway, and make something significant utilizing all the technical and aesthetic skills at his disposal. I've seen this done time and time again by Californians such as Jim Clendenen of Au Bon Climat, Tony Soter of Etude, and Miljenko ("Mike") Grgich of Grgich Hills. It's hard to keep a great winemaker down!
So who are the great winemakers of today? Because of the technological advances in both the vineyard and wineries, in France great winemakers have become as celebrated as the country's chefs. In Bordeaux, for instance, the greatest personalities - such as Christian Moueix and Michel Rolland - inspire and direct small armies of other extraordinarily talented winemakers; while in smaller regions such as Burgundy, winemakers like Dominique Lafon and Francois Jobard work in more concentrated hands-on settings. Ultimately, though, in France it is the vineyards, not winemakers, that remain the overriding factor. Even the genius of men like Moueix and Lafon will never eclipse the fame and significance of a Chateau Petrus in Bordeaux, or a Montrachet in Burgundy.
Elsewhere in the world, winemakers can, and often have, exerted more influence on the quality and character of wine than even the vineyards they work with. This, in spite of the fact that every great winemaker will also tell you that none of their work is possible without the use of great grapes from great vineyards. It is no coincidence that great grapes, vineyard sites and winemakers go hand in hand, since recognizing great material when he sees it - especially when few others see the same -- is part of what makes for a great winemaker. The following is a highly personal list of vintners I follow and admire the most. There are many, many others in this world, of course; but when you buy the wines crafted by these powerful personalities, you are almost guaranteed to get a wine of distinctive character. One that will inspire you, and even change the way you think about wine. Listed with the names of their estates or wineries, along with their particular regions, in parenthesis:
Spain: Alejandro Fernandez (Tinto Pesquera, Condado de Haza, and Dehesa la Granja in Ribera del Duero)

Italy: Riccardo Cotarella (Falesco in Umbria); Roberto Anselmi (Anselmi in Veneto); Romano Dal Forno (Romano Dal Forno in Veneto); Elio Altare (Elio Altare in Piemonte)

Germany: Joachim Heger (Weingut Heger in Baden); Wilhelm Weil (Weingut Robert Weil in Rheingau); Gunter Kunstler (Weingut Franz Kunstler in Rheingau); Bernhard Breuer (Weingut Georg Breuer in Rheingau); Ulrich Mell (Weingut Dr. von Bassermann-Jordan in Pfalz); Wilhelm Haag (Weingut Fritz Haag in Mosel-Saar-Ruwer); Hans-Joachim Zilliken (Weingut Forstmeister Geltz-Zilliken in Mosel-Saar-Ruwer); Fritz Hasselbach (Weingut Gunderloch in Rheinhessen)

Austria: Franz Hirtzberger (Franz Hirtzberger in Wachau); F.X. Pichler (F.X. Pichler in Wachau)

Oregon: Ken Wright (Ken Wright Cellars); Lynn Penner-Ash (Rex Hill Vineyards and Penner-Ash Wine Cellars); Harry Peterson-Nedry and Cheryl Francis (Chehalem Vineyards); Mike Etzel (Beaux Freres); Laurent Montalieu (WillaKenzie Estate)

Sonoma in California: Patrick Campbell (Laurel Glen Vineyard); Richard Arrowood (Arrowood Vineyards); Forrest Tancer (Iron Horse Ranch); George Bursick (Ferrari-Carano); Nick Goldschmidt (Simi Winery); Steve Kistler (Kistler Vineyards); Ted Lemon (Littorai)

Napa Valley in California: Tony Soter (Etude Wines); Miljenko "Mike" Grgich (Grgich Hills Cellar); David Ramey (Ramey Wine Cellars); Elias Fernandez and Doug Shafer (Shafer Vineyards); Ehren Jordan (Turley Wine Cellars, Neyers Wines, and Failla-Jordan)

Central Coast of California: Jim Clendenen (Au Bon climat in Santa Barbara); Bryan Babcock (Babcock Vineyards in Santa Barbara); Bob Lindquist (Qupe in Santa Barbara); Gary Burk (Costa de Oro in Santa Barbara); Manfred Krankl (Sine Qua Non in Santa Barbara); Paul Draper (Ridge Vineyards in Santa Cruz); Randall Graham (Bonny Doon Vineyards in Santa Cruz); Jeff Branco and Justin Baldwin (Justin Vineyards in Paso Robles)

Australia: Sparky & Sarah Marquis (Henry's Drive and Parson's Flat); Chester Osborn (d'Arenberg Wines); Philip Shaw (Rosemount Estate); Tim Adams (Tim Adams); Trevor Jones (Trevor Jones); Tony DeLisio (Australian Domaine Wines and Classic McLaren)
Feb. 12, 2002
To contact Randy Caparoso, write him at randycaparoso@earthlink.net.