GETTING STARTED | WINE NOTES | SEARCH SITE | DISCUSSION FORUMS | 30 SECOND WINE ADVISOR | CONTACT US
<!TODAY'S TEXT STARTS HERE!>
Wine & Food Advisory
from the Melting Pot of the Pacific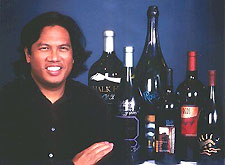 Other White Wines for Other White Meats
© Randal Caparoso
Thirty or so years ago, shopping for wine used to be so easy. All you needed to do was read the wine labels! A typical California "Chablis," for instance, was "recommended with fish, fowl, or veal." A "Burgundy" was for "beef, lamb or pasta." We used to drink gallons (or as they were called, "jugs") of Almaden Grenache Rose, an off-dry pink wine that was said to "complement any meal." Of course, that never stopped us - we'd enjoy it just as much before or after any meal.
But somewhere along the line it became a little uncool to recommend food on wine labels. Instead, you are now more likely to read dissertations on the soil, climatic conditions, and oenological techniques that go into each bottle. Although I happen to have some experience on such matters, I have a public confession to make: it's a bunch of gobbley-gook to me as much as anyone! In fact, I learned long ago never to read the fine print on wine labels for two simple reasons having to do with what is most important:
How good a wine tastes, not how good it sounds on a label
How good a wine is with food.
The ironic part is that if wine is more complicated than before, food is twice as complicated. Take, for instance, "Pacific Rim" food, which is practically taking over the world of fish, fowl, beef and pasta as we know it. Nothing has been the same since ingredients like soy, ginger, wasabi, miso, sambal and star anise have invaded our larders. In the restaurants, Decanter magazine's Hugh Johnson observed that today's operative term seems to be "with" - but not simply as in "fish with chips," but as in "loin of veal with pan fried sea bass on a bed of beetroot julienne with apricot and cucumber chutney." Even Johnson - who wrote the "book" (his World Atlas of Wine) on the wines of the world - would be hard pressed to find a wine match for such exotic dishes!
I think, in fact, that what we may need to see is a return to food recommendations on wine labels; or at the very least, wine recommendations on restaurant menus. But until we actually begin to see such sensibility, here are five recommendations which I describe as "other white wines" for "other white meats." That is, wines for foods that may seen unusual in the traditional context of wines, but are certainly not unusual in the context of today's kitchens and restaurants:
Morgadio, Albarino 1998 ($14-$18) - Albarino is considered the finest white varietal of Spain; and in this Spanish white produced by Morgadio, it is manifested as a bone dry, yet feathery light, fresh and juicy wine with a lemony zip, and lime and apricot skin fragrances. Ever wonder what to drink with sharp/salty Mediterranean dishes like lemony, herby seviche, falafel with onion yogurt, salt cod, pickled vegetables, or cucumber/yogurt salads? Grandma never had to worry about matching wines with these foods; but then again, she never had Albarino!
WillaKenzie, Willamette Valley Pinot Blanc 1998 ($15-$19) - For a crisp, mouth-wateringly dry white wine that is rich in fruit - lush, juicy flavors suggesting pear, licorice, and even mango - without being heavy at all, it's hard to find a better white wine than this Pinot Blanc by WillaKenzie. For such a pretty, lightly acidic wine, my own favorite foods are light and Italianate - glistening roasted peppers, peppery arugula in fruity olive oil, fava beans with shavings of pecorino, roasted fennel, baby artichokes, buffalo mozzarella, and other fresh foodstuffs that take us a little beyond the pasta primaveras of the past.
Franz Hirtzberger, Gruner Veltliner 1997 ($25-$30) - While pricey, Austria's Gruner Veltliner grape produces dry whites of sumptuous quality - honeyed, flinty fragrances suggesting tropical fruit, and full throttled flavors revved up by zesty acidity - that are able to match dishes that other full bodied, but lower acid, whites (such as Chardonnay and Gewurztraminer) simply cannot. Chinese spiced roasted pork, for starters, as well as steamed fish laced with cilantro and sesame oil, or crisp vegetable/hoisined summer rolls -- all calling out for something like a Gruner Veltliner to deliver a rich intensity with crisp, lively, rather than tough or tiresome, edges.
Zind-Humbrecht, Pinot d'Alsace 1997 ($29-$35) - The trouble with most dry whites from Alsace is their singularity of varietal character. Alsatian Gewurztraminers, for instance, tend to be heavy and overly perfumed; Rieslings, light and sharp; and Pinot Blanc, lean and bland. But this particular bottling by Zind-Humbrecht represents a blend of Pinot Blanc, Chardonnay and Auxerrois, and thus a silken, seamless layering of citrusy fruit, mineral, floral and spicy qualities in the nose and palate. Subsequently, it is also a classic "fish and fowl" wine - particularly in sauces finished with cream or butter - although its fresh fruit acid center gives it a good handle for a surprising variety of earthy, spicy foods, from jerk chicken to sushi in ponzu sauces, and even Indian curries and raitas.
Goundry, "Unwooded" Chardonnay 1999 ($14-$18) - So how does a Chardonnay fit in with "other whites?" Well, the fact that this particular South Australian bottling is made 100% without oak - whereas over 99% of Chardonnays on the market are saturated with the flavor of wood - gives it an unusually fresh, fruity, almost pineappley crispness, and pure, airy soft qualities on the palate. Just crisp enough, in my book, for the plain oyster; but also light, round and pliant enough for gingery stews (try chicken long rice!), white cheese quesadilla and pizza (especially with smoked mozzarella), and even oyster sauced wok vegetables, noodles and shiu mai - in other words, the foods that we really eat, and would enjoy even more with wine!
April 10, 2000
To contact Randy Caparoso, write him at randycaparoso@earthlink.net.