<!- Page Contents Begin Here ->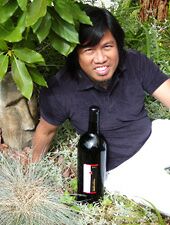 Wine & Food Advisory
from the Melting Pot of the Pacific
The compelling call of Walla Walla
© Randy Caparoso
What's up with Walla Walla, and why is everybody going there? Well, not quite everybody; but everybody certainly ought to. Washington State's Walla Walla Valley is now making some earth-shattering wines, belying the region's non-reputation just 10 or 15 years ago.
Admittedly, when I first visited Walla Walla in the early '90s I found lots of space. Granted, I like space; lots of empty space and the peaceful feel of nothingness that comes with it. But Walla Walla's was filled by less than a handful of wineries, some barely more than barns, making wines that hurt with unruly tannin. The amenities consisted of roadside motels with nailed-down television remotes, and things like railroad cars disguised as restaurants. We did not part with sweet sorrow that first time around.
But like so many first impressions, mine was badly mistaken. For starters, the Walla Walla Valley is truly deserving of its own official American Viticultural Area ("AVA.") designation, garnered by the region's grape growing pioneers in 1984. Walla Walla is defined by an ideal length of growing season and precisely the type of well drained soils that classical grape varieties love. And once Leonetti Cellar's Walla Walla Valley grown Merlots and Cabernet Sauvignons reached a cult stratus in the mid '90s, the onslaught was on.
Today the Walla Walla Valley is filled with no less than 53 operating wineries; and emboldened by the call of the ultra-premium grape, they recently formed their own marketing resource and technical exchange, officially known as the Walla Walla Valley Winery Alliance.
So it was, only last month, that I found myself beckoned by a Walla Walla siren - or rather, the WWVWA's dynamic executive director, Krista McCorkle - who compelled me to drive up the entire coast of California and through the bucolic Willamette Valley (without stopping once for a nip of Oregon's famous Pinot Noirs), veering east from Portland along the undulating Columbia River until reaching the community of Walla Walla, population 29,500. Compared to my first visit, it was as if my grainy black and white screen had turned into gloriously digitalized color, as what I found was a lovingly restored, fresh, thriving destination. Here are but a few of the culturally pertinent facts that the commanding McCorkle proceeded to whip into me:
Named one of 12 "Distinctive Destinations" by the National Trust for Historic Preservation, Walla Walla's combination of historic sites and family activities now take a backseat to few cities, big or small.

If you appreciate size and persistence, for instance, you'll enjoy finding the oldest continuous symphony orchestra west of the Mississippi in Walla Walla, as well as 59 of the state's "Champion Trees" in Robert Van Pelt's book, "Champion Trees of Washington State."

Many such natural wonders (among others, silver maple, black walnut and sycamore trees) can be found in the town center's Pioneer Park, partially constructed by the architect who designed New York's Central Park.

Walla Walla might be known for trees and wines, but it also knows downtown preservation. Sunset Magazine recognized Walla Walla as having the "Best Main Street in the West" in 2002; ditto, the "Great American Main Street Award" from the National Trust for Historic Preservation.

The oldest standing banking institution in Washington State happens to be in Walla Walla (on Second and Main), as are tons of historic homes (including one by Frank Lloyd Wright).

Walla Walla knows the arts; evidenced by a John Muir publication that includes it as "One of the 100 Best Small Art Towns in America."

Although heart clogging biscuits and gravy may still be part of the culinary landscape (Tommy's Dutch Lunch is a decidedly local experience, but what of it, buddy?), so are skinny lattes and waitresses, oysters with citrus aioli, and wood grilled hangers with freshly grated wasabi mash (Creektown Café, for instance, also features a nifty, Napa Valley-less wine list).

The cat, in fact, is already out of the bag, as USA Today (6/28/02) has already done a feature called "Walla Walla Valley, A Paradise for Wine Fans," covering the explosion of ultra-premium wineries in this riverside haven (Walla Walla translates as "many waters" from the native language) where Lewis and Clark were also once wise enough to set up long-term camp. For you history buffs, by the way, there's a well marked Lewis & Clark Trail State Park as well as a life-size diorama in the Fort Walla Walla Museum.
What it comes down to, my friends, is that Walla Walla is, and never has been, a bald spot at the end of the road; and it's been a long time since I've been as excited by a single group of wines, after tasting through the current releases from 35 of Walla Walla Valley's producers. Here are the highlights, in order of my favorites:
2002 K Vintners, "Milbrandt Wahluke Slope" Syrah ($21) - We've seen these kinds of firebrands before: K's winemaker/president, Charles Smith. Everyday might be a bad hair day for Mr. Smith, but he still manages to impart that wonderfully rare and startling sense of pure, concentrated, unmitigated deliciousness in his wines. This wine quickly makes you forget the overbearing self-consciousness of many of today's Rhone Rangers or Cote Rotie wannabes (typical formula: big tannin plus toothsome oak, stinky leather and gaudy price equals "important" wine, which it most certainly does not!). The K's aromatics are loaded with sweet violets, cured meats, and crackling pepper - positively screaming "Syrah" -- and on the palate, the plush fruit comes wall-to-wall within a full, luxuriously textured structure. Put it this way: when was the last time you tasted a wine that made you sing "glory, hallelujah?" You will!
2000 Northstar, Walla Walla Valley Merlot ($60) - The ubiquitous Merlot may have become a global schtick, but in the Walla Walla Valley it still means something special; and this is as good it gets in this world, or any other world: a gloriously intense and multi-faceted nose (think juicy, dripping red berries with a tinge of pomegranate), translating into draping, fleshy, velvety smooth layers, and then some more layers, on the palate. Sensational.
2001 Spring Valley Vineyard, Walla Walla Valley Cabernet Sauvignon ($45) - A frenzy of bright, juicy, framboise-like fruit snaps at you in the nose; and on the palate, notably firm (the essence of tannin management) yet luscious flavors finish long, lovely, almost sweet. This estate, planted in 1993, now seems to be hitting a full stride while showing a fine touch, with worldly ramifications.
2002 K Vintners, "The Beautiful" Walla Walla Valley Syrah ($24) - This appears to be the bigger brother to K's "Milbrandt" Syrah, and you may very well like it better: bigger, meatier, yet lusciously fruited in the house style, after leading off with playful, jabbing, floral and fenneled sausage-like spices in the nose. "Beautiful," you might say, in a sort of hunky, engagingly bratty way.
2001 L'Ecole No. 41, "Seven Hills Vineyard" Merlot ($40) - One of Walla Walla Valley's most visible landmarks, L'Ecole No. 41 has seldom taken a backseat to any Merlot producer (in or out of Washington St.) since taking up residence in 1983 in the historic Frenchtown School along Hwy. 12. This bottling executes the many charms of the grape - lush, sweet berry aromatics, and thick, rippling, yet alluringly round, juicy flavors - with uncommon focus, and a restorative sense of elegance.
2001 Glen Fiona, Walla Walla Valley Syrah ($20) - Glen Fiona is to be commended for many things; not in least for their fair pricing, belying the lavishly attentive, innovative approach to their particular obsession: to produce the best Syrah on the planet. They are one of the few in the U.S., for instance, sensible enough to ferment Viognier (10% in this bottling) together with Syrah, rather than shotgunning the two after separate fermentations. This attention to detail shows: lovely, lilting, sweetly scented nuances of floral fruit and dried Provencal herbs in the nose, slipping in on a deceptively smooth, lush, harmoniously textured palate feel.
2002 Spring Valley Vineyard "Uriah" ($45) - In some circles this assemblage of Merlot (65%), Cabernet Franc (30%), and Petit Verdot (5%) might be pigeonholed as a Meritage, a made-up name for Bordeaux style American blends that is supposed to suggestively rhyme with "heritage." The term, however, seems too contrived, blocky, and formulaic for my taste; and heck, no one remembers how to pronounce it. In any case, in no way would it give justification to the lovely, lacy, effortlessly smooth, brightly original, opulent fruit-on-flower-petal beauty of the "Uriah." This is the "new" Walla Walla Valley at its best; capturing honest, natural flavor with uncompromising refinement.
2001 Walla Walla Vintners, "Washington State Cuvee" ($28) - You might find this blend -- 47% Cabernet Sauvignon, 28% Merlot, 22% Cabernet Franc, and 3% Petit Verdot - to be an even prettier and more complex companion piece to the Spring Valley "Uriah." I love the nose - vanilla bean spice and cocoa dusted, sweet berries - and the fine, elegant, evenly flowing rush of flavors filled out by gently rounded tannin.
2001 Amavi Cellars, Walla Walla Valley Syrah ($28) - How much more proof does anyone need that Syrah has found a natural home in this Great Wide Open? This exciting first release (only 400 cases) flashes bulging muscle, a fleshy opulence, concentrated spice (smoked meats and licorice), and gobs of black, wild berry: nothing resembling the French, nor the Aussies, and certainly not the raggedy Californians, but inimitably a "Walla Walla Valley Syrah" in its full fledged configuration and almost unconsciously accomplished feel.
So the next time you are considering a getaway that fulfills your longing for nothing, yet combining your need for historical, cultural and gastronomic stimulation, by all means log on to http://www.wallawalla.org or http://www.wallawallawine.com. When I think of it, Walla Walla's annual "Balloon Stampede" (dozens of colorful hot air balloons filling the expansive sky in celebration of spring releases) is coming up this Mother's Day weekend. I think it may be time for another long drive!
April 2004
To contact Randy Caparoso, write him at randycaparoso@earthlink.net.
Back to Randy's World of wine
<!- Page Contents End Here ->