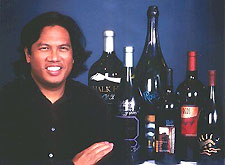 Wine & Food Advisory
from the Melting Pot of the Pacific
Dreams of Velvety Reds
© Randal Caparoso March 2002
I have this recurring daydream. It's almost mid-day. We woke up late, and haven't yet eaten. So after stopping at a tiny charcuterie for some sausages, marinated olives, a round of local bread - crusted, golden brown on the outside, silky white on the inside - and a bottle of wine, we follow a winding brook outside the village in search of a restaurant in the sky.
There's a tingling chill in the air as our shoes crunch over some loose, crusty rocks, but we quickly begin to warm up as we head up a steep slope. The landscape is a primeval mix - half natural, half induced - of twisted scrub, which give off resiny, herby smells as we brush against them, and gigantic sized agave shooting up their 30-foot spikes.
Finally, the brook leads us to a small pool. We feel like jumping in, but when we dip our hands into it we're almost shocked by the stinging cold. So tucking our pack behind a rock and weighting our bottle beneath the water, we head off around a bend to catch a fuller view of the town below. The afternoon sun has started to bathe its red roofs and cobbled streets in golden shades, and beyond it the earth appears to rise and dip with squares of scattered homesteads with taupe toned rock walls like a Navajo blanket. Imbued by the fantasy, we look at each other and say those three magic words.
"Shall we eat?"
And if I'm not yet snapped back into reality by a ringing phone or knock at the door, this is when my fantasy really starts to cook. The garlicky sausage jolts the palate, and the bread cracks and flakes; but it's the steely cold wine - which is red (isn't all real wine red?) - that really gets me. Since we're shooting it directly from the bottle, we're not exactly savoring the "bouquet." However, the taste is like pure, undulating velvet - smooth, seamless flavors of some kind of sweet, purple stone fruit, mingling with cracked peppercorn and brown spices - and the aromas rush into the head from behind the palate; in fact, long after the wine is swallowed.
Better yet is the knowledge - this is my dream, mind you - that the wine was cheap, and there's a lot more where it comes from.
Which is why, when you think of it, I've probably remained in the wine business virtually all of my adult life. While fantasies are fantasies, the reality is that there are such wines to be found; in spite of the often overwhelming plethora of bottles and brands, at increasingly painful prices, that greet you every time you walk into a store.
While none of the following "finds" may ever rate over 95 points out of 100 in this wine publication or that, they all taste the way a good red wine is supposed to taste - flowing free and easy like the stuff of dreams, far from the moiling mobs of pretentious, overspending yahoos:
Heron, Merlot (Southern France) - Proprietor Laely Heron is an enterprising young woman who makes it her business to find the best sources of this smooth and succulent varietal in the hills of France close to where it meets Spain, and she does heck of a job putting it together. The Heron Merlot is redolent with soft, sumptuously textured fruit; giving a wall-to-wall feel of juiciness rarely achieved by other brands priced up to twice the price.
Bodegas Agapito Rico, Carchelo (Jumilla, Spain) - "Carchelo" is what you see on the label of this unusual blend of the Mourvedre (called "Monastrell" in Spain), Merlot, Syrah and Tempranillo grape varieties. The best way to describe it is that it gives $14 worth of flavor for a $7 price. Also think of being fed meltingly rich, chocolate covered raspberries by soft, black leather gloved hands. Any questions?
Guelbenzu, "Azul" (Navarra, Spain) - This is another unique, Spanish style blend of the native Tempranillo grape, with Cabernet Sauvignon and Merlot. You would be hard pressed to find something from elsewhere in the world that tucks as much raw, gutsy intensity into decidedly smooth elegance. Sweet berry, vanilla and new leather characteristics in the nose are layered between round, juicy, refined textures on the palate. Life should be this easy!
Delicato Family Vineyards, Shiraz (California)- "Shiraz" is usually the Australian moniker for the Syrah grape. Syrah, Shiraz, tomato, tomahto, it doesn't matter: this could very well be the best wine sold for under $8 in the world as we know it. It positively exudes the best qualities of the grape - sweet, violet perfumes, touches of ginger and cracked peppercorn, and black and blue berries in the nose. Once you're hooked, it proceeds to slap you across the palate - full, yet amazingly soft and sensuous flavors suggesting the ripest black cherries, plums steeped in pepper, and even an exotic touch of pomegranate.
Bonny Doon - Domaine des Blageurs "Syrah-Sirrah" (France) - Like Laely Heron, Bonny Doon's Randall Grahm is a Californian who goes to France's Languedoc region each year to source amazingly well priced wine. This one is spiked with sandalwood, roasting meat and black pepper fragrances; and on the palate, no shrinking violet with firm, muscular, yet round, supple, almost gushingly sweet (although the wine is completely dry) flavors that make you want to laugh, cry, sing, or all of this at once.
Morande, Maipo Valley Carmenere (Chile) - Up until recently, Chilean reds made from the Carmenere grape used to be bottled as "Merlot." Don't ask why - it was an honest mistake on the Chileans' part. The important thing is what's in the bottle: a blackberry aroma touched by an intriguing, jalapeno-like spice, followed by a smooth, balanced medium body, and satisfyingly soft, leafy, sweet berry and mildly green peppery flavors. Imagine this with a pulled pork or beef sandwich. A layer of frisee or arugula wouldn't hurt - the peppery taste of greens helps round out the red wine tannins - and if there's some truffle oil in the cupboard, well, splash away!
March 16, 2002
To contact Randy Caparoso, write him at randycaparoso@earthlink.net.
Back to Randy's World of wine
<!- Page Contents End Here ->