GETTING STARTED | WINE NOTES | SEARCH SITE | DISCUSSION FORUMS | 30 SECOND WINE ADVISOR | CONTACT US
<!TODAY'S TEXT STARTS HERE!>
Wine & Food Advisory
from the Melting Pot of the Pacific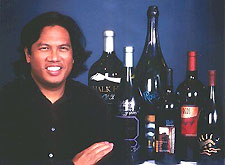 The Discreet Charm of Rhone Style Reds
© Randal Caparoso
What is the difference between a wine lover and a wine snob? Between a connoisseur and a geek? Let me see...
A connoisseur never stops learning about wine. A wine snob already knows it all.

To a wine lover, an inexpensive wine can be a great buy. To a wine snob, it's never more than "cheap."

A wine lover buys wine to please himself. A wine snob buys wine to impress - himself and everyone who notices.

Connoisseurs judge wine by the taste. Geeks and snobs judge wine by numerical ratings.

A wine lover thinks that even the finest wine is incomplete without food; and the better the food, the better the experience. The wine geek is more concerned about whether or not a dish is "interfering" with the taste of his wine -- the finer the wine, the blander the food should be.

A wine lover saves his best wines for family and friends. A wine snob rates family and friends by the quality and expense of the wines he is willing to share with them.

A connoisseur is curious about new, and even unheard of, brands and labels. Geeks and snobs buy all their wines by the label and what they have heard about them.

Wine lovers can enjoy wine served in anything, from paper to plastic. To wine snobs, anything less than crystal stemware is cause for alarm.

Connoisseurs appreciate a full bodied wine, although lighter wines are just as good or better. To snobs and geeks, bigger (or "awesome," as they say) is definitely better.

To wine lovers, Burgundy is a color as much as a fine, if overpriced (and sometimes fraudulent), wine producing region of France. To geeks and snobs, Burgundy is the be-all and end-all, price (and authenticity) be damned.
There is probably a little of this and a little of that in everyone who is "into" wine. I've always been a sucker, for instance, for an occasional French Burgundy or big, blubbering Napa Valley Cabernet Sauvignon. Although the thought of helping to finance the third Maserati or second wife of another ascot wearing Frenchman, or Napa Valley wine baron, leaves me slightly queasy.
Earlier this month I attended the Hospice du Rhone wine festival in Paso Robles, California. This is the annual, international convergence of wine lovers, connoisseurs, geeks, as well as snobs who produce, buy and sell, or just enjoy wines made from grapes associated with the Rhone Valley of France (predominantly red wines made from Syrah, Grenache and Mourvedre, and white wines made from Viognier, Roussanne and Marsanne).
The organizers of the Hospice du Rhone, however, are about anything but snobbery. Who else would walk onto a stage with musical instruments, dressed in pink tights, pink tutus, and oversized, Elton John-like sunglasses (paunchy grown men, mind you), and threaten to regale us with all the songs they knew about pink wines? Luckily, they knew no songs about pink wines.
The beautiful thing about Rhone style wines is that they tend to be unsnobby. In fact, for years the snobs and geeks snubbed them. That is, until wine writers such as Robert Parker - the chief scribe of the snobs and geeks - began to laud them, thus driving up the prices and spoiling things for the true-blue Rhone wine lovers. There's nothing wine snobs like better than paying too much for even average wine.
So here are some of my favorite Rhone style wines tasted in Paso Robles. Hope no wine snobs are reading this. Let's try to keep these wines to ourselves, okay?
1998 Tim Adams, Clare Valley Shiraz ($20-$25) - The French, and most Californians, call this red wine grape Syrah, whereas the Australians prefer to call it Shiraz. Either way, it tends to make the richest, heaviest, yet most elegantly scaled of Rhone style reds. This one by Tim Adams is luscious - perking the nose with violet, roasted coffee, and even and decadent chocolate cake fragrances - and its fruit-forward qualities on the palate give a thick yet plush, palate pounding feel.
1998 Cote Rotie, E. Guigal ($35-$45) - This is an example of the original style of Syrah from France's Rhone Valley, and its aim is true - spicy, smoky, powerful perfumes suggesting violets, sandalwood, black pepper, new leather and resiny green herbs (thyme and rosemary), and full, meaty, lush fruit flavors bolstered by gripping tannin and tightly wound fruit and oak phenolics. A multifaceted joy!
1999 Unti Vineyards, Dry Creek Valley Syrah ($25-$35) - Good, solid, pure Syrahs from California are a fairly recent phenomenon, thanks to the ground breaking work of the original "Rhone Rangers" (notably, wineries such as Bonny Doon, Qupe, Havens, and Edmunds St. John). Mick Unti is fairly new at the job, but this bottling clearly indicates that he, too, has the right stuff. The wine is packed with black licorice and violet perfumes, and flavors that tease and electrify the senses with a wild raspberry-like juiciness, a roasted coffee-like savoriness, and tannins that embolden rather than overpower the palate.
1999 Justin Vineyards, "Paso Robles Estate" Syrah ($24-$34) - There isn't much made of this wine, but it is significant as an indication of great things to come from the chalky, rocky hillsides of Paso Robles. It is also the closest thing made in California to the heady, fleshy, fruit-forward style associated with Australia. There's a sense of volume and ruggedness, yet the wine is soft, velvety and pliant to the touch, and the peppery, raspberryish flavors just don't seem to quit. Don't tell the wine "collectors," lest they scoop this up for themselves!
1998 & 1999 Bonny Doon "Le Cigare Volant" ($22-$28) - Winemaker/proprietor Randall Grahm - California's first, and still probably the most respected, "Rhone Ranger" -- presented two vintages of his "Le Cigare," and both were magnificent. Both are blends of mostly the peppery, red fruit scented Grenache, the muscular, spicy Syrah, and the leather glovey Mourvedre. The '98 has a lush, raspberryish aroma with smoky complexities, and is round, fleshy, yet dense and dominating on the palate. The soon-to-be-released '99 is gloriously scented - smoky, incense-like spices, crushed pepper, and sweet, raspberry liqueur-like concentrations - and fitted with layers upon layers of thick, yet soft, draping flavors.
June 7, 2001
To contact Randy Caparoso, write him at randycaparoso@earthlink.net.