GETTING STARTED | WINE NOTES | SEARCH SITE | DISCUSSION FORUMS | 30 SECOND WINE ADVISOR | CONTACT US
<!TODAY'S TEXT STARTS HERE!>
Wine & Food Advisory
from the Melting Pot of the Pacific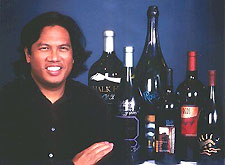 Sonoma's Happy Golden Years
© Randal Caparoso
Because I've made my living buying, selling, and talking about wine for about 25 years, I'm not afraid to admit that I've developed something of a jaded palate. Bring me the best and latest California Chardonnay, and I'm stifling a yawn. A "grand cru" Bordeaux or "cult" Napa Valley Cabernet Sauvignon? Wake me up before you go, go.
But turn me on to something "different" -- a Vermentino from Sardinia, a Sauvignon Blanc from France's Menetou-Salon, or a Pinot Noir from Alsace, British Columbia or Tasmania -- and I'll be your best friend. At least until the next best thing comes along.
But don't get me wrong. I think I can still recognize a good wine when it pops up and hits me, no matter how familiar it may be. Old hat is not necessarily bad hat. Which was exactly what I found during a three-day visit to California's Sonoma County last month. Namely, that not only is Sonoma producing better wine than ever, it is producing some of the most exciting wines in the world today!
This was especially brought home to me in a head-to-head "Battle of the AVAs" (American Viticultural Areas), organized by consortium of Sonoma wineries for myself and some sixty other wine professionals gathered from around the country. This was a blind tasting in which eight of the best 1997 Cabernet Sauvignons from Sonoma were compared to six of the best 1997 Cabernet Sauvignons from Napa Valley. The latter region is known as the source of California's finest Cabernet Sauvignons. Or is it?
Although my exact findings may have differed from the other tasters, I'd venture to say that virtually all of us found that the Sonoma grown Cabernets displayed as much immediate drinking pleasure plus long term aging potential as the Napa Valley grown Cabernets tasted. As it were, the Napa Valley wines that I chose "first" - including the rare, opulent 1997 Joseph Phelps "Insignia" ($110-$130), the magnificently elegant 1997 Quintessa ($90-$120), and the power-packed 1997 Mount Veeder "Reserve" ($70-$90) - were very much up to their lofty reputations. But I could find nothing in these wines which I couldn't find in at least equal proportion in the best Sonoma wines.
In fact, my favorite was a complete surprise, produced by a Sonoma winery known more for its white and sparkling wines than for its reds - the 1997 Iron Horse "Benchmark" Alexander Valley Cabernet Sauvignon ($45-$55). Besides the fact of its relatively great value, I'd recommend the Iron Horse for its beautifully lush and focused Cabernet character - a blackcurrant liqueur-like concentration - its roasting coffee-like spiciness, pinpoint balance, and layered, silken texture.
My second favorite? The 1997 Simi "Reserve" Alexander Valley Cabernet Sauvignon ($75-$90), which came billowing with cinnamon and cassis-like aromas, tinged with smoky oak, and magnificently fine, velvety, long, buoyantly balanced flavors. Tasting great now, which means it may be even greater later; in, say, another six to twelve years, if you're into "cellaring" (which, for most of us, means throwing it into a closet and forgetting about it).
Undoubtedly, a golden age of Sonoma wines is upon us. I'm excited. And it's good news for all palates, jaded or otherwise. My favorites:
2000 Iron Horse, Alexander Valley "Cuvee R" Sauvignon Blanc/Semillon ($14-$18) - It's been several years since Iron Horse began blending the powerfully fragrant Viognier grape with Sauvignon Blanc, and they've now perfected the art. The nose in the 2000 is beautifully perfumed - lush green melon, tropical flowers, and nuances of white pepper - and the palate feel is medium-full, with exotic, juicy, zesty fruit flavors. Lovely.
2000 Simi, Sonoma Sauvignon Blanc ($13-$17) - Simi has long been known for great Sauvignon Blanc. What's surprising is that it's even better now - which for this varietal means zesty acidity and moderate weight combined with invitingly smooth and easy flavors. The Simi has all this, plus a beautiful guava and passionfruit-like fruitiness, tinged with green leafy aromas like a tropical bouquet. The epitome of freshness.
1998 Simi, Alexander Valley "Sendal" ($16-$22) - This specialty bottling is primarily a dry Sauvignon Blanc with large proportions of Semillon; and while not quite as zippy as the "regular" Simi Sauvignon Blanc, it's considerably deeper and lusher in flavor. The aroma to me is one of peach fuzz and juicy stone fruits, enriched by sweet, harmonious, vanillin oak. The essence of warm, mouth watering, Indian summer fruit.
1999 Alexander Valley Vineyards, Viognier ($16-$22) - The Viognier grape tends to produce rough, alcoholic dry whites with drugstore perfumes, and so I usually cringe even before tasting a new one. But this one made me light up a smile, beginning with its luscious cantaloupe and peach juice fragrance, which followed up on the palate in a fine, moderately full body, the soft, gentle, fresh fruit flavors draping across the palate.
2000 Murphy-Goode, Alexander Valley "Island Block" Chardonnay ($24-$30) - This Chardonnay defies gravity. The weight is huge, but the wine seems light and fluid, its fleshy flavors slip-sliding across the palate. It's certainly generously oaked - flush with smoky, vanillin aromas and flavors - yet the natural Chardonnay fruitiness penetrates like a rainbow through the clouds, flashing honeyed pear and nectarine/apricot-like flavors. Multi-dimensional; but more importantly, simply delicious.
1999 Ferrari-Carano, "Reserve" Chardonnay ($35-$45) - You may have enjoyed Ferrari-Carano Chardonnays before, but you're not fully experienced unless you've had this special cuvee, blended from Carneros and Alexander Valley grown fruit. The nose is a high wire act - dripping with lush, sweet apple, peach and vanilla bean aromas - and the flavors do a dance and just sort of roll across the palate, with a fresh, lively, creamy textured fullness. Like gold; or is it but-tah?
1999 Simi, Alexander Valley Merlot ($25-$35) - In an age in which Merlot has become something of a cash cow - i.e. outrageously priced, yet meagerly flavored reds - for the California wine industry, you almost want to throw a block party when you come across one that actually tastes like "Merlot." Simi hits it right on the head, with this wonderfully rich, opulent wine, bursting with black plum and cherry aromas, the fruit qualities round, lush, almost sweet on the palate, with layerings of smoky, vanillin oak.
1997 St. Francis, Sonoma Valley "Nunns Canyon Reserve" Merlot ($45-$55)- When Sonoma grown Merlot is good, it's achingly good. Like this chunky, broad, pulsating bottling by St. Francis. The nose is deep, lush and wild berryish; and on the palate, an outwardly soft, round entry is lined with perfectly toned, supple tannins and seductive, almost obscenely rich flavors, if such a thing is possible.
1998 Geyser Peak, Alexander Valley "Kuimelis Block Collection" Cabernet Sauvignon ($40-$50) - I'm a sucker for generously fruited reds with spicy qualities, and this one has all that, in spades. Sweet, juicy, cassis and blackberry aromas with a fine spray of blackpepper, smoke and hard spice-like oakiness; fleshed out on the palate with velvety length, elegance, depth, and profundity of flavor. Without the hyperbole ... "wow!"
July 30, 2001
To contact Randy Caparoso, write him at randycaparoso@earthlink.net.