GETTING STARTED | WINE NOTES | SEARCH SITE | DISCUSSION FORUMS | 30 SECOND WINE ADVISOR | CONTACT US
<!TODAY'S TEXT STARTS HERE!>
Wine & Food Advisory
from the Melting Pot of the Pacific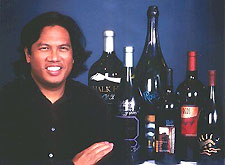 Soil vs. Climate: Does the Hat Make the Man?
© Randal Caparoso


Businessmen, they drink my wine
Plowmen dig my earth...
- Robert Zimmerman

Winemaking is a skewed business. Take the question of soil as it pertains to wine quality. When the experts talk about the great wines of France, they talk about the inherent superiority of France's soils.

Why, for instance, does Chateau X produce such great wines every year, while Chateau Y just across the road produces distinctly average wines? Both estates may have the same types of grapes planted, and may experience the exact same weather patterns and lavish just as much care in the winery, year after year after year. Yet why is X always better than Y? The answer, according to the French, is the soil.

Which makes perfect sense when you consider the fact that the French came to this logical conclusion after several hundred years of observation. They even know exactly what type of soil is superior: limestone, or soil dominated by more than 50 per cent calcium carbonate.

In France, these outcroppings of white, chalky, chunky, fractured terrains - derived from fossilized sea matter originating in Jurassic times - occur all over the country; and not coincidentally, in the greatest vineyards of Champagne, Burgundy, along the Loire River, Bordeaux and small pockets of the South. Everywhere limestone is found, the French observe healthier, more balanced vine growth, resulting in wines with superior depth, intensity, balance and longevity. What else, if not soil, can explain the differences in quality?

But if limestone, as one writer put it, is the "caviar" of viticulturists, what is the stuff of highly regarded vineyards in places like California, Oregon, Tuscany, and parts of Australia and Spain, where there is almost no limestone at all? Spam?

In France, undoubtedly, the finest Pinot Noir and Chardonnay based wines virtually require limestone in the soil. In the U.S., however, the finest Pinot Noirs and Chardonnays are coming from parts of Oregon's Willamette Valley, Santa Barbara, Sonoma's Russian River Valley, and the Carneros district of Napa Valley - all places with nary a hint of that magical chalk. Yet even the French would admit that many of the wines from these regions are not just good, but often even great.

So what gives? As the American vintners would have it, it is decidedly not the soil that determines quality; but rather, climate, and things like clonal selection, trellising, leaf and grape thinning, yield, and choice of barrel and vinification techniques. Good, well drained soil, of course, also contributes to quality; and along the West Coast, these types may vary from shallow, compacted clays to deep, gravelly or sandy, and even boulder strewn loams.

So how does a wine drinker navigate through this thought process towards an understanding of what makes the best wine? Like anything, I guess, with a grain of salt, and suspension of disbelief. But if you prefer a more rational approach, here is a sensible way of thinking about it:
Makeup and quality of soil are crucial to vine health and ultimately wine quality, particularly in regions (such as in France) where climate can be somewhat marginal and thus more dependent upon superior soil.

Climate, however, is a far more important factor than soil; since, unlike soil, climate doesn't just add to quality, it is an absolute requirement. It is very possible to grow great wine without absolutely perfect soil (such as in California and Australia), but you cannot with less than optimal climate.

The fact that France's greatest wines come from limestone encrusted sites proves the importance of soil only within the scope of France's growing conditions. Outside of France, all bets are off.
As to who produces the best wines from specifically French varietals - France, the U.S., or Italy, Spain, or Australia? This is a debate destined for eternity. I, for one, have better things to do. Like enjoying my wine. There are, interestingly enough, a small number of vineyards in California that are planted in soils with limestone content similar to (but not exactly the same as) that of France, with some stunning results. Here are three noteworthy examples:
Justin, Paso Robles "Isosceles"
The bulk of Justin Baldwin's hillside plantings located on the westernmost (and coolest) side of Paso Robles are made up of malleable, chunky, chalky stones, and this has been the key to the consistently liqueur-like concentration of his red wines. Nonetheless, the wines from the Justin estate are never big or rough - just sleek and elegant. The Isosceles is a well muscled, Bordeaux style blend of Cabernet Sauvignon, Cabernet Franc and Merlot, exuding an incredibly delicious depth of flavor without that sense of excess or oversize common to, say, the Cabernet Sauvignons of Napa Valley.
Is it the soil that gives the Isosceles this unusual sense of elegance and cohesion? Beats me. But one question I can answer with some degree of certainty: the Isosceles' lavish, sun kissed, sweet berry intensity in the nose is distinctly more Californian than anything French.
Justin, Paso Robles Chardonnay
As an obvious homage to the wisdom of Burgundians, Baldwin concentrates his Chardonnay plantings on the parts of the Justin estate made up of almost pure chalk. Here's an example of what this can do for a California grown Chardonnay. Whereas the classic Golden State style is big, fat, and more obviously fruity, in the Justin the varietal fruit is decidedly low keyed. In fact, the predominant scent is flinty, minerally, almost saline in quality; and on the palate, the wine is crisp, fluid, and only medium in weight, suggesting creamy apple and pear, but finishing dry and finely balanced. So if you've ever wished that California Chardonnays were less filling but still great, this may be the wine for you.
Chalone Vineyard, Chardonnay
The historic Chalone estate occupies its own appellation on a high elevation bench of the Gavilan Mountains, east of Soledad in Monterey County. The original vines were planted in the 1930s by a Salinas Valley farmer named Will Silvear. But this was no ordinary farmer, but very much a Francophile who recognized the undercropping of white, chalky soil in his vineyard as being very similar to the soil of Burgundy in France.
Silvear, however, never really produced a commercial product. What little fruit eked out from this remote site in the 1940s went to wineries like Wente, Mirassou, Beaulieu (choice selections of Pinot Noir), and Almaden (into their bulk process sparkling wine). It wasn't until 1969 that the vineyard found its feet, and name, when it came into the hands of the late, visionary Richard Graff; and by the mid '70s Chalone was turning out tiny but internationally acclaimed supplies of Chardonnay, Pinot Blanc, Chenin Blanc and Pinot Noir.
The Chalone Chardonnays of today capture the dense, meaty, minerally, and at the same time somewhat rough and tumble, qualities that have become the estate's signature style. The first question is, are the minerally components unique enough to be attributed to the soil? I hardly think so, since there are strong minerally qualities in other coastal Chardonnay plantings - such as the Bien Nacido and Sanford & Benedict vineyards in Santa Barbara, and Celilo Vineyard in Washington State - that are grown in vineyards with no limestone at all.
Second question: does the soil in Chalone yield a Burgundian style Chardonnay? Again, I think not, since the big, lumbering, outwardly fat feel typical of Chalone Chardonnays hardly resembles the lemony crisp, relatively delicate, subtle layering found in classic white Burgundies. The warmer climate of the Chalone estate is obviously the overriding factor behind its wines' structural style.
The good news is that the powerful, drippingly honeyed concentration of Chardonnay fruitiness typical of Chalone's mountain grown grapes lends itself beautifully to the rich, slightly charred flavor of French oak. If anything, it is the aggressive, barrel fermented qualities of Chalone Chardonnays that are reminiscent of French bottlings (and many of the top Burgundy estates are certainly not shy about the use of oak).
Great soil may indeed make for great wine. Then again, so do a great many other things.
Feb. 24, 2002
To contact Randy Caparoso, write him at randycaparoso@earthlink.net.