GETTING STARTED | WINE NOTES | SEARCH SITE | DISCUSSION FORUMS | 30 SECOND WINE ADVISOR | CONTACT US
<!TODAY'S TEXT STARTS HERE!>
Wine & Food Advisory
from the Melting Pot of the Pacific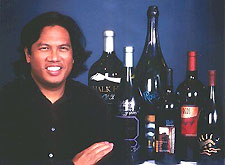 Simple minds enjoy wine better!
© Randal Caparoso
Now deep into the 21st century, we find ourselves nearly overwhelmed with choices in food and wine. I recently read that about 100 years ago the average American had access to approximately 500 basic foodstuffs. Today there are more than 50,000.
The same thing with wine. From a handful of wines, there are now thousands of different types available to us at any given time, in any given store or restaurant.
Globally sourced foods and wines are not just accessible, but also sold in every price range, from everyday affordable to insanely expensive. Gastronomy in general has become sexier, it has become big business, and it has also become show business. Seen the TV Food Network lately?
25 or 50 years ago, finding a wine to match a dish was probably a bit easier than it is today. You drank Chablis with oysters, Riesling with ham, Chianti with spaghetti, and Bordeaux or Cabernet Sauvignon with steak. All these things made sense, and you didn't have to think much about any of this to know it works.
But what of today's dishes? Consider the salad. All the old books say the same thing: Skip the wine with salad, because neither wine nor vinegar does the other any good. Well, today many us are practically making a meal out of salads. Gee whiz, no wine with dinner?
Well, suppose you do enjoy a wilted spinach and beefsteak tomato salad, warmed with olive oil and balsamic vinegar in a pan with nostril tingling sweet onions and crispy cubes of pancetta bacon? My opinion: not only is wine not a bad thing with this kind of salad, it can actually improve it! I, for one, would enjoy a good, light, zesty red wine made from the Pinot Noir grape - slightly chilled to enhance the fruitiness - with anything finished in a round, winy balsamic vinaigrette. In a pinch, I'd take an easy drinking, $10-$12 bottle of red wine made from Sangiovese - the grape of Chianti in Tuscany - and when the weather is almost as warm as the salad, a simple, dry, ice-cold pink wine.
Salads don't scare me. In fact, I relish them with wine. I had one the other day made up of nutty frisee and chunks of gorgonzola in a honey-garlic vinaigrette. For that, I prescribe a slightly sweet German white wine made from the Riesling grape, which has the zesty acidity to balance out the vinaigrette and the edge of sugar to balance out the strong, salty gorgonzola and the mildly bitter edge of the greens.
What about something with smoked trout, capers, cherry tomatoes, olives, and hard boiled eggs, with, say, a mustardy white wine vinaigrette? No sweat. A dry, mildly smoky-oaky California Sauvignon Blanc - such as one made by Simi, St. Supery, Robert Mondavi or Duckhorn - has just enough earthy chutzpah to handle the trout, capers, eggs and mustard, while the acidity natural to this grape rounds out the vinaigrette nicely.
Fact of the matter is, with the variety of wines at our disposal today, I believe that there is a perfectly good wine match for virtually every food or dish. Sushi with eel, mackerel, fish eggs or sea urchin? Can't go wrong with an off-dry Riesling or an Albariño from Spain. A stew of beef and tomatoes? An Italian or California grown red wine made from the Barbera grape. An exotically spiced, sweet-edged southeast Asian or Chinese pork hot pot? An off-dry California Gewurztraminer, a Scheurebe from Germany, or a Pinot Gris from Alsace in France. A plate of charcoal-grilled squash, scallions, asparagus and baby bok choi? A soft, smooth red Cabernet Franc. Buffalo, bear, kangaroo or buckshot venison? What do you think Australia's wild, rippling red wines made from the Shiraz grape are for?
I could go on and on, almost endlessly. But bring me the hottest, coldest, spiciest, sweetest, saltiest, tangiest, and most bitter dishes, and I'll find you some kind of wine that would taste a lot better with your dish than, say, plain water, tea, fruit juice, milk, beer, or just about anything apart from a good sake (which I like because it is also a "wine," only made from rice).
Call me crazy, call me anything, but whatever you do don't call me a "wine expert." I hate that. Why? Because it's the so-called wine experts who always used to say that you can't eat salad, artichokes, or chocolate with wine. Boo hoo! If you like salad, artichokes and chocolate, what's going to keep you from enjoying a good wine with it?
The experts also say things like, "big, oaky California Chardonnay does not go with food." Goodness. Sure, Chardonnay is popular, Chardonnay is everywhere, and Chardonnay is even a little uncool. But that does not keep Chardonnay from tasting perfectly wonderful with a buttery roast chicken, a smoky turkey, grill charred pork chops with apples, or a luscious King crab meat, avocado, hollandaise ladled omelette. I had the last one just the other morning - yes, with a Chardonnay - and you know what? I was practically crying with joy... and feeling sorry for the crackpots who think that wine knowledge supersedes simple, practical, open minded common sense!
Food and wine may be a bit more complicated than it was in the past, but our enjoyment of food and wine is no different than it ever was. If you examine the world's oldest and most sophisticated wine cultures - such as those of France, Italy, and Spain - you find that they didn't grow as a result of opinions dished out in books, magazines, and rabid television cooking shows. Wine appreciation simply grew within food and social contexts. Naturally, and without fuss. Made sense then, and it makes sense now!
Sept. 2, 2001
To contact Randy Caparoso, write him at randycaparoso@earthlink.net.