GETTING STARTED | WINE NOTES | SEARCH SITE | DISCUSSION FORUMS | 30 SECOND WINE ADVISOR | CONTACT US
<!TODAY'S TEXT STARTS HERE!>
Wine & Food Advisory
from the Melting Pot of the Pacific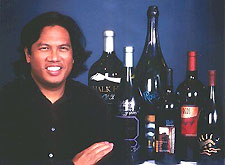 Wine's Simplest Pleasures Are the Best
© Randal Caparoso
At what point did fine wine become divorced from food? I don't know when it actually happened, but I have the feeling that it occurred somewhere between the time when wine was taken from its original home in Europe and brought to countries like the U.S., where wine is less popular a table beverage than things like Coca-Cola, milk, coffee, orange juice and beer.
Not that Americans need to apologize for this. We are what we are; but in being what we are, we probably end up drinking wines that are a lot less food-friendly, or else far more expensive, than they have to be.
Fine wine, to me, should be as plain, and simple, as steamed white rice. What the heck am I talking about? Outside of the Hawaii and Japanese-American households and restaurants, steamed white rice may seem quite boring. But to those who love it, it is almost sacred. We like our rice plain and fluffy because it is one of the best things we know to compliment any sauce, stew, broth, vinaigrette, meat, vegetable or condiment it is served with.
And like white rice, the best wines may very well be those that are not meant to stand on their own. It's what they do for every dish, and entire meals, that counts.
Think of it. How many times have you been served a dish, particularly in restaurants, with a rich and assertive starch - garlicky mashed potatoes, mushroomy polenta, nutty brown breads, risotto in lobster broths, and even raisiny bread puddings - and you wished you had something much plainer simply to soak up the sauce? How many times have you had a powerful, flavorful wine which you could hardly finish simply because it overwhelmed your meal?
For Europeans, wines are meant to drink, not outmuscle a meal. Sure, there are great wines in Europe -- the grand crus of Bordeaux and Burgundy, the sleek Italian "Super Tuscans," the rare and precious Beerenauslese Rieslings of Germany. But frankly, these wines are made mostly to satisfy the export markets - the U.K., U.S., and Japan - which crave wines more for power and prestige, rather than for food.
Because of our mania for big, "important" wines, most of our own wine experts and writers are almost completely dismissive of the concept of "food" wines. As if wines meant for the table are, by definition, weak and therefore unworthy. A lot of this has to do with our rating systems, which automatically downgrade lighter, plainer wines not meant to stand on their own. This is why we rarely read about the "little" wines from Europe, made from grapes like Tempranillo, Dolcetto, Pinot Blanc, Grenache, Trebbiano, and even Lambrusco and Lemberger. These varietals may not be as famously complex as Cabernet Sauvignon, as sexy as Merlot, or pulverize your palate like Chardonnay and Syrah. Yet in their original growing regions, they are much preferred precisely because of their simple, low key qualities.
For Europeans, growing grapes to have something to drink with the local cuisine is as simple as ABC, and as necessary as breathing. The amazing thing is that in the U.S. we drink wine for exactly the same reasons -- to help us digest food. The only differences are our attitudes and expectations. So with this in mind, I would now ask: which would you consider the better wine - one that compliments your dish, or one that fights it tooth-and-nail? If you think the former, here are eight wines which you may very well enjoy more than you suspected:
Rustico, Prosecco ($12-$14) - Prosecco is a white grape varietal into which they make a light, easy drinking sparkling wine in Northern Italy - in other words, a bubbley that doesn't scrape your palate with sharp acids, like most Champagne style wines -- and the Rustico is the finest that I've tasted in years. This sparkler has a lovely pear skin scent with floral and mildly yeasty nuances, plus an extraordinarily fresh, inviting, crisp yet creamy textured taste underlined by a whisper of sweetness. All told, a perfect wine for the type of picking foods -- from tuna and spring rolls to sashimi and even soft shell tacos - we really like to eat.
1998 Pojer e Sandri, Trentino Traminer ($12-$15) - White wines made from the Traminer and Gewurztraminer grapes are as unfashionable as they come these days; but when it's good, it's hard to resist - like this light and easy, dry style from Northern Italy. This one has the cracked peppercorn and lychee-like fruitiness typical of the grape; and although its acidity is on the soft side, the wine is smooth enough handle any Asian, Pacific Rim or even Indian seasoned dishes with aplomb, even when punctuated by chutneys or fruit infused sauces.
1998 Gini, "La Frosca" Soave Classico ($15-$18) - The sea of light, easy, jug wine priced brands of Soave that once flooded the market is what sank this Italian white's reputation as a fine wine. But as a wine practically tailored for roasted chicken, pork in pungent, green herbs, and grilled white fish, Soave Classico is as wonderful as ever; especially those by Gini, which come with fresh, stone fruit fragrances, a lemony dryness attenuated by an easy tartness, a light creaminess in the texture, and licorice-like qualities in the flavor.
1998 Thomas Mitchell, Southeast Australian Marsanne ($9-$12) - Another dry white ideally suited to grilled fish and "other white meats," Marsanne is mysteriously underrated as a varietal; especially considering the typically lush, apricot pit-like fruitiness in the aroma, which you find in this wine, and the almost effortlessly well balanced qualities of moderate weight, gentle acidity and flowing, fluid flavors on the palate.
1999 De Loach, Russian River Valley Fumé Blanc ($13-$16) - Sonoma's Russian River is not considered the optimal region for California style Sauvignon Blanc, but this wine defies expectations. Starting off with low key, chalky, minerally qualities in the nose, it quickly evolves into a fresh, pure, aromatic wine, evoking green melon and peach skin qualities, with a zesty edged, medium body that does a bang-up job with things like pan crisped fish in butters, soft oils, or even fruit salsas, not to mention Asian style dumplings in sweet-sour or fruit infused vinaigrettes.
1999 Kiona, Washington St. Lemberger 1999 ($8-$10) - Don't let the name of the grape (Lemberger) scare you - this red wine is as soft and inviting as they come. The aroma is exuberantly fruity - black pepper mixed with a blueberry/strawberry freshness - and the taste on the palate is round and plush. I can't think of a better wine for spicy styles of barbecued meats - it has the red wine tannin to handle the fattiness, yet the fruitiness to handle sweet/hot seasonings - or any dish done in soy based marinades. In other words, another great wine for the foods we really love to eat.
1998 Elio Altare, Dolcetto d'Alba ($13-$16) - The Northern Italian red wines made from the Dolcetto grape will never win bowl you over with thick tannin and hedonistic flavors. But within its soft, easy, yet zesty, light-weight structure, it packs its own little wallop of lush, black fruit -- suggesting cassis and sweet, tree ripened plums -- that it is amazing even within the richest, roasted red meat settings, bolstering the palate with its natural, juicy qualities.
1998 Veramonte, "Primus" Carmenere/Cabernet Sauvignon ($16-$20) - Forget what you may have heard about the red wines from Chile lacking style and substance. This one combines a round, smoothly textured, medium sized body with smoky, roasted pepper flavors and deep, meaty qualities; and with wood or charcoal grilled meats, it delivers an element all its own, lending an exotic spice in the same way that ginger, garlic and green onions add to Asian style marinades.
Oct. 30, 2000
To contact Randy Caparoso, write him at randycaparoso@earthlink.net.