GETTING STARTED | WINE NOTES | SEARCH SITE | DISCUSSION FORUMS | 30 SECOND WINE ADVISOR | CONTACT US
<!TODAY'S TEXT STARTS HERE!>
Wine & Food Advisory
from the Melting Pot of the Pacific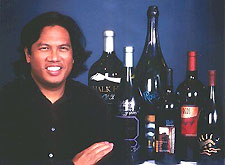 When in Rome, or the Hawaiian Islands
© Randal Caparoso
When in Rome, we all know, you do as the Romans do - including eat, and drink, the things they eat and drink.
In a recent issue of Saveur - the most delectable food magazine you can possibly read today, in my opinion - we read that Roman food really hasn't changed much over the past few decades: bruschetta (toasted Italian bread rubbed with garlic and soaked in olive oil), spaghetti in mildly garlicked clam sauce, Chianti and tomato stewed oxtail, tomatoes stuffed with risotto, marinated anchovies, milky white bufala mozzarella sprinkled with fruity green olive oil and red pepper flakes, rotisserie roasted baby lamb, rosemary sprigged pork, or cracked peppercorned chicken. What a life.
I've spent a couple nights in Rome; and pretty much de facto, you end up drinking the wine everyone else drinks in Rome: Frascati. This is the white wine - light, dry, mildly zesty and fragrant, and exceptionally easy to drink -- from the nearby Castelli Romani region. Lest you think this is a wine that only tourists drink, all a visitor needs to do is look around to find that the Romans, too, drink copious amounts of Frascati.
As a matter of fact, I recently read that in the year 1450 there were 1,022 "Frascati taverns" registered in Rome alone, long before the onslaught of tourism. The point being? In spite of this age-old thing about red-wine-with-meat and white-wine-with-fish, no matter what you eat in Rome - red meat, white meat, "other" white meat, vegetables and cheese -- Frascati seems to go perfectly well with it. Food and wine matching made easy.
The question is, how do regional foods and wines evolve into such seamless matches? How did the cooking in Rome come to be so subtle and simple that a even a white wine as light and fairly innocuous as Frascati can go with a red meat or pasta in tomato sauces? Is it the result of some kind of mass hypnosis, an unconscious cultural evolution, or a deliberate gastronomic development?
Who cares? When in Rome, you drink Frascati. When in Florence, you drink Chianti. In the Mediterranean seaside towns of Cassis and Coullioure in Southern France, you drink the white and pink wines sold as Cassis, and the white and pink wines sold as Coullioure. Why ask, when you can't go wrong?
So what do you drink in New York, Chicago, New Orleans, Houston, Denver, Seattle, San Diego, and Honolulu - that is to say, in the wild, wild U.S. where drinking wine with food has not been nearly as long-standing a cultural phenomenon? I would imagine that the typical Roman would think of Americans as being rather primitive. Well, primitive man's sense of food may not be as long-standing or subtle, but we do need to eat; and frequently, as Woody Allen once said, "there must be a beverage."
Personally, I don't think Americans in general have a "problem" with drinking wine. Sure, we drink far fewer wines than Europeans; something like 10% of what they do. Then again, we also have beer - and lots of it - along with dozens of other choices of beverage for which we've developed our predilections. For those of us who drink wine on a regular basis - some 11% of the American population - we also have a ton of choices from around the world, as befitting our mania for variety, values, and even overpriced bottlings. We can drink Frascati, if we like; although we are more likely to choose some kind of White Zinfandel, Chardonnay, Merlot, or Cabernet Sauvignon, paying anywhere from $5 to $500-plus for the pleasure. Why? Because it's there, it has alcohol, and in one way or another, it goes with our food.
There is, of course, a lot to be said for wines that truly do well with certain kinds of food. In Hawaii, for instance, we have an enormous range of foodstuffs at our disposal, and the wide range of wines to go with it. In recent years I've enjoyed a number of matches which, for me, amount to as much an easy timelessness as anything found in Rome or Southern France. Here are some of my most tried-and-trues, which I'd recommend to anyone:
"Poke" style raw tuna (with soy, sesame oil, sweet Maui onions and chili): Lighter, simpler, low to medium priced Pinot Noirs (from Oregon, California or France's Bourgogne region)
Flash seared raw tuna in wasabi mustard sauces: French Champagnes, or dry California and Italian ("Prosecco") sparkling wines
Sushi (all varieties): Dry rose (from Southern France, or California pink wines made from Pinot Noir or Grenache), or very light Pinot Noirs (Oregon or California)
Kalua "pig" (roasted, smoke flavored, rock salted pork butt): Off-dry German Rieslings ("Halbtrocken" or "Kabinett" styles), or White Zinfandel
Beef stew (tomatoes, potatoes, carrots and onions): Soft and velvety Merlots (California, Chile or Italy), or silkier styles of Sangiovese (from California or Italy's Tuscany region)
Mahimahi (dolphinfish) in lemon butter sauces: Creamier textured (lightly oaked) California Sauvignon ("Fume") Blancs, or lighter, crisper style Chardonnays (from Mendocino or Santa Barbara in California, Washington St., Chile, Argentina, or France's Bourgogne region)
Miso butterfish (marinated black cod): Dry style Rieslings (Alsatian or German "trocken," and dry styles from California or Australia)
Wood grilled salmon with ponzu sauces: Crisp-edged Sauvignon Blanc (from California or Sancerre from France), or Spanish Albarino
Korean style (soy/sesame seed marinades) short ribs of beef: Spicy, aromatic Australian Shiraz or Cabernet-Shiraz blends
Teriyaki beef (sweet soy/ginger marinades): Richer, premium priced Pinot Noirs (California or Oregon), or rounder, softer Cabernet Sauvignons (Australia, Chile, or low to medium priced Californians)
Surf's up!
Nov. 10, 2000
To contact Randy Caparoso, write him at randycaparoso@earthlink.net.