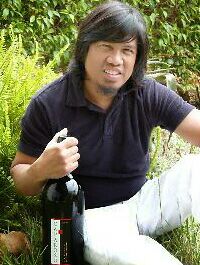 Wine & Food Advisory
from the Melting Pot of the Pacific
Riesling - The Cinderella of Wine Grapes
© Randy Caparoso & Mary Ann Hardman
Tiring of Chardonnay, Merlot, or the umpteenth glass of Pinot Grigio? Searching for the ideal wine - fresh, cool and collected - for the merry rites of spring, the sticky days of summer, and scented nights of fall?
Consider Riesling, an original card-carrying member of the elite family of European wine grapes, Vitis vinifera. Consider the fact that from the nineteenth century through most of the twentieth, Riesling was still a vin célèbre among casual and serious wine lovers alike; prized for its delicacy and elegance, youth and agelessness, sensitivity and intelligence ... Audrey and Katherine Hepburn rolled into one.
But exactly when did Riesling fall off the popularity charts? Why do novice wine drinkers, who more than anyone should prefer wines exactly like the light and easy-drinking Riesling, still need to be led to water? It's almost as if Riesling was uncool, a dreaded "R" word, an underwhelming, cinder-tainted stepsister of a wine. Who's been saying this about Riesling and why?
Although longtime wine professionals may not know exactly why, they do remember when Riesling suddenly lost respect: in the early 1980s when Chardonnay became popular, capping the "white wine boom" that has lasted up until recent years before finally giving way to "Merlot Madness," and lately, "Pinot Noir Passion."
Others note the waning interest, about the same time twenty five years ago, in wines of any sort from Germany: those who were drinking Blue Nun and Black Tower (although these ubiquitous brands were never really made from Riesling) suddenly "graduating" to Chardonnay; and those still preferring their wines cold and sweet latching on to Californian White Zinfandel. Water, water everywhere, not a drop of real Riesling to drink.
But great wines like Riesling really need no reason to remain, hanging around the fringes. They just keep getting and better, whether you notice them or not. Riesling is still the queen of whites in the Rhine and Moselle River regions of Germany, where it probably originated. There the vine thrives in the coldest climate for growing grapes in the world, known for the winter hardiness of its wood and the glorious ripening of its fruit to razor sharp sugar/acid balance. Some of Germany's riverside vineyards are so steep and slate encrusted that they require ropes, and powerful lungs and legs, to cultivate; but the hard won results are more often than not ethereal: entire bouquets of flower and fruit perfumes mingling with nuances of minerals and spices, dancing with flavor across the palate like a peace and love tribal gathering.
Despite the association of Riesling with Germany, this late budding variety has also been known to perform quite well, thank you, in regions as diverse as Alsace in France, Austria and Australia, South Africa and Canada, New York and New Zealand, Yakima and Niagara, Georgia our fourth state and Georgia the post-Soviet state. In warmer climes such as these, Riesling naturally produces fuller, fruitier, but less crisp and finesseful whites than in Germany; and because of the retention of less balancing acidity, the pervasive style of countries like France and Australia is decidedly softer and drier than in Germany. Maybe not so much peace and love, but dancing all the same.
It is precisely because of the wine's intrinsic, undiminished beauty that Riesling has been making something of a comeback during the past two, three years. Not a huge one, but certainly big enough to make even Chardonnay drinkers take notice. The Cinderella has found her glass slipper, which has been the culinary reason for drinking and appreciating Riesling. Attention, shoppers: Riesling's natural balance of acidity and sugar, lightness of alcohol, and fruit forward flavors make it the ideal match for more and more of the foods we love to eat today.
And do we: Chinese takeout with sweet-sour-salty sauces, and Japanese bento boxes with ginger, soy or wasabi seasonings, all cry for a lithe, liquid, fruit-toned white such as Riesling, that caresses rather than pummels and freshens rather than dries out the palate between bites. The Germans have always enjoyed their pork and sauerkraut with off-dry or decidedly sweet, tart edged Rieslings for the same reason.
More and more wine lovers are applying a food-focused logic when they look for a wine with just the right amount of sweetness to soften the hot spiciness of a curry, salsa or ceviche, or to balance the saltiness of a shoyu chicken or baked ham. What better wine than Riesling if you are looking for just enough acidity to round out a salad made with a fresh, tart fruit and mildly sharp vinaigrette; or just a touch of minerality to match nuances of umami (the delicious "sixth" palate sensation) that you find in field mushrooms, sea vegetables, vine ripened tomatoes, fish in natural broths, or "other white" meats when finished in intense, slow-cooked natural stocks?
Now that you know, it's time to shop. Many of the finest Rieslings are German, of course, still packaged in tall, slender, traditional green (Mosel) or brown (Rhine) bottles. German wine producers being no dummies, years ago many of them began to simplify the labels of even their finest, most complex wines - those coming from specific, highly ranked vineyards - by jettisoning the old, barely readable Gothic lettering and reducing the verbiage to the names of the producer and grape, much as they do in the U.S.
When you see a German wine labeled simply "Riesling," expect a light, easy, slightly sweet style of white wine. Sometimes the label will read Dry Riesling (or in German, Riesling Trocken), which is not like the sweet Rieslings of old but fuller and zestier, since all the natural grape sugars have been fermented to dryness. And sometimes you may see a label reading Half Dry Riesling (in German, Halbtrocken), indicating a white wine with just a whisper of sweetness.
It is really not as difficult as you may think to understand the labels of higher quality German wines, which have designations indicating amount of natural sugar in the grapes going into each wine, as well as the Germanic names of vineyards or villages. The important thing to know is if you see the words Riesling Kabinett, it almost always means the wine is going to be slightly sweet. If you see Riesling Spätlese (meaning "late picked" Riesling), the wine will probably be medium sweet; that is, a little sweeter than a Kabinett, and measurably sweeter than Half Dry Riesling. (Footnote for wine geeks: Technically, the quality levels represent the sugar content of the unfermented crushed grapes, or "must." This usually translates to a predictable level of sweetness in the finished wine, but increasingly in modern times this may vary depending on the wine maker's decision to ferment for additional alcohol and dryness.)
German Rieslings at the Auslese level and above are usually sweeter and more concentrated and very expensive (price tags exceeding $50 or even $100 for half bottles are not uncommon); made from grapes concentrated on the vine by a beneficial mold called "noble rot" - scientifically, Botrytis cinerea, and in German, edelfäule. What you'll actually see on the labels of such wines are words indicating increasing levels of sugar in the picked grapes: Auslese ("special picked"), Beerenauselse ("special picked berries"), or Trockenbeerenauslese ("special picking of dried berries"). Honeyed, viscous, refined and bursting with peach and apricot-like flavors, these styles of Riesling are ususally reserved either for desserts - think about fresh fruits in creamy sauces - or else for meditation, preferably in an airy room or lush garden, friends and music optional.
Quality by producer can vary, so Riesling fanciers soon learn whom to trust, based on experience or a recommendation from a trusted wine merchant or importer. The following producers, listed with their respective regions, are highly regarded:
Dr. Burklin-Wolf (Pfalz)
Dr. von Bassermann-Jordan (Pfalz)
Pfeffingen (Pfalz)
George Breuer (Rheingau)
Robert Weil (Rheingau)
Schloss Vollrads (Rheingau)
Franz Künstler (Rheingau)
Staatsweingut Assmannshausen (Rheingau)
August Kesseler (Rheingau)
Gunderloch (Rheinhessen)
Joh. Jos. Prüm (Mosel-Saar-Ruwer)
Dr. Weins-Prüm (Mosel-Saar-Ruwer)
Mönchhof (Mosel-Saar-Ruwer)
Dr. Loosen (Mosel-Saar-Ruwer)
Selbach-Oster (Mosel-Saar-Ruwer)
Willi Haag (Mosel-Saar-Ruwer)
Milz-Lauentiushof (Mosel-Saar-Ruwer
Forstmeister Gelz-Zilliken (Mosel-Saar-Ruwer)
Egon Müller (Mosel-Saar-Ruwer)
Weingut von Hövel (Mosel-Saar-Ruwer)
Carl von Schubert (Mosel-Saar-Ruwer)
It's hard to beat a German Riesling when it comes to Asian or fusion-style Pacific Rim dishes, especially with hot spices or aggressively sweet, sour, salty or even bitter sensations. But with foods with more subtle yet exotic flavors - like sashimi, steamed dumplings, chile flecked tuna tartare or carpaccio, white fish in citrus and herb butters, wood smoked pork or white game birds, gravlax or ponzu dipped salmon, any use of caviars, cured meats or pickled vegetables - a fuller-bodied, completely dry, even softer-style Riesling may be even better. Few followers of the grape would argue against the fact that the finest dry Rieslings in the world come from Alsace in France, and these are some of the most highly regarded producers:
Domaine Ostertag
F.E. Trimbach
Kuentz-Bas
Domaine Weinbach
Andre Kientzler
Albert Boxler
Domaines Schlumberger
The pickings are perhaps slimmer in each country, but there are choice numbers of perfectly fine, dry to medium-sweet Rieslings produced in Austria, the U.S., Australia and New Zealand. It's hard to go wrong with the following:
Fruewirth (Austria)
Lagler (Austria)
Chehalem (Willamette Valley, Oregon)
Eroica (medium-sweet Washington State Riesling by Dr. Loosen and Chateau Ste. Michelle)
Pacific Rim (dry-style by California's Bonny Doon, blending grapes from Washington State and Mosel Valley, Germany)
Hermann J. Weimer (Finger Lakes, New York)
Standing Stone (Finger Lakes, New York)
Leeuwin Estate (Margaret River, Australia)
Kim Crawford (Marlborough, New Zealand)
Villa Maria (Marlborourgh, New Zealand)
Exceptional contemporary food versatility and eternal sunshine of character have surely spun the spotlight back on the noble Riesling. Whether a burgeoning enthusiast or a worldly connoisseur, you are missing out if you aren't acquainting yourself with this Cinderella grape in its most recent, fabulous manifestations. Shall we dance?
May 2007
To contact Randy Caparoso, write him at randycaparoso@earthlink.net.
Back to Randy's World of wine
<!- Page Contents End Here ->