GETTING STARTED | WINE NOTES | SEARCH SITE | DISCUSSION FORUMS | 30 SECOND WINE ADVISOR | CONTACT US
<!TODAY'S TEXT STARTS HERE!>
Wine & Food Advisory
from the Melting Pot of the Pacific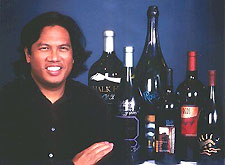 Awash in a River of Rhones
© Randal Caparoso
Doesn't anyone know the way to Paso Robles?
Some 1,500 wine lovers found their way to this hilly Western California town located an exact distance between San Francisco and L.A.. There, along with about 200 winemakers from California, France and Australia, they celebrated the 8th Annual Hospice du Rhone wine festival -- three days of tastings of Rhone style wines, plus barbecues, seminars and even a "Rhone Bowling" tournament (giving new meaning to the terms "wine geeks" and "cork dorks").
So what is a "Rhone," besides a river and France and, evidently, some wine lovers' version of extreme sport? The Rhone Valley spawned some 23 grape varieties, mostly red and some white, which were planted with great success beginning in the mid to late 19th century in both California and Australia. Even today, some of the greatest examples of Rhone style wines (besides those of the Rhone Valley itself) come from vineyards as old as 100 years from parts of South Australia.
No doubt, the king of Rhone style wines is the red varietal called Syrah, which the Aussies refer to as Shiraz (pronouncing it as "shee-razz"). The original Syrahs come from vineyard regions such as Cote Rotie and Hermitage in France; and there, as well as in Australia and California, the wine manifests itself as a big, blustery, headily perfumed (like violets and berry liqueurs) and spicy (blackpepper and incense) red wine. Although long a staple in many wine lovers' larders, it's actually been only during the past two or three years that the popularity of Syrah and Shiraz has exploded. Five years ago, for instance, a typical fine restaurant wine list might have carried one or two Syrah based reds; now they're more likely to have five or ten.
Why the sudden popularity of Syrah? Bob Lindquist, winemaker/proprietor of Santa Barbara's Qupe -- and one of California's original "Rhone Rangers" -- proffered this theory: "It's a natural evolution... people start with White Zinfandel, graduate to Merlot and Cabernet Sauvignon, and eventually work their way up to the best red wine of all -- Syrah!"
My opinion? In recent years, American wine lovers in particular have rekindled their passion for thick tannin style Cabernet Sauvignons, as well as full throttled, sometimes blazingly alcoholic red Zinfandels. The equally full, thick, yet exotically spicy Syrahs are indeed a natural extension of this taste. I think there's a good chance that consumers may come to prefer the lighter, silkier, more subtle and gentle styles of red wine such as those made from the Pinot Noir and Cabernet Franc. But for now, "big, juicy and hedonistic" is what they want, and the Hospice du Rhone is unquestionably the place where they can find it, in orgiastic quantities, every year around Father's Day.
As I did. Here is a list of my favorite Rhone style reds tasted on the Paso Robles Fairgrounds:
1995 Ermitage "Le Pavillon," M. Chapoutier ($45-$65) - This was the class, the inky-doo, of this teeth stained weekend. Produced by Michel Chapoutier, who has practically revolutionized wine growing and vinification in the Rhone Valley these past five, six years, this wine is like purple prose with impeccable diction - the explosive Syrah fruitiness reined by perfectly round and taut layers of flavor, suggesting roasting meat, cigar smoke, and juicy, succulent black and blue fruits. An "oh-my!" style of wine.
1998 Jasper Hill, "Emily's Paddock" Shiraz ($55-$75) - Ron Laughton, along with Michel Chapoutier, formed the "Bio-Dynamic Duo" who gave a seminar on minimalist intervention farming at the Hospice du Rhone. There's nothing wooly or particularly ambiguous, however, about either of these master craftsmen -- the tall and lanky Laughton looks more like a mailman, and Chapoutier a bright-eyed T.A. -- who produce wines epitomized by the "Emily's," which penetrates the palate like a bolt of electricity, lighting it up with vivid, thick, fleshy, sweet-spicy-smoky fruit, wrapped in silk and lingering, lacy sensations.
1997 d'Arenberg, "The Dead Arm" Shiraz" ($60-$80) - I realize that we are exploring the price and quality stratospheres of classic Syrah; nonetheless, this wine fully deserves mention since d'Arenberg's Chester Osborn was named the Hospice du Rhone "2000 Man of the Year," and his '96 "The Dead Arm" was given the "2000 Syrah/Shiraz Trophy." I'm also told that at last year's festival, Chester's "bowling ball throwing" (as they say) team won the tournament, although the French reclaimed the title this year. What about us Americans? Oh well. In '97 "The Dead Arm" is a wine to reckon -- black as night, the aromas sweet and lusciously concentrated, and the flavors meaty, viscous, juicy and liqueur-like, storming across the palate like a perfectly formed waves.
1997 Qupe, "Bien Nacido Hillside Estate" Syrah ($30-$40) - Vinified from a spectacular hilltop vineyard overlooking the relatively cool, but sun washed, Santa Maria Valley, this reserve level cuvee looms head and shoulders over the rest of the California grown Syrahs. The sweet violet, black fruit fragrance is spiked with fennel, cracked pepper and crushed resiny herb aromas; thick, almost gooey rich on the palate, giving a lush mouth-feel in spite of a belt of tannin at the core. The closest thing to classic Cote Rotie made in the New World.
1997 Bonny Doon, "Le Cigare Volant" ($25-$30) - The Syrah grape plays second fiddle in this Rhone style blend from California, dominated by Grenache and deepened by a smattering of Cinsault. The result is a meaty, beaty, bouncy mouthful; outwardly soft, almost tender like Angelina Jolie's lips, but like Kate Moss, sufficiently taut and very much in need of food. Grill crossed beef or pork in Asian marinades would accent the smoky, white peppery spiced aspects of the "Le Cigare"; but I bet roasted tomatoes and peppers would bring out the inner, red fruit core.
1997 d'Arenberg, "The Custodian" Grenache ($19-$24) - Although made from the Grenache -- a grape that produces as much swill as swell all around the world -- "The Custodian" is no janitorial debris. It's the Osborn family's collection of old, derelict vineyards in the scrubby hillsides of South Australia's McLaren Vale that make them the producers of the richest, brightest Grenache based reds in the world. d'Arenberg's importer, Rob McDonald, calls this wine a "raspberry fruit bomb"; and indeed, it's fairly bursting with jammy red fruit, but bolstered with full thick tannin, which lashes the wine's fruit concentration across the palate.
1998 Cedarville Vineyard, Syrah ($25-$30) - The joy of gatherings like the Hospice du Rhone is that you often find unexpected pleasures from virtually unknown producers, such as this totally new, tiny family estate located in the Sierra Foothills of El Dorado County. The Cedarville's sweet, juicy, luxuriously ripened Syrah aroma is the closest thing in California to the intensity regularly achieved by Australia's old-vine plantings; and the wine's sumptuously round, dripping fruit sensations are what take the cake.
1996 Seven Peaks, Paso Robles Shiraz ($15-$20) - While poised in a more reasonable price range, this California grown red (given the "Shiraz" moniker because the winemaker is Australian) is a plush nugget of find. A sweet, ripe, red and black berry fruitiness is polished with generous, smoky/vanillin oak; fruit-forward sensations plus soft tannins combine to give a medium-full, round, supple, fleshy feel, rolling and tumbling across the palate.
July 2, 2000
To contact Randy Caparoso, write him at randycaparoso@earthlink.net.