GETTING STARTED | WINE NOTES | SEARCH SITE | DISCUSSION FORUMS | 30 SECOND WINE ADVISOR | CONTACT US
<!TODAY'S TEXT STARTS HERE!>
Wine & Food Advisory
from the Melting Pot of the Pacific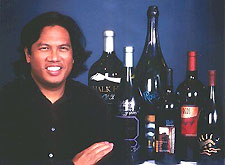 Paris 1976 Revisited
© Randal Caparoso
Caesar crossed the Rubicon, and Washington crossed the Delaware. You could say that the great turning point for American wines took place in the Academie du Vin of Paris. The year was 1976; when nine of France's top wine experts mistook a California Chardonnay for a white Burgundy from France, and a California Cabernet Sauvignon for a red Bordeaux, and rated those wines better than some of the most venerated estates of their own country. A self-inflicted slap heard around the world!
Since then, this sort of tasting -- pitting American wines against similar wines from other countries -- has been repeated over and over again, especially by vintners hoping to look good at the expense of others. The difference between now and 1976, however, is that the results are predictable for a different set of reasons. The reason why the French judges were taken by surprise 24 years ago was that their prior experience of California wines was virtually nil. In this situation -- when you are judging wine in a vacuum -- almost anyone tends to pick the wines that stand out the most, "first." And big, weighty, intensely fruity California wines certainly stand out.
But these days, when French wines are compared to California wines, you can always predict the outcome of a "taste-off" by the makeup of the judges: if the judges are accustomed to the taste of French wine, French wines are almost always preferred; whereas, in a roomful of judges who are used to the taste of California wine, California wines will "win."
Which is exactly what happened earlier this month at the Halekulani Hotel, when Artisans & Estates -- an enormous California wine company made up of over a half-dozen brands, all owned by Jess Jackson, founder of Kendall-Jackson -- invited about 60 Honolulu wine professionals and enthusiasts to judge their red wines against some of the greatest wines of Bordeaux in France, as well as against a few competing California estates.
While among this particular group were some people who drink French wine more often than California wine, the vast majority of the Honolulu tasters were far more familiar with the taste of California Cabernet Sauvignon and Merlot. And why not? With the average retail price of grand crus Bordeaux now exceeding $50 a bottle -- and every one of the French wines in this particular tasting cost over $150! -- who can afford to drink French?
All the wines in this January 2000 showdown were tasted "double blind" -- meaning, the identities of the wines tasted were unknown -- and in seven rounds of groups of three. So in the first round, the popular choice of "best wine" was the 1996 Kendall-Jackson "Cardinale," a California wine made predominantly from Cabernet Sauvignon and retailing for just over $100. The second place wine was the 1995 Opus One, a Cabernet based wine made in Napa Valley retailing for about $125. And the third place wine was the 1996 Chateau Lafite-Rothschild, the legendary red Bordeaux which retails for over $150!
So what happened? It's that rule again -- we appreciate that to which we are accustomed. Later, when I privately polled the small number of tasters known to be predisposed towards Bordeaux, I found that they rated nearly all the French wines the highest. Even under double-blind conditions, French wine lovers tend to prefer the smoky, earthy aroma and rounder, more velvety taste of, say, a Chateau Lafite; over the lush, sweet fruit aroma and harder, fuller bodied taste of a top-of-the-line Kendall-Jackson. There may be no accounting for taste; but in a voting situation, the minority loses!
But as Julius Caesar himself said, "I would rather be the first man here than the second man in Rome." With this conceit in mind, here are the 10 wines that I personally rated "first," in spite of the others:
1996 Chateau Margaux (about $290) - Not that I have expensive taste, but I found this wine to be the most supple and sweetly concentrated of the day, with a smoky coffee, vanilla bean, and blackberry intensity in the nose.
1996 Chateau Haut-Brion (about $150) - This wine was even fuller and more densely packed than the Margaux; yet just as velvety, with soft leather underpinnings and smoky, plummy aromas.
1995 Chateau Mouton-Rothschild (about $200) - The roasting expresso, coffee pea-berry aroma of this wine is as expressive as a Roman nose; on the palate, perfectly smooth and supple flavors of black fruit and smoke, filling the mouth in layers upon layers.
1996 Chateau Lafite-Rothschild (about $150) - Truly exotic aroma -- earthy, mushroomy, French roast and cassis-like berry tones -- followed by full, flowing flavors, ending on a touch of a dry note from youthful tannins.
1996 Chateau Latour (about $195) - This was both the most tobacco-like and the roundest, most velvety textured of the premier grand crus in this tasting; with suggestions of stone and roasted peppers, spiking the wine's smooth, elegant feel like the mash in a mint julep.
1996 Stag's Leap Wine Cellars "SLV" Cabernet Sauvignon (about $100) - Amazingly, it was the '73 Stag's Leap which baffled the French experts back in 1976; and it was the '96 Stag's Leap which seemed to be preferred above all the other California Cabernets tasted by Honolulu's own "experts." Like the top French wines, this wine showed flawless balance -- round, fleshy, yet firm on the palate -- while leading with a distinctly "California" roll of sweet, blackcurranty fruit and smoky oak in the aroma.
1995 Chateau Petrus (about $600) - While this is the most coveted Bordeaux of all, the Holden Caulfields of the wine world can take comfort in knowing that the only people who rated it "best" were clearly influenced by whispers, racing across the room like a bat drunk on bombast, that "this is probably Petrus." It seems that some of the sommelier staff who did the "secret" pouring could not keep mum. But those who ignored the murmurings found the Petrus to be merely "excellent," rather than orgasmic -- thick and juicy, yes, but no more layered, in fact less complex in the aroma, than some of the other Bordeaux crus in the tasting.
1995 Opus One (about $125) - This wine combines brightly fruited aromas with traces of tobacco-smoke and green herbs, plus a silken texture over a slightly hard, muscular core of concentrated fruit -- a California exuberance restrained by a French sense of elegance. It is no coincidence that Opus One is always made from Napa Valley grown fruit owned by Robert Mondavi; but crafted by French trained winemakers provided by Chateau Mouton-Rothschild. A truly successful détente!
1995 Lokoya, Mt. Veeder Cabernet Sauvignon (about $100) - This is head-and-shoulders the most spectacular and expressive of Jess Jackson's properties, almost worth the price of admission. Its aroma is simply huge -- powerfully sweet, concentrated blackberries, with mocha coffee tones -- and on the palate, there is a sense of opulence bolstered by thick, gripping qualities. Who needs subtlety with such compelling bravado!
1996 Peter Michael "les Pavots" (about $75) - Another powerful, distinctively Californian style, piling an herbal edged, blackberry syrup-like intensity onto strappingly big, smoky-oaked, almost sticky rich flavors.
Finally, as much as the group or individuals may have enthused about them, there were some pluses and minuses found in the rest of the commercially available wines in this tasting:
1996 Robert Mondavi "Reserve" Cabernet Sauvignon (about $100) - A modern classic of true depth and beauty; but with a big, pungent, toasted oakiness contributing more to the flavor than the taste of the Cabernet grape itself.
1995 Caymus "Special Select" Cabernet Sauvignon (about $135) - Another California "big gun" with a rounded structure and powerful fruit; but when compared to the French wines, buried under a blatantly oak derived, spicy, vanillin intensity.
1996 Kendall-Jackson "Cardinale" (about $100) - Lean, sweet/tart feel taking the edge off a genuinely bright, lush fruit quality
1996 Kendall-Jackson "Grand Reserve" Cabernet Sauvignon (about $75) - An aggressively Californian (i.e. unsubtle) style, with a ripe, candy-sweet, heady aroma, and spicy, vanillin oak qualities wrapped around luscious, fat fruit flavors.
1996 Stonestreet "Legacy" (about $110) - Another Jess Jackson owned, California Cabernet based blend with a strangely citrus scent contributing to a sharp, lean, hard feel on the palate.
1996 Diamond Creek "Red Rock Terrace" Cabernet Sauvignon (about $125) - A California estate with a bigger rep than its flavor; lean, sharp, bony structure undermining chocolaty, sweet berry fruit.
1996 Chateau Leoville las Cases (about $200) - While round and fleshy like the better Bordeaux bottlings, marred by an earthy, dirty edge.
Jan. 14, 2000
To contact Randy Caparoso, write him at randycaparoso@earthlink.net.