<!- Page Contents Begin Here ->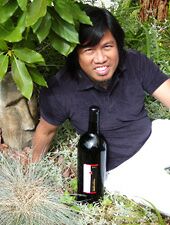 Wine & Food Advisory
from the Melting Pot of the Pacific
The once and future Pinot Gris
© Randal Caparoso
Is Pinot Gris - also known as Pinot Grigio - the white wine variety of the minute, the new year, or even the third millennium?
Why not? As a white wine, Pinot Gris has a lot going for it. It is usually dry (and just occasionally, off-dry) but not as heavy as Chardonnay, nor as tart as Sauvignon or "Fume" Blanc. It is never as fragrant as Riesling, but not nearly as light or sweet as most Rieslings.
Yet as good and refreshing a wine it makes around pools and on backyard decks, Pinot Gris is definitely a serious wine. Meaning, it can be seriously flavorful. Like I said, not a lot of perfume, but a compelling mix of gently floral, fruity (like dripping melons, apples, pears, and sometimes lemon), and stony, minerally aromas. I like the last part, since I prefer my wines to be more than just fruity or flowery.
In fact, a good Pinot Gris makes me think of flowing brooks over smooth stones as it stretches across the palate with its silky texture and bright, crisp edges. Combine that with a meltingly soft filet of salmon - grilled, poached or baked, with dollops of cream or butter sauces - or any white meat (from fish and shellfish to chicken and pork) lavished with lemon, leafy green herbs, exotic spices, or even fruit salsas and relishes, and you're really in business. Getting thirsty? First, your history and geography lessons ...
Viticulturally, Pinot Gris is actually a clonal variation of my favorite red wine grape, Pinot Noir; the latter, Jancis Robinson describes as "notoriously degenerate" due to its tendency to "mutate at the drop of a gene." The scientists of the vine say that Pinot Gris probably split off and grew alongside Pinot Noir during the Middle Ages (as far back as the sixth or seventh century) in their ancestral home of Burgundy, France.
I like to think that this explains why, the first time I saw it growing in an Oregon vineyard some eleven years ago, I mistook the Pinot Gris vine for a Pinot Noir, since Pinot Gris clusters still retain a grayish blue color of ripening red grapes; although the pigmentation is so weak that it dissipates during normal fermentations, thus making a proper "white" wine (or at the most, a white wine with a vaguely coppery cast).
I'm also told that smatterings of Pinot Gris are still grown in amongst many of Burgundy's most famous Pinot Noir vineyards; utilized by the crafty Burgundians to add a combination of zip and softness to their red wines. However, France's most important Pinot Gris vineyards lie further north on the west side of the Rhine River, in the region known as Alsace. Alsatian Pinot Gris is as fine, and often strikingly minerally, as they come; but nowadays, also a bit pricey. Crisp, medium bodied styles made by my favorite producers - notably, F.E. Trimbach, Zind-Humbrecht, Domaine Ostertag, Kuentz-Bas, Domaine Weinbach, Andre Kientzler and Albert Boxler -- start in the $20 range.
If you visit a specialty wine store you will also find that the Alsatians have made it something of a fetish to produce enormously full (alcohol levels exceeding 14%), dizzyingly aromatic (like honey on sweet buttered toast), and viscous, almost oily textured bottlings of Pinot Gris identified by designations such as Vendange Tardive ("late picked") or "Reserve." You'll also know them by their price tags - anywhere from $50 to $100. While not exactly poolside fare, your appreciation of this powerhouse style may grow once you develop a taste for the Alsatians' other fetishes; such as foie gras, chicken and veal in buttery sauces, and things like truffled pate and cou d'oie farci (goose neck stuffed with sausages, cooked in buckets of goose fat), which they enjoy as "appetizers."
Personally, I still prefer a lighter, simpler, zesty Pinot Gris, and the finest examples of this style are made across the river from France in Germany's Baden, Pfalz, and Rheinhessen regions. German Pinot Gris - usually bottled by one of the two German names for the grape, Rulander or Grauburgunder - are not commonly found in the U.S. in spite of the fact that more Pinot Gris is planted in Germany than in any other country in the world. There is one made by Weinhaus Heger (who actually bottles his exports as "Pinot Gris") that I once found to be so lithe and whispery scented that I flew all the way to Baden, like a man in the throes of passion, to beg the proprietor Joachim Heger to vinify a special blend just for me. As it were, he did; and the results (imagine the refined, multi-faceted qualities of Pinot Gris enriched by a creamy texture achieved by French barrel fermentation) were worth every cent, and aching muscle, of those 18 hour flights.
More commonly seen in the U.S. are Pinot Gris bottlings from Oregon, and Pinot Grigio bottlings from Italy. More recently, we have also been seeing some fine, but fuller and riper toned, styles of Pinot Gris coming out of California's warmer growing regions.
Oregon grown Pinot Gris - pioneered by producers such as Eyrie, Ponzi, Erath and Adelsheim in the 1970s - tends to hit a nice, middle ground between the full, strongly earthy style of Alsace and the light, easy style of Northern Italy. To me, the most perfect example being produced right now is by WillaKenzie Vineyards - an amazingly pure, prettily perfumed, creamy, lacy textured style of Pinot Gris - although the regular and "Reserve" bottlings by King Estate, Rex Hill, Chehalem, Hinman, and Cristom also rank among the finest coming down from Oregon today.
Because Pinot Gris is essentially a cold climate grape, California growers have been slower to warm to the charms and commercial potential of the varietal; although in recent years prestige producers such as Chalk Hill, Luna, and Babcock have been making up for lost ground with impressively elegant, mildly oak influenced (vanilla and smoky notes) styles of this variety. Even better introductions to the exuberantly round, rich California style may be those done by J Wine Co. - inundated with soft, almost succulent varietal fruitiness - and a rare, but exceedingly charming, personal favorite of mine, that of Handley Cellars in Anderson Valley.
Almost because it is so extraordinarily popular, Italy's Pinot Grigio may be one of the most under-respected (even by Italians!) wines in the world. Aromatically, the Italian style may veer slightly more towards the neutral side of the grape, but the flavors are almost always mildly crisp yet soft, typically stony, and refreshingly dry. What's not to like? Not every wine should crush the palate like a California Chardonnay, or blow you away like an Alsatian Vendange Tardive.
The markets are flooded with decent Italian Pinot Grigio. So what I did was march down to my nearest wine store and pick out four of the most consistently fine brands of Pinot Grigio that I have known. I paid only between $7 and $11 for each of them except one. To me, great price is always part of the charm! Here's how they compared:
2001 Kris, Pinot Grigio delle Venezie - Fresh flower, lemon and lavender notes in the nose with nuances of spice (like cinnamon and musk). Light-medium body and stony dry taste and feel, braced by gentle acidity. No an especially intense or complex style of Pinot Grigio; then again, who's expecting "deep" for just $9 or $10?
2001 Ritratti, Trentino Pinot Grigio - A softer (lower acid), smoother, rounder style of Pinot Grigio, giving subtlely spiced apple and licorice fragrances embedded in the stony varietal character; the flavors picked up on the palate by a lush, viscous feel on the palate.
2001 Zenato, Pinot Grigio delle Venezie - Like the Kris, also from Veneto, a region better known for wines such as Soave and Valpolicella. But the Zenato is an exceptional producer, and this example shows off lusciously ripe, pear-like fruit laced with an airy fresh note reminiscent of sea salt splashed against flinty white rock. A rich, full, layered, dense yet soft and buoyant feel, allowing the honeyed pear-like fruit to drape long, almost lazily across the palate. Lovely length and flavors.
2001 Livio Felluga, Colli Orientali del Friuli Pinot Grigio - The priciest of the bunch ($18), but fascinatingly scented with peach and anise-like notes, packaged in a zesty edged medium body that fills the palate yet feels refreshingly easy.
Then, because I was feeling rather unscientific about this tasting - what's Italian wine without food? - I decided to re-evaluate all the wines alongside my personal version of Italian fast food: linguine tossed with olive oil warmed with a clove of garlic, a touch of cream style butter, freshly chopped parsley and Mexican mint marigold (a green herb that gives a creamy licorice-like taste), sliced white and shiitake mushrooms, a squeeze of sweet Meyer lemon, shavings of authentic Pecorino Romano, and finally (any excuse to use it!), a splash of nostril tingling truffle oil.
As I hoped, the lemon, mushrooms and marigold connected magically with the soft acidity and stony, licorice-like notes in the wines, but the one that seem to flow the easiest across the palate in context of the linguine was the round and lusciously fruity Ritratti; in fact, better than the Zenato, the Pinot Grigio I enjoyed the most on its own.
Both the Kris and Livio Felluga left the palate clean and refreshed after each bite, but the smooth, almost oily texture of the Ritratti did them one better by smoothing out the smack of garlic and sharp, salty taste of the Pecorino. It was an $11 wine that made me feel, for a few moments, like a king. What's not to like, indeed!
January 2002
To contact Randy Caparoso, write him at randycaparoso@earthlink.net.
Back to Randy's World of wine
<!- Page Contents End Here ->