<!- Page Contents Begin Here ->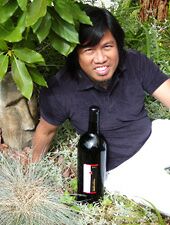 Wine & Food Advisory
from the Melting Pot of the Pacific
American Pinot Noirs at a Crossroads
© Randy Caparoso
The love and lamenting of the Pinot Noir grape in the U.S. goes back some time. In 1896 a respected U.C. Davis professor submitted: "In some localities (of California) it is doubtless possible to make Pinot Noir wine of high quality and to age it, but only with a minute attention to detail and an elaborate care, which no price that is likely to be obtained at present would justify."
In the late 1960s the late, great Andre Tchelistcheff was reported to have said, "Pinot Noir is scrawny and broods about the slightest offense. All the challenge is getting the surly child to smile."
In the early 1980s, following a decade and a half of mild, promising success with the grape in the American industry, the ever eloquent Forrest Tancer wrote: "Talk to any winemaker and you will find Pinot Noir is his most difficult child. To many parents, the most difficult child is also the most challenging. And the most challenging child is often the most rewarding."
At the end of this past April I attended a tasting of 75 American-made Pinot Noirs, and in May I tasted another 45 "limited production" Pinot Noirs in the annual Los Angeles County Fair. This is what I have to say: Almost unbelievably, of all the classic varieties of vinifera grown in the U.S. (Cabernet Sauvignon, Chardonnay, Syrah, Riesling, etc.), Pinot Noir now seems to reach the highest level of consistent quality. The list of its dedicated, thoroughly accomplished practitioners make up a sizeable legion, and very seldom do they bottle a discouraging wine. In fact, standing on the shoulders of Andre Tchelistcheff, Martin Ray, David Lett, Joseph Swan, and other storied pioneers of the grape, they are more likely to produce a Pinot Noir that inspires awe rather than chagrin, and sheer pleasure as opposed to those old feelings of want and wince.
Then again, I've always had a tendency to cry whenever I taste a great Pinot Noir. Luckily, I live alone and can partake of my Pinots in private these days.
And as any Pinot Noir lover would attest, the relationship is a highly personal one. Me, I lean towards the more delicate, soft and comely style, sweetly scented and easy on the palate. Not that a fuller, slinkier, more generously spiced and voluminous style doesn't thrill me. I wouldn't say no to that either.
But I do enjoy multiple variations of my preferred style; as you will see in the following 10, listed in order of my favorites:
2001 Fiddlehead Cellars, "Lollapalooza," Fiddlestix Vineyard, Santa Ynez Valley - My notes say "wow ... deep, smoky, opium den scents and spices." I've never been to an opium den, so judging from the reaction you can say that this Pinot Noir is intense and regal enough to alter the mind somewhat. Maybe it was my tearing up from the smokiness and perfume redolent in the glass. In any case, winemaker/proprietor Kathy Joseph has always had the touch, firm yet sensitive, as she has structured this estate bottling with deftly managed tannins and an amazing length of embedded Pinot fruit qualities. Like I said ... wow!
2001 Etude Wines, Carneros - I haven't been so enthused by one of Tony Soter's Etudes in years, and it's in the measure of pure pleasure that this bottling breaks the scale - sweet, penetrating red fruit aromas, transformed on the palate into fresh, lively, satin laced flavors juiced up by rounded tannin and zesty acid underpinnings. My kind of Pinot!
2001 Beaux Freres Vineyard, Oregon - Mike Etzel cultivates his estate grown vines as you would a bed of show stopping roses - with meticulous, unmitigated passion - and it shows. The nose captures the juiciest qualities of the grape - wild berries mixed with violet and smoke of oak - which light up and practically dance upon a palate underlain by round yet sinewy tannin. If you like a Pinot that lays all out on the line, there you are.
2002 Patz & Hall, Sonoma Coast - This winery consistently achieves the meatiest qualities of the grape with a controlled sense of finesse. Aggressively charred French oak will do that, fanning out the bouquet and plumping up the feel; but there is also great depth of sweetly perfumed fruit, kissing the tip of the tongue and lingering long after the generous tannins have fallen away.
2001 David Bruce, Santa Lucia Highlands - This is as bright and zesty as a California style Pinot gets. The lush, fragrant aromas seem multiplied by restrained touches of herby spice and smoky oak; and none of the embellishments seem to take away from the taste of pure, fresh, lively, sweetly berried Pinot Noir fruitiness, gushing onto the palate until firming tannins grab hold and add dramatic textural contrast.
2001 J Vineyards, Russian River Valley - The style of J has been growing on me lately. They never seem preoccupied with capturing the blackest pigmentation - the color here is a perfectly pretty, translucent ruby - and silken grace and texture are all they seem to need to highlight the energetic, perfumed fruitiness natural to Russian River grown Pinot. The feel is almost languorously soft, liquid, long and refined, but the quality of the grape rings fresh and vibrant with sweetened spice.
2002 Williams Selyem, Russian River Valley - This Sonoma stalwart trots out a stable of outstanding Pinot Noirs each year, and I generally find this bottling to be their best. The Pinot fruit is lush and gorgeously framed by toasted oak; a full, muscular feel on the palate, with oak enriched fruit expanding to achieve classic juxtapositions of velvet on iron, and strength with delicacy. If Pinot is a feminine grape, Williams Selyem makes a raving beauty that can slug it out with the best of them.
2001 Handley Cellars, Anderson Valley - This under-appreciated Mendocino winery has established a solid record of Pinot Noirs that capture the spice complexities of the grape with great regularity. No, I wouldn't describe it as finesseful; but autumn fresh, cherry-berry, red licorice, smoky oak, dried leafy herbs and peppermint leap from the glass and roll onto the palate with a round, smoky, tannin thickened but brightly fruited, compelling persistence of a finish.
2000 Erath Vineyards, "30th Anniversary Reserve," Willamette Valley - This velvety rich bottling is a fitting tribute to Dick Erath's long held position at the forefront of Oregon's growing army of Pinot Noir masters. Finely scented, blue and red berry aromas of crystal clarity mix with nuances of raw beef and polished oak in the nose; in the mouth, an initially pliant feel that becomes round and meaty, the autumn berry fruitiness layered over moderate tannins to engineer a fine, seamless finish.
2002 Frey Vineyards, Anderson Valley - It seems that being founded upon principles of 100% organic viticulture and vinification (no added sulphur, among other things), plus the cosmos-related quirks of biodynamique, automatically relegates Frey's offerings to the shelves of health or natural food markets rather than exclusive fine wine shops. Yet for the past 20-plus years, this family has been producing deliciously fresh, fruit driven wines of eminent ease of drinking. You like drinking wine, don't you? The Pinot spice in this bottling is sweet and juicy rather than big and boisterous; the flavors, brightly focused and forward, played up by unobtrusively gentle, natural tannins, and evidently no discernible oak. Then again, why not ... just enjoy?
June 2004
To contact Randy Caparoso, write him at randycaparoso@earthlink.net.
Back to Randy's World of wine
<!- Page Contents End Here ->