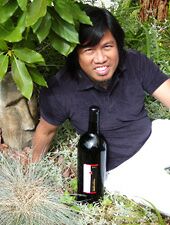 Wine & Food Advisory
from the Melting Pot of the Pacific
Is Pinot Noir the ultimate food wine?
© Randal Caparoso
"Food wine." Now, there's an expression inviting debate. Wine snobs don't like it because they believe that the quality of wines should go beyond that of matching food. Something moving, mystical, or "awesome" as one famous wine writer is wont to say. The vast majority of wine consumers, on the other hand, primarily thinks of wine as something to go with a meal; or else as a cocktail. Cheers, cin-cin, mud in your eye, and all that.
It's up to you to decide which camp you belong to. Me, I like my wine with food. A medium-done cheeseburger – give me an easy drinking Cabernet Sauvignon. Open-fire-grilled fish and Chinese cabbages -- a light, snappy, fragrant Spanish Albariño, or lemon-zested French Sauvignon Blanc (such as Sancerre or Pouilly-Fumé).
But to me, the ultimate food wine – the only one you'd want to be stuck with on a desert island – is made from the French grape called Pinot Noir. Why? It's a red wine, with moderate degrees of tannin (the stuff derived from the skins and seeds of fermenting grapes), and so it goes perfectly well with meats with some degree of fattiness; especially with a twist of pepper or slightly bitter vegetables on the side.
But the tannin of Pinot Noir is also very soft, very tender, making this usually a very sleek, smooth, easy drinking red wine that goes just as well with white meats like fish, veal, pork and chicken. In fact, I'd venture to say that a slightly chilled bottle of typical Pinot Noir is just as soft and easy to drink as most California Chardonnays.
There was an interesting story by humorist Calvin Trillin in a recent New Yorker (Aug. 19-26, 2002) about tests run by the University of California at Davis that proved that under certain circumstances – when a white and a red wine are poured at room temperature into black glasses so that tasters cannot see the color of the wines – most wine consumers, including experienced connoisseurs, cannot tell the difference between the taste of white wine and red. (ED. NOTE: See footnote below.)
This is not surprising to me, since every person in the world places enormous stock on visual impressions first. We see something, and we simply presuppose how it's going to smell and taste. We know that apples, for instance, are crisp, sweet and drippy. But if we close our eyes, hold our nose and bite into an onion, chances hard we won't be able to tell the difference because onions are also crisp, sweet and drippy.
Telling the difference between a Chardonnay and Pinot Noir served at the same cool temperatures with our eyes closed can be just as problematic. Both wines tend to be full in alcohol, fairly soft in feel, and taste somewhat like spiced fruit and smoke (the latter quality derived from the charred oak barrels in which Chardonnays and Pinot Noirs are typically aged before bottling). But unless you are particularly conscious of the subtle, aromatic nuances between the two – Chardonnays tend to smell like apples or pears, and Pinot Noirs like red berries – you won't be able to tell the difference. If you don't believe me, try it. Bring out the black bandanas at your next wine party.
I once heard a well-known wine personality, Joshua Wesson, describe Pinot Noir as a "cross-dresser." It's a red wine that thinks it's a white because it's crisp and soft enough to go with more "white wine dishes" than most white wines.
This is why I think of Pinot Noir as the ultimate food wine. Here are its classic food matches:
Leaner meats (veal, chicken, turkey, rabbit, any game bird, and filets of beef or pork, and a well-drained duck)
Smoked, wood-roasted, braised or sausage meats (with the use of beef, lamb and pork)
Earthy flavors (truffles, wild mushrooms, mustards, peppercorns, coriander and horseradish)
Resiny or scented green herbs (rosemary, thyme, tarragon, oregano, summer and winter savory, chervil, mints and basils)
Aromatic sweet spices (clove, cinnamon, mace, allspice and nutmeg)
Sweet vegetables (such as tomatoes, beets, carrots, caramelized onions and bell peppers)
Autumnal fruits (figs, plums, blackberry, raspberry, blueberry, currants, black and dried cherries, etc.)
Natural stocks and sauces rounded with butter
Slow cooking processes (braises, pot-au-feu, etc.)
Mild or creamy cheeses (Brie, Camembert, herbed cremes, Cheddar, Havarti and jack)
Put any balanced combination of the above into a dish, and there's a good chance that you'll have a match for the soft, velvety, earthy, smoky, sweet berry, spice and earth toned qualities of Pinot Noir.
But lately consumers of more contemporary styles of foods and wines have been discovering just how far, and effortlessly, Pinot Noir will go beyond brie, beyond boeuf bourguignonne, beyond coq au vin, and even beyond fig-stuffed pigeon and other proven settings.
When you sear scallops with powerfully aromatic truffles or truffle oil, for instance, all of the sudden it's a dish for Pinot Noir rather than anything white. In Oregon, winemakers like to serve their Pinot Noir with Northwest style plank-smoked salmon. In Hawaii, it's all about the finest tuna in the world, in brothy, earthy ponzus.
In my world, Pinot Noir is license to drink red wine with sweet/spicy, earth-toned or mildly bitter Asian flavors such as star anise, wasabi, hoisin, Japanese radishes, seaweeds, lotus root, fennel, toasted sesame seeds, sesame oil, mizuna, shiso, shiitakes, and even mild teriyaki marinades and glazes. All of which can actually bring out the mildly sweet, zippy, toasty, earthy, and wonderfully beefy qualities of Pinot Noir, and vice-versa.
No question, the taste of Pinot Noir becomes altered in exotic food contexts. Snobby wine connoisseurs may protest, but who cares? For me, it's a natural way to the life we've always craved – one wine, and mind, altering experience after another.
So that's my ode to Pinot Noir. What do you look for? I'm just one pinophile, but my favorite brands retailing between $12 and $24 are probably those of Witness Tree, Griffin Creek, King Estate and Rex Hill from Oregon; and Bear Boat, Iron Horse, Handley, "J," Costa de Oro, Fetzer and De Loach from California.
If you're willing to spend more (between $25 and $50), then you'll be blown away by Domaine Alfred, Etude, Littorai, Williams Selyem, Flowers, Talley, Fiddlehead, Au Bon Climat or Ici/La-Bas from California. From Oregon, the "big guns" (although the style of Pinot Noir made in Oregon is very delicate, fine and silky) are Archery Summit, Rex Hill "Reserve," Ponzi "Reserve," Chehalem, Cristom, Ken Wright, Beaux Freres, WillaKenzie and Willamette Valley Vineyards.
There are more high-quality producers, of course, but this is as good a start as any. Eyes wide open or shut, it's hard to go wrong with Pinot Noir at any table!
Oct. 15, 2002
UC Davis comments on the New Yorker story
UC Davis wine scientists note that Trillin's essay, although essentially correct in its conclusions, is based on an "urban legend" about the Davis tasting system. In "End Notes" to the Fall 2002 edition of (UC Davis Online, Associate Editor Barbara Anderson wrote:
"Wine and noses. [The] New Yorker ... contains an article by humorist Calvin Trillin, who set out to investigate the so-called 'Davis Test' - a purported blind tasting of red and white wines that supposedly proved even experts can't always tell the difference between the two.
"Trillin came to the source: UC Davis' Ann Noble, professor of viticulture and enology and expert on sensory science, whose wine aroma wheel has helped scores of novices differentiate between a Pinot Noir and a Zinfandel.
"Noble's verdict: The 'Davis Test' is an urban myth. The test she gives her students asks them to identify the varietal by use of smell alone. 'The minute you put it in your mouth,' she told Trillin, 'it's game over.' To prove her point, Noble offered Trillin two black glasses, one filled with red wine, the other with white, for him to taste. He got it wrong."
To contact Randy Caparoso, write him at randycaparoso@earthlink.net.
Back to Randy's World of wine
<!- Page Contents End Here ->