GETTING STARTED | WINE NOTES | SEARCH SITE | DISCUSSION FORUMS | 30 SECOND WINE ADVISOR | CONTACT US
<!TODAY'S TEXT STARTS HERE!>
Wine & Food Advisory
from the Melting Pot of the Pacific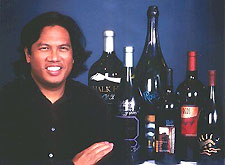 A bowlful of Pinots!
© Randal Caparoso


"I am thinking of very old nuns," says the character played by Steve Martin in All of Me, in an attempt to suppress his libido.
I couldn't help thinking of that during a tasting at the annual International Pinot Noir Conference held last month in McMinnville, Oregon. It was a gathering, as it were, of true believers in the beauty of this red wine varietal, Pinot Noir; and the taste of such well matured specimens as the 1976 Eyrie "Southblock Reserve," the 1987 Erath "Leland Vineyard Reserve," and a 1979 Maison Leroy Savigny-Les-Beaune "Les Serpentieres" from France was enough to send this particular crowd into realms of rapture.
But for me, alas, it was just "old wine" - a bit tired, somewhat wrinkly. Granted, the Maison Leroy showed a soft, beefy, almost consomme-like texture, the Eyrie a breath of liquid woodsmoke, and the Erath a lean but nobly etched resiliency; and no, I was not thinking, "could've had a V-8." But my own taste does happen to run towards younger, livelier Pinot Noirs; ones with nappier textures, more sprightly acidity, knobbier tannin, and a more freshly fecund, stumbling, almost uncouth fruitiness.
Think of the joy of holding, by the stem, a single, plump, shimmering, perfect cherry; and voila, it disappears between the teeth with a spurt, and jolt, of juiciness. This, to me, is what a perfect, and perfectly youthful, Pinot Noir is like. And let me tell you, I found a bushel of such wines in the college town of McMinnville, where life can be such a bowl of Pinots.
Especially for someone like me, who enjoys such Pinot-friendly foods as pasta in sweet, chunky, fresh basil infused tomato sauces, grilled salmon in ponzu style vinaigrettes, and Hawaiian style tuna poke with flecks of chili, slivers of sweet Maui onion and sea vegetables in soy and sesame oil. I'll take an unquiet, quiveringly spiced, even nasty, young Pinot Noir with that any day!
So what are the best and brashest Pinot Noirs entering the market today? Here are 20 of my "cherries" out of the 100-plus tasted on this memorable weekend amidst the pines:
1998 Au Bon Climat, "Knox Alexander" Santa Barbara Pinot Noir - For the first time in years, my favorite choice at the IPNC did not turn out to be one from Oregon, but from California's Central Coast; where winemaker/proprietor Jim Clendenen fashions Pinots like this -- hugely concentrated, yet perfectly proportionate and silken textured, bursting into the mouth with a wild and rambunctious, "party juice" spiciness. A poolful of cherries!
1998 Penner-Ash, Willamette Valley Pinot Noir - This is the most fantastical Pinot that you may never see; crafted with rare skill and aplomb by Rex Hill's winemaker/president, Lynn Penner-Ash. Enthrallingly scented perfumes of wild berries - the entire range, red, black, huckles and all - gush through in the nose, and gather with great concentration between soft, seamless layers; sinking, slipping and sliding across a palate with the greatest of ease, and an almost electrical grip. What an Oregon Pinot Noir lover lives, and maybe even dies, for.
1998 Chehalem, "Stoller Vineyard" Willamette Valley Pinot Noir - Chehalem's owner, Harry Peterson-Nedry, and his winemaker Cheryl Francis, have been on a roll of recent, and this year's crop pulls out all the stops - the smoky, spicy (like incense and peppermint) Pinot perfume leaping from the glass, and the velvety layers of firm yet juicy fruit draping across the palate with suggestions of dark berry liqueurs and cigars. A Pinot to inhale!
1998 Willamette Valley Vineyards, "Hoodview Vineyard" Pinot Noir - Crack winemaker Joe Dobbes has had more downs than ups since signing on with this winery (formerly of shaky repute) three years ago; but he obviously wasn't to be denied given the exceptional vintage conditions of 1998. This is a brilliant, lusciously round and intense Pinot; thick, fleshy, and packed with lively, upbeat red and black berry-like flavors around a stone fruit-like core of tannin. In a similar, if not quite so dramatic, vein, the 1998 Willamette Valley Vineyards "Freedom Hill" Pinot Noir gives a round, seamless, layered feel of buttery oaked, juicy fruitiness which seems to almost melt into the mouth; in other words, not to be overlooked!
1998 Williams Selyem, "Rochioli River Block" Russian River Valley Pinot Noir - Although a revered name in California, Williams Selyem doesn't always shine when shown alongside the more delicate and finely textured Pinots of Oregon and Burgundy, France; but this IPNC was an exception - this single vineyard bottling evincing a beautiful Pinot perfume, sweet and lilting to the nose, before rushing onto the palate with plump, juicy, sumptuous fruit, with a well-knit tannin texture held perfectly in check. A spectacular California style!
1997 Flowers, "Moon Select" Sonoma Coast Pinot Noir - This distinctively defined Pinot - delicate, long, tapered, yet fraught with surprising, gently piquant, smoke and brown spice inundated, raspberryish flavors - practically begs comparison to a dark, fluttering, seductive woman in gloves of supple, black leather (as the late, great winemaker, Andre Tchlistcheff, would have put it). An extraordinarily rare bottling, but not to be missed if found!
1998 Fiddlehead, Willamette Valley Pinot Noir - Proprietor Kathy Joseph has the touch in virtually every year; but in a great one like 1998, she simply unloads with a multi-faceted gem of a Pinot - fragrant, smoky, tea leafy and black fruit aromas embedded in handsome, smoky oak nuances, followed by soft, tender, juicy flavors with great zip in the middle, finishing as plush and round as the most luxurious, leather lined chair. Well within a Pinot lover's most extreme comfort zone!
1998 Westrey, "Abbey Ridge" Oregon Pinot Noir - There is such a plethora of highly specialized, small production craftsmen operating in Oregon these days, it's almost a shame to say that this is "just another one." But it is, and it's a beautiful example of the fine, round, yet fleshy, almost flashy style of Pinot possible in these cool climate hillsides. The Westrey comes out with a blast of black and red berryish fruit, lavished with smoky oak and hard spices, sliding long and smoky across the palate.
1998 Cristom, "Louise Vineyard" Willamette Valley Pinot Noir - Cristom's Steve Doerner is never ungenerous with toasty French oak in his wines; but there is almost always more than enough Pinot intensity in his wines to fill their velvety, fullsome structures; as in this special cuvee, which fuses firm tannin and plump, plummy, red berry nuanced fruit to create a gripping feel, and a real sense of luxury.
1997 Goldeneye, Anderson Valley Pinot Noir - Goldeneye is a sub-label of Napa Valley's Duckhorn Vineyards; and typifying both the Duckhorn bravado and the powerful, concentrated fruit quality of Mendocino's Anderson Valley region, this wine comes out swinging with intense, sweet, smoky, multi-faceted perfumes, a richly extracted Pinot fleshiness, and round yet solid tannins emboldened in a medium-full, generously layered sense of body.
1998 WillaKenzie, "Aliette" Willamette Valley Pinot Noir - Winemaker Laurent Montalieu dances a fine line (when he isn't kareoking Little Red Corvette) between power and finesse, and in '98 he raises the bar with rich, almost sweet aromas with smoky oak and dill-like nuances, followed by round, undulating layers of lush fruit flavors with exotic, almost Mexican chocolaty qualities, knit together by sturdy, rounded tannins.
1998 Etude, Carneros Pinot Noir - While long considered the non ultra plus of Carneros grown Pinots, Tony Soter's Etudes have, amazingly, gone even further beyond their achievements of the past. In '98 he has produced his most meticulously layered and intense wine yet; the spiced cherry qualities more effusive, and the signature velvet textures as plush, almost surrealistically pillowy, as ever. Breathtaking.
1997 Ponzi, Willamette Valley "Reserve" Pinot Noir - At the moment the '97 Ponzi "Reserve" is showing more generously fruited qualities than the '98. The latter is velvety rich with vanillin/mocha oak and spice, but somewhat hardened by youthful tannin. The '97 is more voluminously aromatic with strawberry and pepperminty spice, silken fine and soft in the middle, finishing with long, gentle, lacy flavors.
1998 Erath, "Leland Vineyard Reserve" Willamette Valley Pinot Noir - It's almost inevitable that one of Oregon's first producers should go overlooked amidst the recent influx of top quality, or simply more flamboyant, labels. But with crafty, quiet focus, Dick Erath, and his winemaker Rob Stuart, have made sure that their top-of-the-lines remain second-to-none; culminating in this special cuvee, which backs up sumptuous red and black fruit perfumes with firm, meaty, silken textures filled with flavors of almost chocolaty density and lingering, lively qualities.
1998 Yamhill Vineyards, Oregon "Reserve" Pinot Noir - In the classic Oregon style, the Yamhill projects a pretty, penetrating perfume - sweet red berries, cloves and vanilla - that follow with that soft, fleshy, cherry-like fruitiness within a pulsating palate feel. What's not to like in this little "raspberry beret" of a Pinot?
1998 Archery Summit, "Red Hills Estate" Willamette Valley Pinot Noir - The style of this winery is as aggressively oaky as it gets for Oregon, but it almost always backed up by sensations of sheer, utter deliciousness; such as the lush, vanillin laced cranberry/cherry intensity in the aroma of this wine, coming across with refined, sprightly, tightly wound and concentrated fruit, both tough and tender on the palate.
1998 Domaine Serene, "Grace Vineyard" Willamette Valley Pinot Noir - In contrast to, say, the Archery Summits and Cristoms of the region, this is one of the lower keyed '98s from Oregon; but deceptively so, as the nose is fine, pure and harmonious - red berries enhanced by handsomely subtle oak - as the wine transitions effortlessly into a gentle, silken laced, almost ethereally draped feel on the palate. "Grace," indeed.
1998 Elk Cove, "Roosevelt" Willamette Valley Pinot Noir - This wine successfully fuses fairly thick, broad, fleshy sensations with soft, easy, breathy qualities of smoky, sweet black/red berry fruit, rounded out by burnt edged, leafy nuances and firmly tannic underpinnings.
1999 Felton Road, Central Otago (New Zealand) Pinot Noir - There were fewer Kiwis than at last year's IPNC; but this one, for me, signifies a great leap forward for this burgeoning cool climate region; with its exuberantly fresh, pure, spiced strawberry fragrance, velvety entry, and zippy (yet not overly sharp) acidity giving a feel of crisp balance and mouth watering fruitiness.
1998 Argyle, Willamette Valley Pinot Noir - A smaller, yet no less significant, Oregon style; giving a pure, sweet, ringingly bright red berry fruitiness in the nose; followed by a gentle, light, easy feel on the palate, vividly defined by a wealth of pretty, spice toned flavors.
August 7, 2000
To contact Randy Caparoso, write him at randycaparoso@earthlink.net.